The whiskered wonder purrs in glee as the reels ring up real money wins in this fun-filled slot. Play Maneki 88 Fortunes at your favorite BGaming casino where you can create completed pay ways and score real money prizes. Lucrative free spin games can be accesses by Buy Ins or through regular game spins while you can pounce on other special features as they race by on the reels. Every round takes you further up the ladder to Jackpot prizes! Now available on SPC recommended casino – Ripper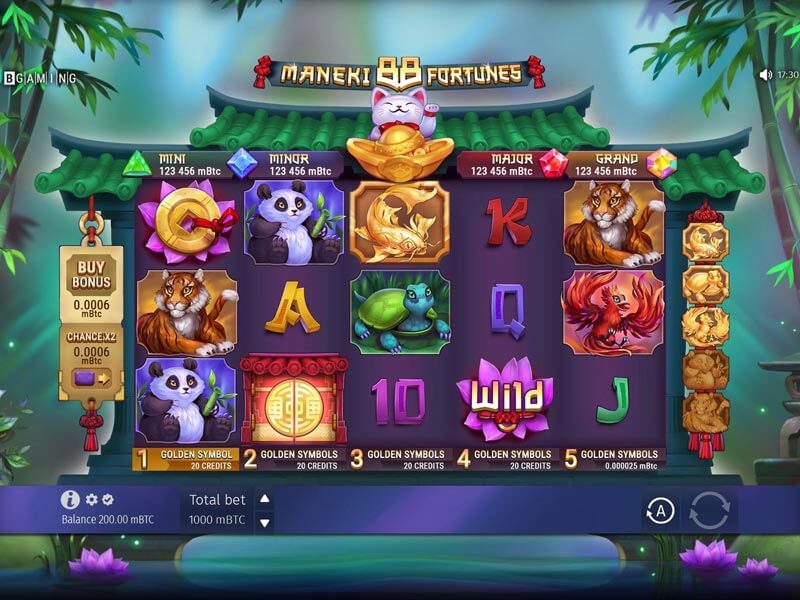 Unleash the Power of Luck with the Maneki 88 Fortunes Online Slot
Maneki 88 Fortunes online slot is a fun-filled fusion of Japanese culture and slot gaming excitement. The enchanting theme joins immersive gameplay as the  Maneki Neko "beckoning cat" raises his hand to signal you good luck as you enter the game. The colorful graphic images, special features and jackpot rounds make Maneki 88 Fortunes a must-try for both new and veteran casino enthusiasts.
Maneki 88 Fortunes is a standout choice for slots enthusiasts who are looking for an engaging and invigorating slots adventure.
Maneki 88 Special Features
When you open Maneki 88 Fortunes, the first thing that catches your eye is its visually stunning design which highlights lotus flowers, red parrots, golden fish, tigers, tortoises, panda bears and gold coins. Above it all sits the Maneki Cat who meows with satisfaction as he acts as the talisman to help you attract both money and luck!
What sets the Maneki 88 Fortunes slot apart are the game's special features. Maneki 88 Fortunes is chock-full of special features and unique elements that create a gameplay that will keep your claws stretched as you paw your growing win box.
243 Ways to Win
The five-reel Maneki online slot is a 243 Ways to Win Game which means that, on every spin, you have 243 opportunities to achieve real money wins.
There's no need to enable individual paylines in this game since you only need to make one bet per spin. Spin the reels and check out how many of the 243 Ways to Win winning combinations you've achieved!
Your bet is your choice so make a small bet of a few coins on a spin or wager multiple coins on the spin. Then, click the Spin button to see what you've collected.
With its medium volatility, Maneki 88 strikes a balance between frequent smaller wins and the potential for more substantial payouts to assure you a gaming event that suits your personal gaming style and preferences.
Coin Wild
The Coin Symbol is the game Wild. This Wild Coin not only substitutes for other symbols to complete combinations but fills up the Progress Bar which is located at the bottom of the screen. The Coin is Wild — every time you see a Coin on the screen it drops onto the Progress bar which means that you move through the countdown as you wait to start the Jackpot round! Wait for Coin #5 to drop into the Progress Bar and watch the Jackpot Round begin!
There's more fun waiting when the Scatter symbol emerges on reels two, three and four. The Scatter can appear in any pattern on any reel to trigger the coveted Scatter Combination Payout! If your spin results in 3 or more Scatters you'll trigger the Free Spins round where you spin the reels for free and take home the resulting real money payouts.
Golden Symbols Signal Gold
Throughout the base game you can select symbols to turn into Gold! Select from one to five symbols to turn golden and then you'll activate more payouts when those symbols signal bigger and better payouts!
Keep Maneki Cat purring with pleasure  as you spin the high symbols that can have gold pouring through your fingers. If you choose more than one Golden symbol you have an extra chance to reach the jackpot round!
If your feline luck results in one Golden Symbol you'll receive a x8 payout. For 2 Golden Symbols you can get your paws on a x16 multiplier win and for 3 symbols there's a 38x winning payout waiting for you. Watch Maneki's green eyes – if he allows you to spin 4 symbols your win will total 68X and for 5 symbols, you've clawed your way up to the maximum 88x multiplier win!
Chance x2
The Chance x2 feature means that your nine lives can guide you to more free spins if you aren't buying in and don't feel as though you're spinning the scatters that you need. Simply sit back and increase your bet to double for a second chance to get Free Spins. You get to choose between Chance 2x or Buy Bonus but keep in mind — you can't have both active. The decision of how to proceed is yours.
Free Spins
Maneki 88 Fortunes keeps the winning payouts popping with free spins wins where you spin the reels for free and take home the winning payouts. As you prowl through your base game spins and you find 3 Scatter symbols peeking out, you'll receive an immediate gift of 10 free spins.
Those free spins actually retrigger if you score 3 more scatters on that original free spin. You might find yourself spinning and spinning and winning and winning without ever placing a new bet! Your winning payout will be determined by the deposit that you placed on the regular game spin that activated the free spins round.
Throughout the free spins, Wilds and Scatters will appear while Maneki Cat gazes on with approval – it's actually possible to achieve free spins wins in the amount of 3000x the triggering bet. Don't forget, you can use the Buy Bonus to trade in your Golden symbols for more free spins so keep collecting those valuable coins!
Jackpot Bonanza
Now comes the cherry on the top of the cheese – the Jackpot Round! When the Jackpot Round starts, you'll see 12 coins appear on the screen. Choose one coin and watch as it spins around to turn into a jackpot coin. When you collect multiple coins of one jackpot, you win!
Collect 2 symbols and win the mini jackpot which is 2000x of the base bet.
Collect 3 symbols and win the minor jackpot which is 3750x of the base bet.
Collect 4 symbols and win the major jackpot which is 75000x of the base bet.
Collect 5 symbols and win the grand jackpot which will allow you to take home an incredible 200000x of the base bet.
To Sum It Up
The Maneki 88 Fortune slot machine offers a captivating and exciting gaming experience. The Maneki Cat will capture your heart as he takes you on an adventure of spins and wins stunning visuals, immersive sound effects, and an abundance of bonus features. This Japanese-inspired slot will show you how luck and good fortune can turn a simple game into an journey of fun, excitement and cash wins.
Play for Free
Casino advisors suggest that you test our new games in the Free Play Mode to familiarize yourself with the elements and try out the features before you start playing for real money:
Play to WIN!
You can play Maneki 88 Fortunes online slot machine at your leisure on your PC or your handheld mobile device. Maneki 88 is available for free gaming entertainment or real money fun so give the reels a whirl to test it out in the real mode before you start playing for real money prizes at one of our recommended BGaming  partner casinos.