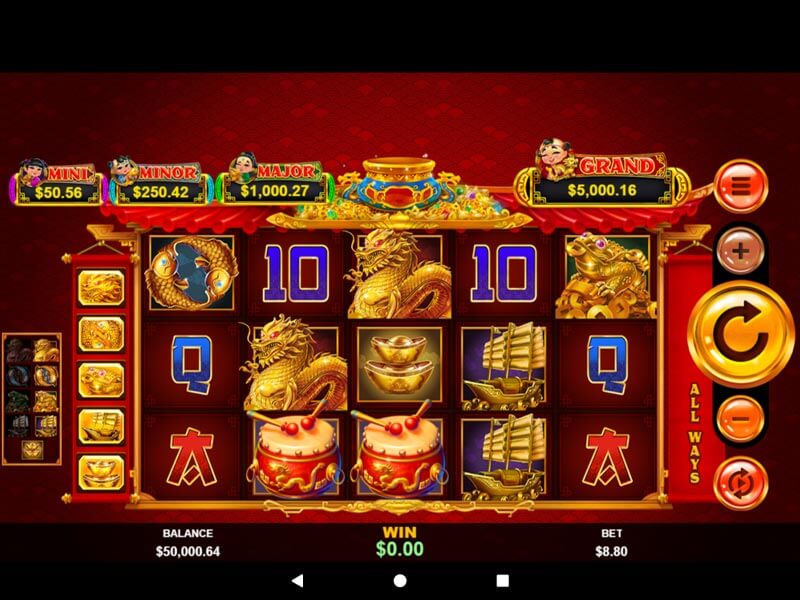 Game Info
Max Jackpot
50,000-times the base bet
Mighty Drums Review
With an already stunning collection of Eastern Asian-themed slots, who would have thought that SpinLogic Gaming would produce yet another masterpiece in this category?  We did – and Slots Play Casinos is happy to announce that Mighty Drums online slot is available to play right now!  The brand new game offers a top pay of 50,000x with loads of special symbols and features.  It's a MUST TRY!
Mighty Drums: A Glittering World of Fortune and Jackpots
Let the drumbeats of East Asia draw you into a glittering world in Mighty Drums, a new online slot game developed by SpinLogic.
This 5-reel, All Ways Pay slot machine offers 243 possible winning combinations, free games, gold coin multipliers, and other captivating features that put fortune at your fingertips!
Couple this with its low volitility, and your chances of winning at a Slots Play Casinos recommended venue is a real possibility!
Symbols and Payouts
In Mighty Drums, there are ten regular symbols and four golden symbols.  The ten regular symbols are traditional card values (A, K, Q, J, 10, and 9) and four lucrative symbols: bowls, dragons, fish, frogs, and boats – all styled with an authentic Asian flare.  The four golden symbols are golden versions of these symbols are worth even more!
Special Symbols
Wild symbols (red, blue and gold trimmed symbol): Substitutes for all other symbols except the multiplier
Scatter symbol (Asian drums with drumsticks): Pays out for 3 or more and triggers Free Games
Multiplier (Golden Asian coins): Appears only on reel 3 and acts as the substitute symbols for all regular symbols.  When the symbols form part of a winning combo, the All Ways Pay win is multiplied by up to 5 times*
*NOTE: See 'Coins Multiplier' in the table in the 'Golden Symbols Feature' section.
Regular Symbols
Here are the payouts for each of the regular symbols in this epic SpinLogic video slot, available in demo mode here at Slots Play Casinos:
Golden Dragon: 60x for three symbols, 100x for 4 symbols, 600x for 5 symbols
Two Golden Koi Fish: 30x for 3 symbols, 80x for 4 symbols, 300x for 5 symbols
The Red Dragon and Blue Koi Fish symbols pay out the same: 5x for 3 symbols, 10x for 4 symbols, 30x for 5 symbols
Golden Frog: 20x for 3 symbols, 60x for 4 symbols, 200x for 5 symbols
Golden Boat: 10x for 3 symbols, 30x for 4 symbols, 150x for 5 symbols
Golden Asian Bowls: 8x for 3 symbols, 20x for 4 symbols, 100x for 5 symbols
Purple Boat: 5x for 3 symbols, 10x for 4 symbols, 20x for 5 symbols
Symbols 9, 10, J, Q, K and A pay out the same: 5x for 3 symbols, 8x for 4 symbols, 15x for 5 symbols9, 10, J: 3 coins for 3 matches, 10 coins for 4 matches, 50 coins for 5 matches
NOTE: The payouts for each golden symbol are twice the value of the regular symbols.
Golden Symbols Feature
The Golden Symbols feature is a unique feature whereby you have the opportunity to mutate the four ordinary symbols – dragons, koi fish, frogs, and boats – into gold.  This ability alone can skyrocket your multiplier potential, increase the All Ways Pay factor, and result more jackpots.  If it seems overwhelming, SPC is here to explain how it works:
Four golden symbols are available to players – one for each of the four regular versions of the symbols.  The more golden symbols enabled during a spin, the higher the total bet, the multiplier, the All Ways Pay factor – and the number of jackpots enabled.
Golden Symbols

Coins Multiplier

AWP Factor

Jackpots

1

1x

8

None

2

2x

18

Mini

3

3x

38

Mini and Minor

4

4x

68

Major, Mini, Minor

5

5x

88

Grand, Major, Mini
Minor
Players can upgrade major symbols on the reels from regular to golden symbols by clicking on the golden symbols on the pane located to the left of the reels.
Free Games
As with nearly all SpinLogic games featured at Slots Play Casinos, Mighty Drums offers a free games feature.  It is triggered when three or more scatter symbols appear left to right.  Players are awarded 12 free games, and during the feature, the A, K, Q, J, 10, and 9 symbols do not appear.  Here SPC delves into what you can expect in terms of payouts from the scatter symbol:
3 scatters: 2x the total bet
4 scatters: 10x the total bet
5 scatters: 50x the total bet
If you win with the scatter symbol, the amount will first be multiplied by the bet total and then added to the All Ways Pay wins.  The best part is that the free games feature can be retriggered!
Jackpot Pick Feature
It's only a matter of time before the randomly triggered Jackpot Pick feature will activate, and when it does, 12 gold coins will appear on the gameboard.  Hidden behind them, each one will reveal a unique god symbol that represents either the Mini, Minor, Major, or Grand Jackpots.
The Mini Jackpot is the smallest of the four jackpots, with a seed value of $10.  The Minor Jackpot has a seed value of $50, and the Major Jackpot has a seed value of $1,000.  The Grand Jackpot is the largest and most valuable of the four, with a seed value of $10,000.
To win one of the jackpots, players must select coins until they reveal three matching god symbols.  The type of god symbol revealed determines the jackpot that the player has won:
If three Mini god symbols are revealed, it will result in winning the Mini Jackpot.
If three Minor god symbols are revealed, you'll instantly back the Minor Jackpot.
If three Major god symbols, the Major Jackpot will be triggered.
Finally, reveal three Grand god symbols, and the massive Grand Jackpot will be yours!
Experience the Thrills of East Asia with Mighty Drums Online Slot NOW!
Mighty Drums is a visually stunning online slot game that immerses players in the world of East Asian culture with its traditional symbols, intricate graphics, and captivating drumbeats.  With its generous payouts, Golden Symbols feature, free games, and Jackpot Pick feature, there are plenty of opportunities to win big and experience the thrill of fortune.
The game's low volatility ensures that players can enjoy a mix of small and large wins, keeping the excitement going with each spin.  Give Mighty Drums a try at Slots Play Casinos in demo mode and see if the drumbeats of fortune will lead you to victory:
Play Mighty Drums now, for real money, at these partner casinos, and you're on your way to winning FUN: