Catch Rio vibes with Samba Jackpots – the newest launch from SpinLogic Gaming! 🔥 Spin & feel the groove in this 40-paylines, 5×3 slot. Colorful? Check. Major prizes? Double-check. Green Samba babe stacks? Reel goes wild! Plus, more re-spins for you. 3+ Gold Coins? Quick Hit Jackpot time. Grab one of 10 sweet prizes!3 Scatters? Boom! 10 Free Games. Wild Reels and Jackpots? More, please! Hit the streets of Rio's Carnival. Party, win, and dance with Samba Jackpots! 🎉🕺💃 Now available for real money gaming at SlotsPlay Casinos!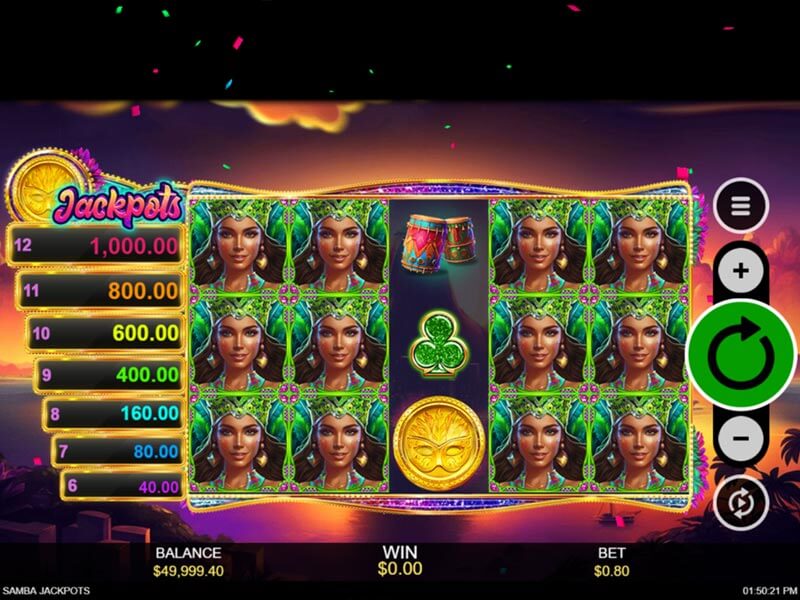 Game Info
Max Jackpot
50,000 times bet per line
Our Recommendations
Play
Samba Jackpots
Here:
Hottest New Games:
The Samba Jackpots Slot Game Review – Dancing to the Rhythm of Wins
Launching on August 30, 2023, the Samba Jackpots Slot Game promises to turn your regular gaming days into a riotous carnival! This slot game, with its innovative and engaging mechanics, has managed to keep the excitement at an all-time high, or should I say, as high as a Samba dancer's heels! The game's platform is a vibrant 5-reel setup, hosting an impressive 40 paylines. These aren't just ordinary reels, they're a party runway, where every spin is an invitation to join the celebration.
About
Speaking of invitations, the three unique symbol features are certainly worth RSVP-ing for. The Wild symbol – or the "chameleon" as I've fondly begun calling it – adapts to your game by replacing other symbols. Scatter 1, akin to a benevolent relative, generously bestows Free Games, while Scatter 2 ignites the Quick Hit Jackpot, providing an adrenaline rush that is second to none.
Wild Reel Feature
The innovative Wild Reel feature is the true essence of the Samba spirit. The transformation of a reel, from a regular column to a Wild one, following a stack of M1 symbols, is like a visual treat of dancers synchronizing their steps to the beats of Samba. This twist in the gameplay adds a layer of unpredictability, making every spin a nail-biter.
Quick Hit Jackpot
The Quick Hit Jackpot further accelerates the game's tempo. With ten jackpots available and the payouts amplified by your total bet, the anticipation of hitting a massive win is like waiting for the climax of a samba performance.
Free Games feature
However, the highlight of this carnival-themed slot game is undoubtedly the Free Games feature. When you hit three or more Scatter1 symbols, the Free Games descend like candy-filled piñatas, making you feel like a kid in a candy store.
The increased frequency of Wild Reels and Jackpots in these rounds intensifies the gaming experience, creating an ecstatic environment. The only small caveat is that these Free Games cannot be retriggered, a bit like not being able to refill your candy bag. But this minor setback is easily offset by the overall high-energy and enjoyable gameplay.
To Sum It Up
Samba Jackpots truly delivers an unforgettable Rio Carnival experience! The vibrancy jumps right off the screen with its captivating 5×3 layout and a whopping 40 paylines. The visuals? Think lively Rio nights filled with color, flair, and the promise of dazzling rewards.
The green Samba dancer? An absolute show-stealer! Her wild transformation not only amps up the excitement but the additional re-spins add layers of anticipation. You're constantly on the edge of your seat, hoping for those Gold Coins. And when they appear, the jackpot territory offers a smorgasbord of 10 enticing rewards. Talk about choice!
The bonus of landing 3 Scatters for 10 free games is the cherry on top. The frequency of wild reels and jackpots during these rounds makes gameplay electrifying.
To sum it up: Samba Jackpots is not just another slot game. It's a carnival ride with rhythm, thrill, and potential big wins. The streets of Rio are alive, right on your screen. Come for the spins, stay for the Samba! 🎶🥳🕺💃🎰
Play for Free or Play to WIN!
Samba Jackpots is available on Download, Instant and Mobile casino platforms where you can play in the Demo Mode for free or place a deposit and play for real money prizes.
Try this new game out at any of our SpinLogic partner casinos: