Yggdrasil Gaming has introduced its first table game and many people are calling it a game-changer in the online casino industry. It's a blackjack game where the dealer is a 3D image called Sonya. The game is appropriately called Sonya Blackjack. The game features room for up to three players with "observers" possible as well.
The 3D image of the dealer is created by what is called motion capture technology. Sonya can deal and collect cards, plus pay out winnings or take in chips from losing bets.
Motion Capture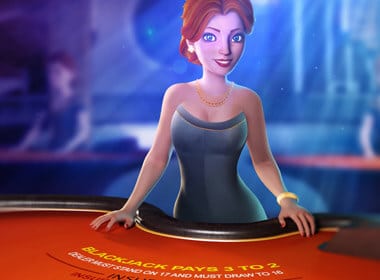 Motion capture technology is the modern fruit of technology that began in the early 20th century. Disney used a, for then, modern form of motion capture in the movie Snow White and the Seven Dwarfs. The idea is to "capture" the actual movements of a person and to translate those movements into a digital signature. Sonya Blackjack is the result of the capture of the motions of a real female blackjack dealer.
The art of capturing the movements of a live human is far more complicated than one might think. The live progenitor gets covered with equipment that record in minute detail everything they do. The software then translates the movements into a format which is placed on a 3D image.
A Major New Technological Breakthrough
There is no doubt that Yggdrasil Gaming has made great strides in the 3D imaging industry and may be seen years from now as the inventor of a new wave of online casino imagery. When online casinos began offering a multitude of bonuses, they needed some way to keep all the bonuses separate from each other and bonus codes were developed.
Sonya Blackjack takes online casino imagery far beyond anything we have seen in online casino graphics and animation. Even if Sonya is ultimately unsuccessful as a blackjack dealer, the technology will no doubt be incorporated into slots and other casino games.
A Standard Blackjack Game
As a blackjack game, it offers all of the standard options such as insurance, splitting, doubling down, and so on. The innovation is not in the rules of the game but in the technology. Standard online blackjack has a soothing voice over but the cards are moved by basic graphics and animation.
Sonya Blackjack gives the illusion that the player is playing online at a live casino.
A Young and Hungry Innovating Company
Yggdrasil Gaming has won many awards for innovation since it launched in 2013. It remains a relatively small game provider and Sonya Blackjack is its forts foray into the table games side of online casino gaming. The company waited until it had the technology sufficiently mastered to develop an online table game that looks like it is run by a live dealer.
As realistic as Sonya is, she is still clearly a 3D image of a person. Her presence in this new online table game is also another indication that robotics and artificial intelligence are coming to land based casino gaming. We may be relatively close to the moment that a company introduces the first robot blackjack dealer that can do everything a flesh and blood dealer can do except go on strike, call in sick, or get so bored at the table that the customers move on.
Flexibility
Yggdrasil stated in a press release that Sonya can be customized for the casino that buys the technology. Any casino can create its own casino environment starting with the dealer. Yggdrasil made it clear that it sees 3D Sonya as an alternative to real live dealers in online casinos' live casino studio.
The casinos will save large amounts of money by no longer needing a studio or a real live blackjack dealer.
What Sonya Looks Like
In the modern age, where sexual harassment can be seen in the smallest of interactions, cultural appropriation can detour many events, and micro-aggressions abound, Yggdrasil had to carefully consider what Sonya would look like.
Sonya is Caucasian but with a somewhat dark complexion indicating that she may have Latino or southern European ancestry. She has large eyes and red hair giving some sense of Irish or Scottish or Central Asian roots. Sonya is curvy in a non-obtrusive way. She is not the buxom Hollywood starlet type from the 1940's or 1950's.
Her dress fits her figure well but is not overly tight and she shows no cleavage even though her dress is scooped at the top. In short, Yggdrasil Gaming is counting on many groups seeing Sonya as one of them. She claims a benign ethnicity that could be from anywhere.
Sonya is also totally not flirtatious. That was one of the problems some people had with the dealers in real live casino studio environments. It's very hard in an atmosphere where players can interact with dealers with the dealers being as bland as they need to be. Sonya has no such difficulty.
Yggdrasil has announced that it is working to bring the new technology to baccarat and roulette.
Critics
There are always some critics. In the case of Sonya Blackjack, no one says that the technology is boring or that the image is uninteresting. The main line of criticism is that players will get tired of Sonya very quickly since she seems to be real but she has very limited range of movement.
In this analysis, many online blackjack players simply are used to the standard modern format which has been improved upon many times in the last twenty years. Online computer graphics for blackjack have made it the most popular table game. Similarly, roulette and especially craps have never become popular online probably because so much of the appeal of both of these games is the camaraderie that develops around the tables. In real live roulette and craps, players yell encouragement to the dice or the wheel and ball. It's simply not the same online.
So, Sonya Blackjack is a big step forward pioneered by one of the most pioneering companies in the industry. It is still not known if the online public will take to her.