Slots Play Casinos is a casino watchdog specializing in the online casino market. We have found an interesting connection between bitcoin and online casinos in general and it started with yet another close look at Slotocash Casino.
This also leads us to a redefinition of sorts of the role of Slots Play Casinos as an online casino watchdog.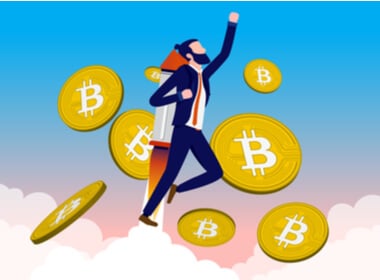 Every time we take another look at Slotocash Casino, we are impressed. Now we are happy to report that Slotocash is running a series of tutorials on how gamers can acquire bitcoin and other cryptocurrencies and how they can then use them to deposit at Slotocash.
Bitcoin are Becoming Accepted by Businesses across the Spectrum
The implication is, of course, that average people can use bitcoin for everyday purchases even as we are all used to using our national currencies for everyday purchases.
While this is true and has been true since bitcoin were first "mined" it is only in the last decade that investors and speculators have gotten on the bitcoin bandwagon. So, let's take a look at how bitcoin parallels online casinos to some extent and what gamers can adduce from those similarities.
Cryptocurrencies are Highly Volatile
You can find the Slotocash tutorial at the blog under the category: Crypto. We expect Slotocash to add more blog articles to this tutorial since Bitcoin is still a foggy subject for most people.
The blog at Slotocash mentions an article from Time Magazine where some market and currency experts predict that bitcoin might rise to a value of $100,000 per bitcoin in 2022! As good as that news might be, it also reflects the speculative nature of bitcoin and of cryptocurrencies in general since bitcoin often shoots up and then comes quickly back to earth!
In other words, bitcoin is very volatile.
Slots May Also be Volatile
As popular as slots are, we have to acknowledge that there are levels of volatility in slots and that the more highly volatile slots may require more careful gaming than the low volatility slots do.
Here we can see a clear similarity between slots and bitcoin. As desirable as it may be to own some bitcoin, it might also be that bitcoin today is too speculative and too expensive for most people to buy.
In a similar way, the very volatile slots may be too expensive for some gamers who would be better off playing low volatility slots.
The Return to Player Rate Tells Only Part of the Story
Just as the availability of bitcoin is only part of the story, the high return to player rate in slots is also only part of the story.
Let's look at two slots, one with high volatility and one with low volatility. Both have a return to player rate of about 97%. But the slot with high volatility divides this money among fewer gamers than the slot with low volatility does. That means that gamers who play a slot with high volatility have a higher risk of losing on almost all spins while the gamers who play low volatility slots have a good chance to win on a very high percentage of spins.
Both slots return about the same percentage but the winners in one are much fewer than the winners in the other.
Because bitcoin is so volatile, it might be out of reach as a speculative investment for most people!
Regulation of Cryptocurrencies
Another google search revealed that some governments are looking to regulate bitcoin and other cryptocurrencies. This seems like a losing proposition as the very nature of cryptocurrencies is that they are entirely independent of governments in all ways including in regulatory practices.
It is the fact that governments cannot manipulate bitcoin that makes bitcoin and the others so attractive to people who are unhappy with the real, as opposed to the supposed, value of government money.
The Cryptocurrency Market is Still Very Young
We have seen how some articles refer to cryptocurrencies as being in their infancy! We remember when online casinos were also in their infancy and many feel that they are still in their infancy fewer than 30 years since the first online casino began operation!
Any business that is said to be in its infancy may be in for a few surprises along the way. For example, when the internet started out in full force there were a couple of search engines, and then not very long ago another search engine started out and it has now given its name to a verb that describes using the internet to do research on any subject!
When any business or industry is in its infancy, it means that people involved as operators or customers have to be very vigilant in their use of that industry. This is true even in an industry that manifestly serves a public good!
Slots Play Casinos Serves the Public Good
Just as the online casino industry is still in its infancy, SPC is also in its infancy. In fact, in many ways, we are all in our infancy! We use new technologies, new products, and new ideas even as we know that these technologies, products, and ideas are likely to undergo their own positive evolution over time.
This is the role that Slots Play Casinos plays in the online casino market. We review casinos and we publicize the ones we like enough to recommend. Then we go back to these casinos as often as we can to see that they are living up to the high praise we gave them when we recommended them.
Slotocash never disappoints us!
We are happy for all of the many ways Slotocash thinks outside the online casino box! We especially feel that reading the Sloto Life articles can benefit everyone!
Thus, Slotocash has found that magic elixir where the casino is a perfect complement to the non-casino articles, tips, and tutorials and the non-casino side is the perfect complement to the casino side.
Bitcoin and the Vagaries of the Financial Markets
We have tried to simplify bitcoin and we will continue to look for better watts to achieve that goal. One might say that the effort of Slots Play Casinos to explain bitcoin is in its infancy.
To find out how our thinking on bitcoin and on the many casinos we recommend is evolving, we urge you to COME TO SLOTS PLAY CASINOS OFTEN!