The National Indian Gaming Association (NIGA) held its 33rd annual Indian Gaming Tradeshow and Convention from April 17-20 in Las Vegas. The annual convention brings together industry and tribal leaders and professional people in the gaming industry. The purpose of the conventions is both general networking but also to find out what some people in the industry are doing that will directly impact others in the industry. For example, casino games developers will discuss trends in their gaming niche and will discuss how they can develop games that players will be interested in playing.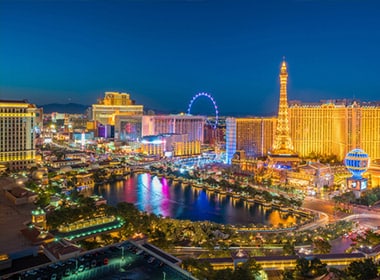 Indian Culture
The convention always blends Native American culture with gaming news and information. Well-known Indian actor and stand-up comedian Tatanka Means entertained those in attendance. The chairman of the convention, Ernie Stevens Jr., also gave a single eagle feather to each of the attending 7G Youth Ambassadors. The 7G Ambassadors were chosen by the NFL to represent Indian tribes as part of the Native American Youth Football Program. The youthful "ambassadors" were chosen to spread the word that Indian sports are an important part of the overall sports environment in the US.
Navaho Nation rodeo star, Erich Rogers, was also honored. Rogers was the 2017 Professional Rodeo Cowboys Association Team Roping Champion.
Charles "Chief" Boyd was honored for his lifetime commitment to Indian affairs. Chief Boyd is the CEO of the Thalden Boyd architectural firm which has worked on more than 100 building projects involving Native Americans including casinos, hotels, and buildings with purely tribal functions unrelated to gaming.
Gaming Enthusiasts
Interest in attending and presenting at the IGTC this year was greater than in any previous year. The convention came at the intersection of several casino gaming trends that will likely determine much of the future of both land based and online gaming.
One trend is the widespread growth of both land based and online casinos. This rapid growth poses challenges to both segments of the casino gaming industry. In the wake of so many casinos is the rise of regulations from many jurisdictions.
Integrated resorts combine several entertainment venues in one large package in which the casino may play a relatively minor role. Integrated Resorts provide family-friendly theme parks, a hotel, swimming pools, a convention center, excellent restaurants, shopping for the whole family and much more in addition to the casino.
Sports betting is said to be the next big gambling wave and the Indian casinos in the US are excellently placed to play a major role in the development of sports betting in the US if sports betting is allowed in the upcoming Supreme Court decision.
Game Providers and Industry Professionals
As the number of game providers increases, each seeks to have a prominent role in any industry convention. 3D games, Live Casino gaming, and online gaming from a land based venue are all recent trends in the developmental stage.
Everi took a prominent role at the convention with displays about a package of twelve games with adjustable themes that will help maintain player interest and enthusiasm. One game is a slot with no reels.
VizExplorer also had a major presence at the convention, showcasing its many game updates. VizExplore has had a long association with Indian Gaming. This year, they presented speeches on Big Data, privacy protection taking into account the rise of social media as a source of unwanted intrusions into people's private actions, and behavioral analytics.
Behavioral analytics is a field that has grown in recent years and will continue to grow as companies seek to learn as much as they can about players without becoming so intrusive that players go elsewhere with their gambling and entertainment dollars.
Gaming Laboratories International presented many of its products and services including auditing technology for individual games and for the casino floor in general, financial transfer technology, game technology for use by providers, software to help casinos comply with the myriad rules and regulations which vary from jurisdiction to jurisdiction.
Gaming Education
There were more educational tracks this year than in any previous year, fifteen in total, and hundreds of industry professionals and other were able to learn from morning until evening on the second and third days of the convention.
One of the main speeches was about how sports betting will impact the casinos run by Native Americans, other casinos, and the online sports betting market. As sports betting is expected to be given the green light in one fell swoop when the US Supreme Court decides, as so many expect it will, to annul the law called PASPA (Professional and Amateur Sports Protection Act), for any casino to get in the ground floor quickly is a challenge.
The expected end of PASPA will also put into the hands of state legislatures the responsibility to establish guidelines for sports betting. Most land based casino operators, including the NIGA, expect most states to restrict sports betting to land based venues. It will then become the responsibility of the casino to collect taxes from winning sports bettors.
Lobbying efforts to make the rules for sports betting as fair as possible for all involved, including sports bettors, casinos, athletes and the sports themselves, will be the task of many interested parties not the least of which is the casino industry.
Vendors
The vendor floor was opened on Thursday after the educational programs completed and on Friday. Vendors include everything from roulette wheel manufactures to chair manufacturers. The average player never gives it a second's thought but if the chair is uncomfortable they get up and go somewhere else. Similarly, if the roulette wheel isn't fancy enough or is too fancy, players may look for a roulette table more to their liking.
Casino buyers must make multi-million dollar decisions and a convention such as this one provides them the opportunity to sample many different products and to connect with salespeople from every industry provider.