There are still a few granddaddy online casinos that started out twenty or more years ago. These casinos have often been leaders in innovation within the industry. One such casino, 888 Online Casino, is set to lead the way into introducing artificial intelligence or AI into the online casino market.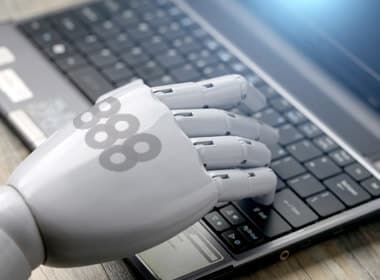 Artificial Intelligence Today
You might say that all the computerization that goes into any online casino is indicative of the ubiquitous presence of artificial intelligence. After all, how does a casino know how to keep track of your account, allow thousands of players access to its games at any given moment, and assign the correct bonus to the correct account using nothing more complicated than bonus codes? Aren't these examples and hundreds of others signs that AI is already present at online casinos?
It turns out that the answer is yes and no.
Launching in August
The COO of 888 Online Casino, Etai Pazner, simply couldn't wait for the software to be closer to its projected launch period. He had to go to the press and announce that the company was "only" weeks away from revolutionizing online casino gaming with a new platform that will utilize artificial intelligence in heretofore unforeseen ways.
The new AI platform is being created in house. It is intended to help 888 grow vertically. This is a term that most gamers don't know and understand so we'll explain how it affects this news story.
Horizontal Growth
Online casinos have always looked for the broadest player pool to attract and make customers. This is actually considered horizontal growth. In today's online casino market, most casinos are looking to grow horizontally. One way they do so is by offering great instant play platforms so gamers can register with a number of casinos and play at them all because no single casino can carry all the games available online. The casinos accept that they will not keep players loyal in the same manner as was common when players had to download casinos for best graphics and game play.
888 Casino was no different. It, like all casinos, saw the changes wrought by the instant play revolution and accepted its role in the new style of horizontal growth.
Vertical Growth
Here is where 888 Casino may be innovating in a way that will also revolutionize the industry. While still looking for the widest exposure toward horizontal growth, 888 is also looking to grow with players who are already registered at the casino. Growth in this cohort would mean that 888 players would spend more time at that casino and not travelling around cyberspace at other casinos. The longer players gamble at one casino, the more money that casino makes so it was clear to management at 888 that they needed a vehicle to emphasize vertical growth.
Robert Townshend
The president of Avis Car Rental in the mid-1960's wrote that a company needs to define itself exactly in order to know what its target market really is. Avis set to work to define itself when it was a far number two behind Hertz in the car rental business. It defined itself as being in the business of renting cars without drivers. This led Avis to sell a limousine service it owned because limousines come with drivers.
The connection to the news out of 888 casino is that the casino has defined itself as an online casino primarily concerned with keeping existing customers happy.
What the New Platform Will Do
It remains a secret exactly what the new AI platform will do but we can speculate in a reasonable manner.
The new platform will be more user-friendly than any platform now in use in the industry. User-friendliness is often something players feel over the long term. New players who sign up for the bonus and then go elsewhere for the same reason may not feel the extra level of usability in the new 888 platform, but the company would feel confident that when they come back to play with their bonus cash, they will feel it and become more loyal gamers.
The new platform will probably have a lot more animation. It could have several characters in 3-D that gamers can interact with. It may be possible to create a relationship with a character. Since AI is really computerization, it may be possible for 1000s of players to develop entirely unique relationships with the same character.
The new platform may be able to inform players about events as they happen in real time. This would be especially valuable to sports bettors who will become a major gambling cohort in the United States in the years ahead as sports betting gets going in many states in the wake of the Supreme Court's decision allowing states to legalize and regulate it.
If a player has a bet on a specific game and something dramatic happens in that game, the AI might inform the player who might make an in-game bet to cover the new reality. 888 might also be able to transmit the new information to the bettor through his or her smartwatch.
Some people feel that AI in online gaming may lead to an increase in problem gambling as the AI platform invites players to play. We don't know if this will be a result of AI in online casinos or if it will have the opposite effect, telling players that it is time to stop for the day. If the voice delivering the message has the requisite tone and friendliness it could actually reduce the harm that problem gambling does.
Bottom Line
The end result is still weeks away and then the final analysis may be years away. What is certain is that 888 will not rest on its laurels. It will seek to improve on its new AI platform regularly. And all other online casinos will scramble to develop similar technologies.