Although the Ocean Resort Casino in Atlantic City is still a bit more than four weeks away from its Grand Opening date of June 28, news continues to get out about how the casino intends to combine the two concepts of casino gambling and family-friendly resort activities and amenities. One of the family oriented activities will be free games, not the casino kind but the kind of free games parents and kids like to play together.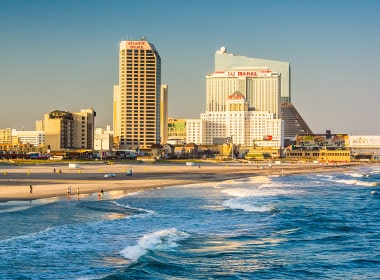 Family Owned
The Ocean Resort Casino is owned by the Deifik family. Father Bruce, mother Nancy, and son Jordan are on record as saying that guests will immediately feel that the casino resort is striving to make every guest, whether he or she gambles or simply takes advantage of all the resort has to offer, feel part of an extended family.
Jordan says that they want all customers and team members, by which he means employees, to feel part of the family. In view of the fact that 25,000 casino workers in food and drink service, housekeeping, and bellmanship may go on strike in Las Vegas on June 1, it is praiseworthy that the Deifiks feel so committed to their employees as well as to their customers.
Inclusive and Iconoclastic
The Deifiks bought the land for far less than its market value in January. Immediately, they began announcing changes that would make it more "inclusive". It is ironic that one of the changes they intend to effect in order to increase inclusivity is to dramatically change the no smoking rule that was the case under the previous owner.
They have already announced that access to the Boardwalk will be far easier as the wall has been removed and replaced by a simple stairway.
One Nighters Welcome
One of the biggest family friendly changes is the minimum two-night stay requirement. As Atlantic City is a short drive from millions of people's homes, it was a severe inconvenience to be required to purchase a two-night stay when one night would have been enough. In fact, families are more likely to come early in the morning, take advantage of the pool and other child friendly activities, sleep one night and leave after lunch the following day. The rule change will save families a couple of hundred dollars and the new owners are betting that in the long run the casino resort will make more money on one night stays than its previous incarnation made on two night stays.
Five Month Makeover
It has taken only five months to turn the casino resort into the kind of property the Deifiks envisioned. It remains a luxury hotel but will have many new amenities that they feel will cater almost exclusively to families. One such amenity is a partnership with a candy chain; another is a breakfast bar called Cereal Town that will feature breakfast cereals from many countries.
In addition, golf loving parents will be able to practice their swings at a massive indoor golf simulation room, and kids and their parents will be able to play games at The Den, a room with electronic sports and video games one floor above the casino floor. By placing The Den so close to the gambling floor, Ocean Resort Casino is making it easy for parents to take turns enjoying playing the kid oriented games while the other parent is enjoying some minutes on the casino floor.
A Casino, Too
Ocean Resort Casino is still a casino. It has over 100 tables and over 2000 slot machines. It is getting ready for sports betting to begin and has partnered with the British veteran sports betting site, William Hill, to learn the nuances of sports betting so they can begin without major glitches.
Sports betting is expected to garner large amounts of tax revenue for the state of New Jersey and the casino needs to know all the nuances of the new regulations so they can provide both the much desired sports betting service to customers and be in full compliance with the tax authorities.
A $350,000,000 Gamble
The Deifiks paid 200 million dollars for the property and have invested another 150 million dollars so they are fully vested in the culture of gambling that has long been the hallmark of the American entrepreneurial culture. The Deifiks are not only gambling on themselves, on their ability to bring luxury gaming and luxury family fun to the same location, they are also gambling on a continued revival for Atlantic City.
Casinos in Atlantic City face much greater competition than they faced when land based casinos were legalized there. There are now many land based casinos serving millions of people. In interviews, none of the Deifiks mentioned Integrated Resorts as a concept or as a goal.
Integrated Resorts in North America
The concept of an Integrated Resort took form in Singapore as the notoriously conservative political class was long leery of legalizing land based casinos. An Integrated Resort is simply a complex that offers a casino and much more so individuals and families can come there and either not gamble at all or gamble very little.
An Integrated Resort has a convention center, shopping mall, theater, water park and other kids' activities, and many restaurants serving top grade food down to pizza and ice cream. The idea is that a family or convention goer can come to the resort and not gamble at all yet the resort can still profit handsomely from their presence.
Competition
An Integrated Resort recently opened in the Catskill Mountains northwest of New York City. It seems that the Deifiks will have to turn their new project into a full Integrated Resort if they hope to be able to compete with the casino resort in the mountains.