The football season in the United States opens on the weekend of September 9-10. Now that sports betting is legal in all 50 states, pending legislation to that effect by the individual states, betting on American football is expected to reach levels never seen before.
Since 1992, sports betting was legal in only four states and only in Nevada, where Las Vegas is, was sports betting fully legal in all its manifestations. That didn't keep Americans from betting on sports; it simply sent it underground. Now that it will be above ground in almost every state, the sports pages and sports websites are full of advice as to how to bet on American football.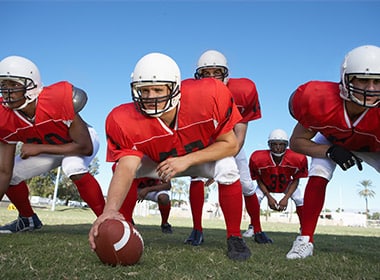 Through Land Based and Online Casinos
In some states, sports betting will go through only land based casinos while in other states it will also go through online casinos. Not only is the legalization of sports betting expected to increase the number of sports bettors and the amounts bet, but allowing online sports betting sites to enter the US market, for the purpose of sports betting, is expected to increase online casino gaming generally.
There are many good reasons that so many online gamers prefer online casinos not the least of which is the prolific number of casino bonuses available online. Land based casino interests are trying to get state legislatures to restrict legal sports betting to land based casinos only. They fear the extra competition from potential casino gamblers who will choose to play casino games online once they've accessed an online casino in order to place a sports bet.
How to Evaluate American Football
It is well outside this short blog to explain all the nuances of American football to people who know nothing about it. But, if you are a dedicated sports bettor, you can learn to make smart bets on American football by following these pieces of advice.
We are certainly not the only ones reporting these aspects of betting on American football but we might be the only ones to forego complex analyses in favor of simple, direct analysis.
Pay Attention
There are a lot of players in American football. The game has free substitution so coaches rotate players depending on the situation affecting the upcoming play. It is impossible to keep track of every player in the league as there are 32 teams and 53 active players on each team.
Every team brings in between 10 and 20 new players each year. We won't know how good the new players are until the season is a few weeks old and even then we'll likely find out that most of them are good only in special situations.
So, paying attention means reading as much as we can every day about any team or game we might want to bet on. Paying attention is a lot of work.
Injuries
Football is a very violent game and injuries are common. Even a minor injury to a key player can alter expectations for his team for the next game or for several games running. Many injuries are reported by the team only later in the week when they are forced to report injuries to the league. If you haven't been paying attention to the injury report, you could very well make a seriously misplaced bet.
Trends and Tendencies
Even the worst teams go through a period when they play better than usual. Every team has its own internal trends and tendencies. Sometimes one team's tendencies match up very well with another team's tendencies but in opposite directions. This often happens in the ever-present competition between offense and defense.
A team that is good running the ball might be favored to win against a team that is not good at stopping its opponents running offense.
Home Field
The home field gives the team an advantage. Some teams use this advantage better than others. The advantage is far less than in basketball which is notorious for the home team winning close games. In football, especially in important games, the home town fans disrupt the other team's offense by making noise. This prevents the players from hearing changes the quarterback tries to make just before the play begins
Rivalries
Home field advantage is especially important when two bitter rivals are playing each other. In the first weekend of the season, the Chicago Bears travelled to Green Bay. The rivalry between these teams is the most bitter in all of American team sports except for the New York Yankee-Boston Rd Sox rivalry in baseball.
As these words are being written, we don't know how the Green Bay fans might have affected the outcome of the game but we are sure that if it comes down to stopping the Bears' offense late in the game, the fans will represent the 12th player.
Weather
The weather in football is a very big factor in many games. They play football in all weather conditions. Many games are played in huge rainstorms or blizzards. Sometimes the difference between the weather a team is used to and the weather on game day affects the outcome. Many teams have gone to Miami when the weather in the north of the US has already turned very cold but it is spring-like in Miami. By the end of the game, the team from the north often has no energy left.
Spread
In football, most bets are either for the spread or the over/under. Professional bookmakers set these bets at the beginning of the week. If you have been paying attention and you feel that the line on either of these bets is likely to change as the week wears on—perhaps because of injuries, or because of the weather, or because of the tendencies and trends of the teams, or because of other factors—you might be able to get a better bet down based on the early line rather than wait until later in the week when the line might have already changed and you lose the advantage that paying attention could have given you.
A Game Like No Other
American football is a very strategic and scientific game in which massive men perform on the field according to the teachings of their coaches. No one can reasonably hope to predict a large majority of the outcomes on any given weekend. But many sports bettors finish the football season ahead because they have paid attention very carefully and have reached the better conclusion more often than not.