Many gamers would like to know what the best payout games are. Are they all online casino games; are some exclusively land-based casino games; or is game payout a one size fits all matter?
At this writing, Slots Play Casinos has reviewed 24 of the several thousand online casinos. Every online casino is somewhat to very much different than most other online casinos. Game payout is just one area where casinos may differ one from the other.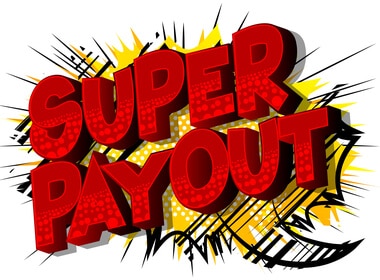 Land-based Casinos Also Differ One from Another
The same phenomenon occurs at land-based casinos where on the Strip, for example, every casino has a different "attraction" to get players to come into the casino.
At most land-based casinos, the extra entertainment does "pay off" as entertainment but when the player enters the casino itself, the payout is a few percentage points lower than at the online casinos we have already reviewed.
Casinos Come in Two "Sizes"
When we evaluate the return to player rate at casinos, we do have to first separate the land-based ones from the top online casinos. The "payouts" in land-based casinos, in monetary terms, are generally quite a bit less than at good online casinos because land-based casinos have higher operating costs.
Think about those erupting volcanoes and the Roman motif! They cost a lot of money! Land-based casinos have to have floor "observers" who "patrol" the floor looking for players trying to game the system (card counting at blackjack is the most famous way to game the system) and to deal with the many slightly, somewhat, moderately, and very inebriated players who drank free alcohol.
So, in general, the better paying casinos are online.
What about Progressive Jackpots?
This is the one area where the big jackpot has the same payout rate at online and at land-based casinos. That's because the highest paying progressive jackpots are run by the game providers and not by the individual casinos. a top game provider may be able to easily finance a million-dollar progressive jackpot (as a starting win amount) because it has a much larger international reach than any online or land-based casino can have. For a progressive jackpot game that pays out a seven-figure win, the game provider takes a few pennies from every bet and puts those pennies toward the big jackpot.
In this way, millions of bets on a progressive jackpot slot can quickly grow to large sums even if the jackpot grows penny by penny.
What about Bets that are Just for Pennies?
Small bets in progressive jackpot slots are not "shaved" simply because the player has to make the maximum bet to qualify to win the progressive jackpot. This means that a bet of just a few pennies will not go toward the progressive jackpot.
It also means that a progressive jackpot slot might be a relatively poor choice of a game for a player who is not making the maximum bet. That's because progressive jackpot slots have high variance or volatility.
Volatility describes the function of the number of wins versus bets versus the size of wins. In other words, a slot with high volatility will give players relatively fewer wins than they would enjoy in a slot with medium or low volatility but the wins would be for relatively more money.
This means that the return to player rate might be the same for two slots, one that has high volatility and one with low volatility, and the number of players who win on their spins will be higher in the slot with low volatility. Thus, a low volatility slot is more about the fun of playing while a high volatility slot is often more about going all-in on the extra risk.
The Return to Player Rate in other Casino Games
Slots, of course, are not the only games a gamer can play at a casino whether online or on land. One of the less recognized facts is that an online casino has one "terminal" in the cyber sense of the term while a land-based casino may have many such terminals.
At an online casino, a million players can play the same game at the same time. At a land-based casino with, say, five video poker terminals in Jacks or Better, only five people can play that variation at the same time!
Furthermore, since the return to player rate is so close to 100% in video poker, gamers who want to play video poker at a land-based casino may have to wait to play while there is no waiting when they play online!
The Advantage of Playing Blackjack and Video Poker at an Online Casino
Video poker and blackjack are the two most popular games of skill at casinos. The blackjack tables take up a lot of space so land-based casinos will have a lot more slots terminals than blackjack tables! At online casinos, there is no functional difference between slots and blackjack since as many gamers as wish to play can play either game at the same time!
So, the question regarding the highest paying casino games is almost always about slots and for all practical purposes never about video poker and blackjack.
This points to a very important aspect of casino gaming: if your goal is win a massive jackpot, your odds of doing so are small but a lot of players enjoy the chase. If your goal is to have a great time, enjoy the intellectual challenge of playing a game of skill, and you aren't concerned about winning a big jackpot, blackjack and video poker are the games for you!
The Caribbean Poker Variations Share a Progressive Jackpot
This jackpot can be a compromise between the rare seven-figure win and the zero progressive jackpot opportunities in blackjack and video poker. The progressive jackpot in Caribbean Poker is a side bet. In other words, gamers are not required to go for the jackpot at all.
The progressive jackpot is won IN FULL only with a Royal Flush but it can be won IN PART with lesser good hands! That is one of the reasons so many gamers who love Caribbean Poker also make the side bet for the progressive jackpot.
Slots Play Casinos at the Forefront of Casino Gaming Advice
Here at Slots Play Casinos, we see our role as helping gamers get the most enjoyment from casino gaming. As far as progressive jackpots are concerned, the odds of winning such a jackpot are the same online or on land.
However, we still feel that the overall advantage in casino gaming falls to the top online casinos for many reasons including the ones we have mentioned here.
Here are links to four of our reviewed casinos that offer excellent game play in blackjack and video poker.
Red Stag offers Vegas Single Deck Blackjack which has the highest return to player rate of all blackjack games. PlayCroco offers all three Caribbean Poker variations with jackpots often in the $250,00 range. Uptown Aces offers the highest paying video poker variations in which, with perfect strategy, a gamer can enjoy a return to player rate above 100%! Grande Vegas offers up to 52 hands at once in video poker.
These are just four out of more than twenty excellent casinos that we recommend.
Come to SLOTS PLAY CASINOS often for the best information about casino gaming.