Blockchain technology continues to make almost daily headlines, in the world economy including in the online casino gaming industry. FunFair Technologies has announced that it is partnering with Spike Games, a provider and developer of online games with twenty years of experience in the business.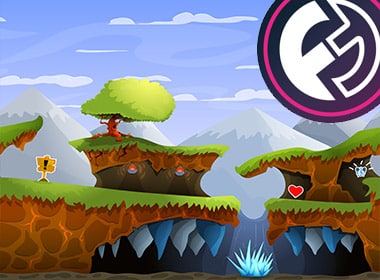 FunFair Technologies runs an operating platform for online casino games using the Ethereum blockchain. Ethereum is an operating system like the many other operating systems that we have come to be familiar with such as Windows. Ethereum is different in that it is based on blockchain technology which is said to be decentralized, open, and utterly transparent. Thus it is said to be impervious to fraud.
Reworking Existing Games
The idea behind the announced partnership is to rework games that are already in Spike Games' library of games but to rework them using blockchain technology. Spike Games will first rework "Alice Cooper's School's Out for Summer". The idea going forward is for Spike Games to rework its entire portfolio of games including all the classic casino games such as poker and blackjack.
Advantage of Block Chain
Although blockchain technology remains hard to understand to most people, the idea is that using "Fun tokens" the "currency" used in Fun Fair's games, players will be able to see the changes in their crypto-currency accounts in real time. The most enthusiastic players will be able to work out the mathematics involved in every game thus making the games more transparent than the games that run on a Random Number Generator (RNG).
FunFair Statement
The CEO of FunFair, Jez San, said, "Spike has over 25 years' experience developing high quality slot games and we are delighted to have partnered with them to lay the foundations for the next generation of blockchain games. By incorporating our proprietary Fate Channel technology with their rich experience, we can now give players the gameplay experience they are used to with all the benefits that blockchain brings."
Spike Games Statement
The founder of Spike Games, Rob Anderson, added: "The potential of blockchain technology in the online gaming industry is enormous and we are very excited to be partnering with FunFair at such an exciting time in its development. We believe in giving players the best possible experience and FunFair's technology will ensure we can provide fast, beautiful, secure games to existing and new crypto players across the world."
FunFair
Because it is run on a blockchain, FunFair makes many claims that are good for both casino operators and players.
Blockchain makes it possible to start an online casino quickly and at far less cost than starting a conventional online casino.
FunFair claims that because it sits on a blockchain and not on a server, it is impervious to hackers who we know are busily trying to access online casino accounts. In this sense, Funfair is claiming that its blockchain technology provides better protection that the encryption software used by all the reputable online casinos.
FunFair claims that blockchain technology provides more transparency than standard online casinos.
The Fun token, which is simply a crypto-currency that FunFair uses to run its casino games, is better than standard currencies. Your crypto-currency account runs independently of the casino so you have your winnings immediately without needing to provide personal information to the casino to effect a withdrawal.
FunFair claims that it is much faster than other casinos.
FunFair claims that its blockchain technology has 105 of the overhead of other blockchain casinos.
Spike Games is counting on all of the above being very true. Spike Games specializes in specialty games.
The Future of Gaming
In 1990 there were no online casinos. The revolution that has taken place in the last three decades is remarkable and extraordinary. No one could have foreseen al the technological wonders the last three decades have brought and no one can be sure exactly how the next three decades will play out.
Governments are softening their stances toward online gaming with two important caveats. First, the revenue generated must be taxed and, second, the casinos have to submit to strict regulation. We don't know how governments will react to the advancement of crypto-currencies and blockchain technology.
Blockchain is as revolutionary today as the operating systems that replaced typewriters in the 1990's. Blockchain will also develop as all technologies do. So the news of the partnership of Spike Games and FunFair Technologies comes at earthshattering news. In a few years similar news will probably be seen as old hat.