The Las Vegas Culinary Union has authorized a strike against the city's casinos. The strike authorization set June 1 as the date on which the strike might begin. By not specifying an exact starting date for the strike, the union leaves open the possibility that the strike might be averted through last minute negotiations.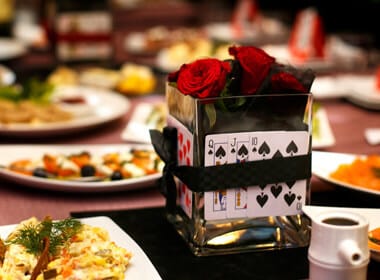 Plentiful food at both low prices and world class excellence are among the non-gambling casino bonuses visitors to Las Vegas expect when they sign up for a weekend excursion to the City of Lights. The Culinary Union is the largest labor union in Nevada as food preparation is among the most labor intensive occupations.
A History of Averting Strikes
Las Vegas culinary workers have not actually gone on strike in over 30 years as the union has successfully negotiated five-year contracts with the casinos' representatives. The latest contract will expire soon so the strike vote is a warning from the culinary workers that they expect the next five-year contract to take into account the great wealth of Las Vegas casinos and the growth of the city in general.
Gambling Would Not be Affected
The activity on the casino floor which is primarily gambling and is run by card dealers, croupiers, and floor bosses will not be affected. But the most important behind the scenes activity of a large casino, hotel, resort complex which involves food and drink preparation would be devastated by the strike. The workers who could go out on strike include bartenders, cooks, kitchen workers, food and drink servers plus other vital hotel staff who are members of the culinary union even though they work in other areas such as bellmen and housekeepers.
A Fair Share of the Pie
The union and the casinos generally have an amicable relationship even though casino executives earn multi-million dollar incomes and the average worker, despite being vital to the smooth functioning of the casino, earn far less. No one wants a repeat of the last strike which took place in 1984, lasted over two months, and cost the city, the workers, and the casinos many tens of millions of dollars.
The last call to strike came in 2002. That indicates that generally the Culinary Union reaches a fair five-year contract without having to threaten a strike and there are underlying reasons why 25,000 workers felt that they do need to threaten to strike to get the kind of contract they feel they deserve this time.
Widespread Effect
The strike would affect 34 casino, hotel, resort complexes in the city. These include such big names as Bellagio, Stratosphere, MGM Grand, Caesar's Palace, and El Cortez.
The possibility of a strike would damage the city's reputation as it would directly coincide with the National Hockey League's Stanley Cup Finals featuring the team from Las Vegas in its first year of operation, a feat unheard of in professional sports. In contrast, the New York Mets baseball team lost 75% of its games in its first year.
Informative Quote
A widely publicized quote from an older casino worker, one Lewis Thomas, who works at the Tropicana, demonstrates the very modern concerns of casino and hotel workers. He said, "I'm here to show the younger generations that this is the way we fight to maintain our jobs, job security, heath benefits, and to gain a pay raise."
Maintaining One's Job
The biggest new development in business these days is artificial intelligence and robotics. Fast food chains have eliminated many workers with computers in order to reduce costs caused by extravagant forced pay raises to employees. Robots can do many industrial jobs. They can do them better than humans because they are calibrated to do exactly the same thing every time, never get sick or take vacation, and never go out on strike.
So simply keeping jobs that possibly could be replaced by robots is a very important aspect of the labor market generally in modern economies.
Job Security
This is similar to the previous example but includes management-employee relations. In our highly politicized environment, we might need iron-clad guarantees that a verbal miscue won't cost us our job. As Las Vegas attracts people from all over the world and as people are becoming ultra-sensitive to such things as cultural appropriation and micro-aggressions, workers feel that they need written guarantees that an offended customer couldn't cost them their job.
Sexual harassment is also a two-edged sword that threatens job security. On the one hand, workers want to know that they won't be fired for reporting sexual harassment or merely "inappropriate behavior" on the part of a customer no matter how prominent or famous or how high a high roller he or she may be.
The other side of the sexual harassment coin is when a customer accuses an employee of inappropriate speech or behavior. Workers want firm procedures in place to protect them from frivolous accusations and to guarantee fairness in dealing with sexual harassment accusations.
Health Benefits
It is clear that in an era where the government seeks to take over the entire health care industry, employees would be concerned that they retain the best health care program allowed by law. This might include prescription drug coverage and many other relatively low cost health care items.
Health insurance portability is also a big issue these days as a worker who cannot take his or her policy when they leave one employer is like to be forced to buy private insurance which becomes increasingly expensive year to year. Estimates are that private insurance premiums will rise 175 this year alone.
Pay Raises
This was listed last in Mr. Thomas's quote but it is the basis of all unionization since the early 20th century. Even small pay raises increase a family's standard of living.
Time to Talk
Negotiations this time around have not been fruitful as the job market is much different than it was five years ago. On the one hand, the national unemployment rate is lower than it has been in decades. That would serve to strengthen the workers' case. On the other hand Las Vegas attracts new residents all the time meaning that there are people who can take over low skilled jobs immediately.