The latest report issued by the United Kingdom Gambling Commission (UKGC) reveals that overall gambling activity in the United Kingdom fell by 3% in 2017 but that gambling while using a mobile device increased by 8% so that today slightly more than half of all online gambling in the UK is done on a mobile device. The growth of 8% in mobile gambling is a year to year change boding even further increases in mobile gambling and concomitant losses in gambling on desktop computers.

The trend is nothing short of revolutionary for an industry that has invested billions of pounds in a gambling platform that is headed for obsolescence.
For the last five years or so people have been predicting that mobile gambling will overtake desktop and laptop gambling. The two reasons most cited are convenience and graphics.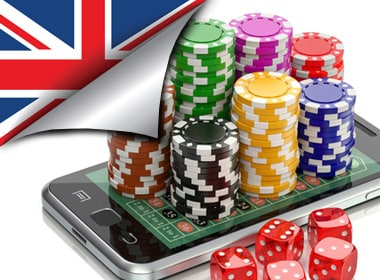 Graphics
Slots are still the most popular game played at online casinos and slots play is extremely dependent on superior graphics. The old-fashioned three reel slots were basically all cut from the same cloth. Modern video slots are extraordinarily competitive with more than 150 game developers vying for market share.
The game developers create slots that cover hundreds of themes. To bring the thematic ideas "to life" so to speak, the developers must utilize the very best in computer graphics to make the games so real that players will be able to enter them vicariously.
When casinos began using a mobile platform, none of the games that worked on desktop computers worked on mobile. They had to be reformatted. Now, the game providers are developing slots specifically for mobile because the pace of slots play on mobile is skyrocketing as per the UKGC report.
Convenience
Everyone knows that mobile phones are extraordinarily convenient. However, gaming using a mobile device was not as convenient in the early days because screens were small and until the last decade mobile devices tended to be heavy. In fact, laptops also were too heavy to curl up with on a favorite chair or couch. Now both laptops and mobile devices are "light as a feather" and lend themselves to more comfortable play.
Mobile devices lead in this gaming revolution because the technology that runs tablets continues to improve seemingly exponentially and the prices for tablets continues to fall making them affordable to almost everyone, even people still making payments on a laptop and cellular phone.
One Giant Caveat
The elephant in the room with regard to the quick growth in mobile gambling is that, as gambling becomes more readily available to anyone with a mobile device, the incidence of problem gambling might spike as well. Today, fewer than 1% of British gamblers see themselves as problem gamblers but the commission may see that statistic as more wishful thinking that reality awareness.
Although fewer than 1% of all gamblers identify as problem gamblers, 6% of all online gamblers voluntarily took themselves off all online gambling registers in 2017. This would indicate that problem gambling is far more prevalent in the UK than might be ascertained from survey answers.
Awareness
The UKGC also measures the level of awareness among gamblers as to their ability to take themselves off gambling rolls. In the past two years, the number of gamblers who have said that they know that if they choose to do so, they can take themselves off all gambling lists has remained steady at 37%. The commission is thus challenged to improve player awareness of their options with regard to possible problem gambling.
Awareness is particularly important in the youngest group of online gamblers, those 18-24 years of age. It is during these influential years that gambling patterns tend to become established. The commission report specifically mentions that half of all respondents in this group reported having seen or heard a gambling advertisement in the past week. This means that a significantly larger number of young people are aware of the chance to gamble than are aware that they have options if gambling is a problem for them.
Future of Desktop Gambling
No one quite knows what the future might bring for desktop gambling sites. As mobile continues to make inroads versus desktops, we might see desktop casinos offer something that mobile can't offer. There will likely be some fallout in the desktop casino market as those casinos that are poorly funded may see revenues fall to the point that they must close up shop.
Ironically, one of the biggest innovations in recent years at desktop casinos may also lead to the demise of many such casinos. Instead of requiring players to download the entire heavy casino to their hard drive, casinos are allowing instant play. The graphics for instant play have followed the same pattern as the graphics for mobile: great improvements. so, as players are less "committed" to a desktop casino, it may be easier for them to go mobile.
A desktop casino that doesn't offer a synergistic link to a mobile platform is also not likely to last long in this dynamic market. Desktop casinos also need to know which demographics are the leading players at their desktop platform. If they know those data, they can market their desktop platform directly to that demographic.
It could be that certain age groups or gender groups may be so unrepresented at desktop casinos that those casinos stop offering prizes, contests, and bonuses to them.
Future of Mobile Gambling
It is clear from the results of the survey that mobile gaming still has a high ceiling. It is as yet unknowable just how high that ceiling may be and which demographic groups will be in the forefront of the inevitable rise in mobile gambling.
Customer Service
After games, payout rates, convenience, and overall fun, the single most important factor that attracts and keeps gamblers to an online site is customer service. The challenge to desktop casinos is clear: to have the absolute best customer service. The challenge to mobile casinos is also clear: to maintain such a high level of customer service that players stay on the mobile site instead of reverting to the desktop casino.