As much as the weekly news relates the enduring viability of land based casinos, the news also carries many articles and announcements that talk about online gambling in every form it takes. Online gambling also becomes pure gaming when players enjoy the unlimited number of free games to play online. Here are some noteworthy recent news stories concerning online casinos.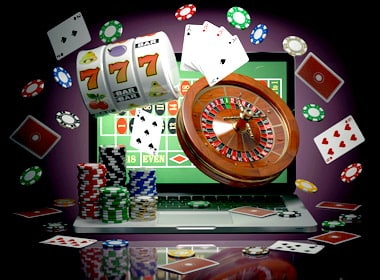 Hard Rock Casino
Hard Rock Hotel and Casino has poured over $500 million into reviving the failed Trump Taj Mahal in Atlantic City. Along with the land based casino set to pen on June 28th, Hard Rock is opening its own online casino.
The online casino has hired Gaming Innovation Group (GIG) to provide the gaming platform and NetEnt to provide the games themselves.
As incentive to new players to look into Hard Rock online casino, it is offering both a new deposit new player bonus and a solid 100% first deposit bonus.
The reason this is new casino is newsworthy is that it signals an new wave of US online casinos where states will allow established land based casinos to also run an online casino. The key for the state is tax revenue and by having the online casino under the auspices of a land based casino, the state of New Jersey hopes to streamline the tax collecting process. Other states will follow New Jersey's lead.
Players at Hard Rock online will also have access to the casino's mobile gaming software and a Live Casino. All accounts are connected directly to the parent online casino so every wager made on any of the gaming platforms becomes duly registered in the casino's data bank.
Portugal
The need to generate tax revenue has created a situation in Portugal where the expected windfall from legal and regulated sports betting has not come about. The main problem is that the tax obligation is simply too high at 12% of bets made rather than revenue after expenses.
This makes it much more expensive for Portuguese sports bettors to profit from good sports bets so they have either eschewed sports betting entirely or have followed the American practice of betting on sports illegally.
This development clearly shows that bettors will not just adhere to the law when the law seems designed to prevent them from keeping what they consider to be their fair share of their own winnings.
In Portugal, the regulated online casino market has created some €11 million in the first quarter of 2018.
Connecticut
This is another of a multitude of states in the US that desperately need to find new sources of tax revenue. Nevertheless, the state legislative bodies adjourned for the year without coming to an agreement on how to legalize and regulate online lotteries and sports betting.
Some of the difficulty is the result of the connection between the state and the two Native American tribes that run land based casinos in the state. The tribes had formally announced their support for a full range of online gambling including casino, lottery, and sports betting.
The legislature discussed every area of online gambling including daily fantasy sports which its practitioners have long claimed is not gambling. But the state made no headway towards a law many saw as a must in order to generate tax revenues for the state.
Connecticut is a small New England state with land based and online casinos available just a short drive away for most residents. Some who had hoped the legislature would pass a state casino gaming law this year, fear that the state will lose millions of dollars to out-of-state gambling by Connecticut residents.
Pennsylvania
The casino news from this large state near Connecticut, New Jersey, and New York indicate that the American notion of Federalism in which each state is an independent actor legislating as it sees fit even if other states legislate in the opposite direction can confuse issues to the point where a state may be legislating against its own interests.
While most states are happy to connect online gambling to existing land based casinos, Pennsylvania specifically has disconnected online gaming from land based casinos. Pennsylvania has also passed a 54% tax rate for online slots revenues. Some states have passed laws demanding that online casinos be run by existing land based casinos. It may be that that is also an unnecessary burden on the thousands of online casinos that could open operations independently in those states were it not for the restriction.
In Pennsylvania's case, the state has banned land based casinos from running online casino operations. Thus the state is burdening itself to monitor thousands of casinos that may decide to set up shop in Pennsylvania.
The final bit of legislation that has industry observers scratching their heads is the restriction on "skins". A skin is a façade for an online casino behind which one casino may actually be an exact duplicate of another online casino. The law in Pennsylvania requires that skins be connected to a land based casino licensee. This is an inscrutable piece of legislation, unprecedented in the online casino business.
Casinos use skins as way of attracting players to a casino with a different look but with all of the same games. By forcing skins to be connected to land based casinos, the state is saying that the widespread practice of using skins is unacceptable in the state. However, there are at present no skins that fit on a land base casino so it is very difficult to see how this legislation might work.
Online Poker Growing
The Stars Group reported record first quarter earnings and the value of the company rose on the Toronto Stock Exchange. The rise in profits has been fueled by great growth in online poker and in sports betting.
Stars Group also reported that it is buying Sky Betting and gaming for $4.7 billion. Sky is an industry giant and by purchasing it, propels Star Group into the upper echelon of casino groups.