In a decision that has portents for the dormant Chinese casino gaming industry including possibly making land based and casino online games available on Mainland China, the Chinese government announced that it was allowing sports lotteries and horse racing on the island of Hainan. This is seen by some as a major step in the long-term direction of allowing casino gaming generally in China.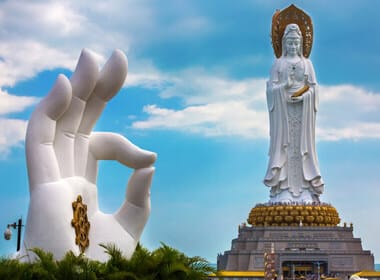 At present, gambling is illegal on Mainland China with the exception of Macau which is considered an autonomous region. By allowing even limited gambling on Hainan, the Chinese government is signaling that it may loosen the strings on gambling in general and casino gambling in particular for the more than one billion Chinese on the mainland.
Even as the Chinese government was making this surprising announcement, the official press release left open almost as many questions as it answered. In cryptic terms the press release stated that Hainan Province "should explore the development of sports lottery and instant lottery on large-scale international games."
Illegal with Exceptions
The practice of gambling in China is a matter of some uncertainty. Officially, gambling is prohibited. Nevertheless, the government runs a lottery on international soccer games in which it does allow betting. The government also allows horse racing but, as yet, has not allowed betting on horse races. Thus, the announcement, as cryptic as it was, indicates that the Chinese government is softening its stance on gambling generally. It will start with some controlled gambling on high-exposure sports matches and selected horse races.
Hainan: The Chinese Tropical Paradise
Hainan is considered far different than the rest of China. It has been likened to Hawaii in that it is a tropical island with a rich history of its own and a traditional way of looking at life. It boasts beautiful beaches and is considered the most accessible winter tourist destination for the hundreds of millions of Mainland Chinese caught in the cold of winter yet having much disposable income as a result of the great leaps forward the Chinese economy has made since the economic reform began some two decades ago.
Su Guojing, the chairperson of the China Lottery Industry salon said that, while it will still take some time to fully explore the potential for gambling in China, "Hainan may try to launch a lottery for more sporting events, including horse racing and rowing, to help boost Hainan's tourism."
Based on the experience of Macau, where the gambling industry brings in $33 billion each year, the thing that would do the most to boost Hainan's tourism is to build a great land based casino on the island so people could come from distant lands for the beaches, the luxurious accommodations, and the casino.
Most observers also note that the gambling industry on Macau pays taxes on the 33 billion dollars per year it earns and the Chinese government is probably keen on getting some of the vast gambling pie even if the rulers still have many misgivings about gambling in general.
Integrated Resorts
There is no doubt that the Chinese leaders are closely watching the developing Integrated Resort idea. This idea began in Singapore and now has garnered accolades from many Far East jurisdictions and as far away as the United States.
The idea is simple and has been discussed many times in these and other media outlets. An Integrated Resort has a casino as part of a large complex that includes a great hotel, convention center, family theme parks, pools and, in the case of Hainan, beaches, restaurants, shopping and much more so that the tourists who come are not coming just for the casino.
Developing Hainan
The Chinese government has big plans for Hainan in addition to the possibility of introducing some limited gambling there. The government hopes to turn Hainan into a free trade port, to bring in capital investment from abroad that would look to Hainan as a safe place to invest given its new free trade status, to make the island as tourist-friendly as possible by reducing pollution by eliminating all fossil fuel run vehicles, and to bring in high tech businesses.
Some seed capital has already come to Hainan but the tourists haven't followed the money. The government appears to be saying that it realizes that gambling is a part of the attractiveness of any destination to tourists.
Online and Land Based Gaming
If the Chinese government is truly serious about bringing tourists to Hainan, it should consider not just running a few horse races, or allowing selected sports betting, but should build a brick and mortar casino and should allow online gaming as well. Tourists come with their favorite online casino on their mobile device or laptop and while they are lounging at the beach or at the pool are likely to want to get a few slots game spins or a few hands of poker or blackjack in before the kids wake up, or the convention resumes.
Bright Future, Perhaps
An analyst for Union Gaming, Grant Govertsen, dashed some cold water on the possibility that China would open the way to casino gaming on the Mainland. He said that there are as yet no real signs that the government is looking to do so.
He further stated that Macau would likely suffer little financial loss even if a casino were to be built on Hainan. He said that if the Chinese government were to allow one or two casinos on Hainan, they would compete poorly with the 40 casinos on Macau. He did grant that in the limited VIP gambling market, a casino on Hainan would have the chance to make inroads in Macau's VIP business and might become the casino gambling destination of choice for Mainland China's growing cohort of millionaires.