There is a lot of talk these days about progressive jackpots. One reason is that free no deposit bonuses are now so prevalent that many players, using their bonus codes, are accessing thousands of dollars in bonuses and up to $100 in no deposit bonuses. The one fly in the ointment regarding no deposit bonuses is that casinos don't allow you to play on progressive jackpots with such bonuses.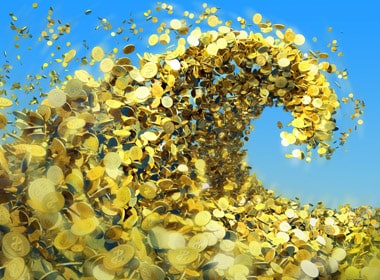 News from around Cyberspace
It is a natural question: what is so special about progressive jackpots? The answer to that question makes it clear why casinos don't let new players use their no deposit bonuses on progressive jackpot games. Here are a few of the many big jackpots that players have won since the beginning of 2018.
In January, six players shared a one million dollar jackpot in a Bad Beat game at Motor City Casino.
In February, an Ohio couple that struggled with financial difficulties for years won over $1.5 million in the state lottery's progressive jackpot.
Also in February, a Michigan man won over $325,000 in a progressive jackpot.
In March, a man in Oklahoma won nearly one million dollars at the Riverstar Casino. This was a very new casino and the progressive jackpot was only the second one it had run.
In March, a player won over $1.3 million at a Lake Tahoe casino.
A man won about $194,000 on his first spin at an online casino. The progressive jackpot began growing again in November when it was last won.
Mega Moolah's progressive jackpot always restarts at $1,000,000 after it's won. In 2018, it took only until January 17 for the first Mega Moolah jackpot of the year to be won.
In April, a man in Michigan won a $685,000 progressive jackpot.
In May, a player won the $1.3 million Wheel of Fortune progressive jackpot at a Las Vegas casino.
In May, a player won over $11 million in a Nevada casino. It was already the third time that specific progressive jackpot was won in 2018.
In June, a man won about $900,000 in a progressive jackpot at the Choctaw Casino in Oklahoma.
A lucky player won a jackpot worth about $450,000 at the new progressive game called Gana con Susana.
Importance of Progressive Jackpots
Casinos love progressive jackpots. The get rich quick mentality is a part of our makeup as human beings and progressive jackpots offer the most attractive way to get rich quick. State-run lotteries that build and build are essentially no different than progressive slots or any other progressive game offered by a casino.
Because we are hard wired to try to win the big jackpot, progressive jackpots attract gamers in very large numbers. Casinos like that because the house edge in progressive games is higher than in regular games. State can pay out hundreds of millions in a single lottery drawing because they pocket at least as much as the lucky winner or winners take in.
Once a player deposits and begins playing regularly, all that casino's progressive games are open to him or her. Casinos actually fear the possibility that more than one player will win a big preset jackpot. Casinos need progressive jackpots to grow over time in order to have the money needed to pay them out when the inevitable lucky player wins one.
Can the Casino Pay?
This leads to one of the most important rules players need to follow whenever they actually deposit money at a casino: it's absolutely vital to know if the casino can pay out large wins. Many new casinos cannot. There are now thousands of online casinos and land based casinos are also growing in number rapidly. Simply make sure that the casino you want to deposit money at has enough assets to cover its losses if there are any.
However, casinos cannot take the chance that a player will win the progressive jackpot with no deposit bonus money. The chances that any one player will win the progressive jackpot are quite small but the chances that one lucky gambler will win the big jackpot if playing for the big jackpot is open to all are actually quite high.
The Nature of the Beast
If using no deposit bonus money on progressive games were allowed, all new players would use the money only on progressive games. The desire to hit the big jackpot at no cost would encourage such behavior on the players' part.
Since all casinos now offer excellent instant play gaming without the need to download the casino, players could go from one no deposit bonus to another, playing progressive games ad infinitum until they either won the big jackpot or ran out of no deposit bonuses.
Strategy for Progressive Jackpots
There are actually only two basic strategies for playing progressive casino games. The first is that you qualify for the top jackpot only if you make the maximum bet. There are many stories of gamers who "won" the jackpot only to find out that they didn't win the jackpot.
If you can't afford the maximum bet, don't play that game. A corollary of this rule is that some casinos offer many progressive games. While the big jackpot may be out of some players' reach, a top casino will have many lower range progressive games with maximum bets in more players' range.
It's also a good idea to remember to bet on all lines in a progressive game. Woe to the gamer who "wins" on a line that he or she didn't bet on.
The second rule of thumb regarding progressive games is that they tend to pay out less than regular games. This is especially true of slots. So, if you aren't playing for the big jackpot, you're probably better off playing a non-progressive game altogether.
Hope
Progressive jackpots get won every day. That is their big allure. No one knows who the next big winner will be and how much she or he will win.