Evolution Gaming is back in the news. The company announced that it signed an extension with Scientific Games to run live casino versions of many other Scientific Games products in addition to the exclusive rights Evolution already had for Three Card Poker, Let it Ride, and Ultimate Texas Hold'em.

The CPO of Evolution, Todd Haushalter, explained that Evolution is the world's leading provider of live casino feeds and Scientific Games is the world's leading provider of proprietary table games so the marriage of the two companies made perfect sense from both companies' standpoint. The business decision thus was born of the strengths of the two companies working together.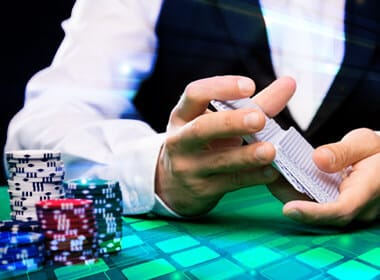 Evolution also announced that Global Gaming, which caters primarily to Scandinavian players through a network of five online casinos, chose Evolution to run all of Global Gaming's live casino feeds. Global Gaming will add Evolution's entire set of VIP live games plus all of Evolution's standard live casino game offerings.
Extraordinary Live Casino Feeds
Evolution has taken to heart the advice given in the 1960's by Robert Townsend, the head of Avis rent-a-car, who said that a company must define its business in the strictest possible terms.  For Townsend and Avis, it meant selling off a limousine section because the company, under his guidance, defined itself as renting cars without drivers.
Evolution runs live casino games for online casinos. Period. And due to this focus of their talents, Evolution is.
Excellence from the Beginning
Evolution Gaming began in 2006 and immediately demonstrated that live casino feeds could be much improved. The company began its focus on European online casinos before spreading out in later years.
Evolution signed exclusive contracts with five online casino firms in 2007 to run their live casino games. In 2008, Evolution entered the sports betting world by signing a contract with a German sports betting site.
By 2009, the studio in Riga had to be enlarged fourfold to accommodate the enormous boom in demand for live casino games through an online casino. Also in 2009, Evolution opened the first luxury live casino feed for high rollers. Finally, Evolution continued its rapid early growth with exclusive contracts with several well-known online casinos.
In 2010, the studio in Riga expanded once again to over 2000 square meters or 18,000 square feet. This allowed private licensees to open live casino feeds from Evolution's studio. In 2010, Evolution was awarded two coveted awards: the Live Casino Software Supplier of the Year award and the Rising Star of the Year award. Most remarkable about Evolution winning both of these awards in the same year is that 2010 was the first year the awards were given.
Evolution has won the Supplier of the Year award every year since.
In 2011, the original studio in Riga proved too small so the entire live casino operation moved to even larger accommodations. In the same year, Evolution became the first live casino feed operator to be licensed to operate in Italy.
Mobile Live Gaming Introduced in 2012.
In 2013, the 100th live table began operation in the studio in Riga making the studio the largest land based casino site in the world. This, even though Evolution is not a land based casino in any sense except that the studio is located on land.
Evolution opened a studio in Malta to complement the one in Riga which continued to be too small to meet demand.
Year after year, Evolution has expanded its live casino operations to other venues in Europe. Evolution began its first live casino studio operation outside Europe in early 2018 opening a studio in British Columbia, Canada. This year the company began the first progressive jackpot game in a live casino feed with a Texas Hold'em €50,000 progressive jackpot.
Evolution Gaming is the fastest growing employer in Latvia owing to the continuing demand for live casino feeds from the Riga studio.
The historical items we mentioned here are just the tip of the iceberg for Evolution which continues to grow in its professed area of expertise—live casino gaming.
Evolution and the Future
When Evolution Gaming began, live casinos were considered a poor step-child to the parent desktop online casino. Live casinos offered very few games as opposed to the hundreds already being offered at many online casinos. Evolution Gaming contributed to the evolution of live casinos by demonstrating that there was a vast untapped market for live gaming if the feed was state-of-the-art, the dealers were totally professional, if interaction between player and dealer was as close as in a land based casino, and if the games themselves were as close to a real land based casino experience as possible.
If the past is prologue, then we can expect Evolution Gaming to be in the news as regularly in its second decade of operation as it was in its first decade.