There is very good news out of Las Vegas that has a connection to the gaming industry there. March saw a modest amount of hiring in Vegas; despite expectations that hiring would reach close to 200,000 for the nation as a whole it was only just barely above 100,000.
The good news for Las Vegas is that confidence remains high for the gaming industry which means that going forward the industry will experience better than average growth. This confidence continues despite the advent of online casino games, Live Casino games through the internet, and the seemingly unstoppable rise of mobile gaming.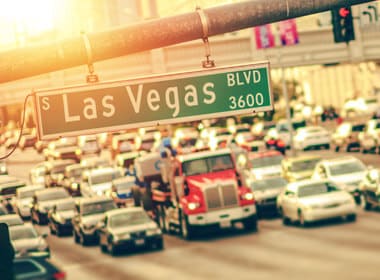 Construction Exceeds the National Average
In addition to the general confidence level of land based casino owners and investors, there are giant building projects underway in the Las Vegas area that will ultimately impact the gaming business. Amazon began groundbreaking for a massive "customer fulfillment center". The center will cover 800,000 square feet of what today is desert in North Las Vegas. It will eventually increase the population of the area, will support healthy employment growth, and will continue the rise in home values in the entire area.
While Las Vegas gaming depends almost entirely on outside traffic to its many hotels, casinos, and convention centers, as a large metropolitan area with the need for a broad based economy, Amazon's new center will serve as a leading source of upward mobility in Las Vegas and Nevada generally. It has been shown that excellent upward mobility serves to attract businesses or industries in its wake. The best case in point is Silicon Valley which continues to ride the wave of attractive opportunities for high tech companies each one following others to create one of the wealthiest areas in the world.
Customer Fulfillment Center
The new Amazon project will bring about 1000 new full time jobs which means that it will create an incentive for people to relocate to the Las Vegas area. The center will package all the products Amazon sells online for distribution around the world.
Some have objected to the center as a threat to small local businesses. It is true that locally some small businesses might have their sales drop as Amazon might be able to provide the same products at a lower price. Overall, the location of a large warehouse such as this center serves to diversify the local economy.
Diversification Much Needed in Vegas
The Las Vegas economy has long relied on gambling, tourism, and hospitality but, despite great confidence in these sectors, it is impossible to ignore the forces that will soon challenge Las Vegas's hegemony in these areas.
Casinos have already been built all over the country. Now some new casinos and some older casinos as well are embracing the Integrated Resort concept pioneered in the Far East beginning in Singapore and spreading throughout the Far East. An Integrated Resort is far more than a casino although each one has a casino. Without a casino, the resort is merely a resort which would not challenge Vegas. An Integrated Resort has a casino, family-oriented attractions and activities, a convention center, water park and pools, a theater complex, and a shopping mall.
Las Vegas, of course, has all of the above but why would someone travel to Vegas when the same excitement might be available in their own backyard, so to speak. The Integrated Resort concept won't present a great challenge to Vegas for some years as it takes many years, perhaps, decades to go from the initial idea to construction. That's also one reason why groundbreaking for the Amazon center is so important; the company has already done all the preparatory work both legal and financial to get started on the actual construction.
Sports Betting
Another area where Las Vegas will likely face a major challenge and far sooner than the challenge that will inevitably come from Integrated Resorts is in sports betting. Today Nevada, Oregon, Delaware, and Montana are the only states with legal sports betting and only in Nevada is sports betting allowed across the full range of sports.
Everyone expects the Supreme Court to void the Professional and Amateur Sports Protection Act (PASPA) of 1992 on constitutional grounds. Within possibly days of the expected decision, some states, primarily New Jersey, will already be outfitted for sports betting. Every state near New Jersey will quickly follow suit. Most states in the US will eventually follow suit as well probably within a calendar year.
So, Vegas faces economic challenges. The area has such a robust economy and low taxes that it remains extremely attractive to outside businesses. As California continues to bleed residents and businesses, Nevada and Las Vegas need a broad based economy to attract as many of them as it can.
Las Vegas No Longer a Gambling Backwater
The heat of the desert made the corridor from Las Vegas to Phoenix a backwater as it was simply too hot for most people. Las Vegas had its reputation as a gambling capitol but little else. Phoenix has long outpaced Vegas in the diversification of its economy but Las Vegas and environs are quickly catching up.
A facility that adds 1000 full time workers will attract businesses to serve these people. Such businesses include auto dealers and mechanics, doctors, dentists, teachers, lawyers, insurance salespeople and so on ad infinitum.
Creative Marketing
Just as it took creative marketing to bring Amazon to the Las Vegas area, so it will take similarly creative marketing to bring a diverse set of businesses to the area. The new center being built by Amazon on 800,000 square feet of desert will add exponentially to the future viability of Las Vegas.