The online gaming industry in the United States remains in a serious state of uncertainty and flux. Some game providers have been accused of breaking gambling laws by offering free games with players retaining the option to buy more playing credits. These providers do not run casinos in the usual sense; they provide games for a small fee.
In the past week, Michigan hit the headlines because a gambling law, called H 4926, has reached the floor of the state House of Representatives. The law is sponsored by Representative Brandt Iden. The law as presented covers three areas of online gambling: sports betting, casino, and poker.
Each of these areas are dealt with individually in US law so by combining them into one law, Rep. Brandt is trying to cover all bases at once.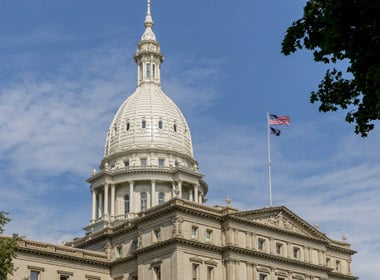 Sports Betting
The effective law is called PASPA for Professional and Amateur Sports Protection Act. This bill was snuck through Congress in 1992 as an attachment to a much larger and much different bill.
PASPA was unpopular in every state that wanted to regulate sports betting within its jurisdiction. PASPA had grandfathered in the limited sports betting then legal in Delaware, Oregon, and Montana and the full-blown sports betting that was then legal in Nevada.
The case is before the Supreme Court and H 4926 hopes to anticipate and set in motion legal sports betting in Michigan.
The law allows existing land based casinos to run sports betting in both the casino and through an online site. It also allows Native American tribes who run land based casinos to operate sports betting from their casinos under a contract the tribes would have to sign with the state.
The bill also sets forth an 8% tax on sports betting. The details are far from complete with Rep. Brandt apparently satisfied to get a law passed and to work out the regulatory details later.
Poker and Other Casino Gaming
The parts of the bill that include poker also talk about online casino in general. The most important aspect is that the bill requires that pokier be included in any online casino's offers to Michigan players.
As with most states in the gambling business, there is a great deal of confusion. The proposed law does not include lottery gaming since there is already a lottery regulatory body in the state. The body that would regulate online poker and other casino gaming will be a subordinate body to the Michigan Gaming Control Board. The subordinate body will control online gaming so it's unclear exactly how it will be subordinate to the parent board or, conversely, how it will have any autonomy at all.
The law allows residents of Michigan and tourists to play poker and casino games online. The law doesn't say exactly how a tourist is to be defined. If people from a neighboring state cross into Michigan but don't take a hotel or motel room, will they not be considered tourists? In other words, would they be breaking Michigan law?
The law specifically states that only the twenty or so Native American land based casinos plus the three Detroit area casinos would be allowed to apply for a license to offer online poker and casino gaming. The law doesn't specify how Michigan can prevent other gambling enterprises from offering their products to people in Michigan.
The law uses jargonistic language to make it clear that Michigan could enter into a partnership with other states to facilitate the collection of taxes.
Complexity of Fifty States
As in many other areas, all fifty states may soon pass their own laws legalizing sports betting and online casino and poker gaming. The laws will be quite different one from another. It remains unclear how players would know with certainty that they were playing legal games in a legal manner.
States have already begun talking among themselves about the need to streamline the gambling laws so no one is falsely accused of breaking one state's laws while being perfectly in line with their home state's laws.
Equally important is the ability of each state to collect its legitimate taxes from legal casino, poker, and sports gambling.
Fantasy Sports
Another area that has befuddled business owners, players, and state regulators is fantasy sports. In many cases, players post a fee to be able to play fantasy sports. The question then is: are fantasy sports with a fee games of chance or games of skill? Some fantasy sports operators are already under fire for breaking state gambling laws.
If sports betting becomes legal in Michigan or elsewhere, would the state formally define sports betting as a gamble based on chance or a gamble based on analysis and skill. If sports betting is allowed only through existing casinos, would that make fantasy sports run by independent companies illegal?
Future in Michigan
The law that was introduced is actually a rewriting of a law that was proposed in late 2017 and that lingered between the committee and the House floor. The newly revised law says that the three gambling activities would be allowed to begin one year after the law passes. In the intervening months, the state may wish to revise the law once again as it sees flaws and loopholes in the law as it would be constituted at that time.
So, Michigan is not really all that close to having legal sports betting, whether at land based casinos or online or both, and online poker and casino gaming generally. That a law is making its way through the slow-moving state legislative process means that the residents of Michigan want sports betting, casino and poker gaming to become legal in their state.