Online casinos, like all those here on Slots Play Casinos, have many big advantages over land based casinos. Online casinos can offer many more and larger bonuses. All a player has to do is make a deposit and enter the casino bonus codes and they can access a large range of bonuses. The big reason bonuses are so common online and not on land based casinos is because you can stretch your time at an online casino over many days or weeks but at a land based casino, you might be limited to just one or two days.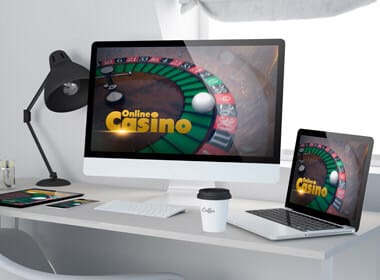 Infinity vs Limited Space
Online casinos have virtually unlimited space so you never have to wait. You can play a number of games simultaneously. You can even play at a number of different casinos simultaneously.
No Travel Costs
When you go to a land based casino, you pay for the privilege in time and money. You can play online and when you're done, you can go back to the things you really need to do such as clean the house, cook for your guests, or simply work on that project.
Lots of Games
Online casinos have no walls so they can offer hundreds of games. Land based casinos have walls so they can't.
Paraphrasing Hillary Clinton
So, having said all that why aren't online casinos way ahead of land based casinos? Why are land based casinos still getting built at a cost of hundreds of millions of dollars? Why do people still love going to land based casinos?
The reason is primarily that land based casinos have one massive advantage over land based casinos: they are enormously exciting places to be. In addition to being exciting in their own right, land based casinos are places people don't go to all that often so they look forward to two or three days at a casino with a hotel, restaurants, shows, and so on.
In this sense, land based casinos are like sports stadiums. Unless you gave season tickets, you might go to a game once or twice a year. Sports these days are pretty expensive but people still like to go. There is simply no comparison between being at the game and watching it on television.
The same thing is true about land based versus online casinos. There is a very good reason why roulette and craps are less popular online, by far, over their popularity at land based casinos. When there are other people around the table, there is a lot of whooping and hollering as people cajole the dice or the roulette wheel to give them luck.
Seeking Excitement
Online casinos have to find ways to create excitement. Here are four ways they do so.
Bonuses
We touched upon bonuses above. Online casinos offer a slew of bonuses from no deposit bonuses to large deposit bonuses. Being able to play for hours with the house's money generates its own measure of excitement to online gamers.
Bonuses begin when you sign up to play at an online casino and continue from that point forward. You can get a bonus for depositing on the weekend when so many people have other things to do. At an online casino, you can take your bonus on Friday and delay playing for days.
Online casinos offer bonuses on Monday to help alleviate the Monday back to work blues. They offer midweek bonuses. They offer bonuses for birthdays, anniversaries, or just because they can.
A Multitude of Games
Many of the 150 or so game developers work almost exclusively with online casinos. By introducing new games every month, online casinos generate expectation and enthusiasm among their players. Many online casinos have started to offer games from several game providers.
The technology for instant play at online casinos is so much better than it was just a few years ago that most online players no longer download the casino to their hard drive. Therefore, they can join many casinos and play the games that some offer and others don't.
No land based casino can generate the kind of enthusiasm that online casinos can generate by offering hundreds of games.
Tournaments
Online casinos can offer tournaments that last a week or longer while land based casinos are stuck with hours-long or weekend long tournaments. Online tournaments usually have either no buy in cost or a very modest buy in. That means that players can simply play for the fun of it.
Some online casinos begin a tournament every day and have several going on at the same time.
Live Casino
This is the next generation of offerings from online casinos. When they began offering live casinos a decade or so ago, the graphics were poor and the ability to interact with the dealers was equally poor.
Graphics are now so much better that online casinos can almost replicate the excitement of live casino action through their online live casino platform.
Some casino software developers are working almost exclusively on improving their live casino product.
Sports Betting
This is the next big wave for online casinos. It is not yet clear how sports betting will be regulated since each state is on its own in doing so. Some states may offer sports betting only through land based casinos while other states may allow online casinos to partner with established sports betting sites to offer sports betting without any direct connection to land based casinos.
If the latter becomes the case, it will certainly increase excitement at online casinos since sports bettors don't need the noise and tumult of a land based casino; they only need sports.
Synergistic Competition
Gambling is so pervasive that even as they see each other as competitors, land based casinos and online casinos are involved in a synergistic market in which the fun players have at one can be translated into fun at the other.