The online casino market in New Jersey continues to grow. New Jersey was the state that led the way in defiance of the Unlawful Internet Gambling Enforcement Act which made it almost impossible for online casinos to accept American players. New Jersey said "nothing doing" and led the movement to allow states to regulate online casino gaming within their jurisdictions.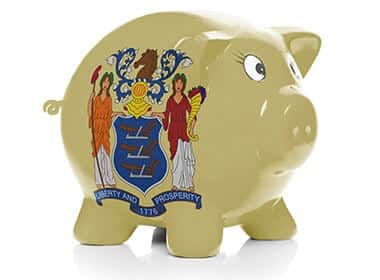 Revenues Rise
Revenue in September from online slots and table games hit another record high, slightly surpassing the previous high as gamers wagered more than $24 million at New Jersey online casinos. The four casinos that led the revenue stream were Caesars, Borgata, Golden Nugget, and Hard Rock which continues its zenith-like rise out of the casino ashes as it were, since the land based and now the online casinos were "reborn" earlier this year.
When we add the small amounts online poker brings in, the total revenues stream for the seven online casinos authorized and regulated by the state of New Jersey reached over $26 million, very slightly below the previous high.
In a word, online gaming has hit the big time in New Jersey.
Ocean Resorts Sinks
It is ironic that Ocean Resorts, which boasts one of the best casino bonuses for new players at an awesome $10,000 is slipping while so many other online casinos in the state keep getting stronger and stronger. Ocean Resorts opened on the same day that Hard Rock Casino made its new debut but the two casinos seem to be moving in opposite directions. It seems that Ocean Resorts finds itself between a Hard Rock and a hard place.
Observers were not sure at the time Ocean Resorts opened its online casino if the platform would be amenable to players. The indication is that it is not. On the other hand, Hard Rock and the other New Jersey regulated online casinos all have very user-friendly gaming platforms.
Ocean Resorts invested too much money to simply accept failure. They are working hard through promotions, new games, and an Android compatible app to regain some footing in the by now highly competitive New Jersey online casino market.
Hard Rock on the Rise
The casino reopened in June. It has earned more each month. It recently announce that it is adding live casino and sports betting platforms to be supplied by Gaming Innovation Group (GIG) which also supplies the gaming platform for their regular menu of casino games.
Sports Betting
The more successful online casinos also run highly lucrative and popular sports betting venues. In New Jersey, all sports betting is done through land based casinos. The casinos sub-contracted with well-known sports books to handle that side of their business.
The land based casinos can keep their sports betting operations strictly at the land based casinos if they wish to do so but most have opted to add an online sports betting site. That is in keeping with the reality that sports bettors are used to betting illegally and would prefer to bet legally online rather than be forced to travel to a casino.
For that reason, Hard Rock is adding an online sports betting presence to its already highly successful online casino operation.
Poker Loses Ground
Simple arithmetic would tell you that if the overall revenue stream stays constant, there will have to be a market segment that will lose revenue. That segment is poker. They are losing revenue monthly but still show relatively good numbers. Industry people, like businesspeople everywhere always worry. If revenue goes up the worry is how to maintain or even increase revenue the next year. If revenue goes down, they worry that it will continue to go down until it reaches zero.
That never happens, of course. Furthermore, the illegal sports betting market included only sports bettors who were willing to bet illegally through illegal bookies. Now that sports betting is legal in New Jersey and elsewhere and soon probably in most states, those who were not prepared to bet with a bookie will be betting at a regulated sportsbook. That these sportsbooks are going online will only increase the revenue stream. And as sportsbooks are linked to online casinos, the revenue stream in online casinos in New Jersey is also expected to rise overall.
Amalgamation of Land and Air
The land based casino scene in New Jersey also is recovering from a decade of decline. There are now a couple of casino complexes that are for all practical purposes the same as the Integrated Resorts of the Far East. These are casinos with so many other attractions that many people will be drawn to them even if they have no intention of gambling.
Some of the attractions are entertainment complexes, large luxury and suite hotels, convention and conference centers, swimming pools and water parks, outdoor family oriented activities, high level restaurants, shopping, and more. So, even as online gaming also continues to rise, there are many entrepreneurial spirits prepared to test the waters of a wide ranging gaming complex in which the gaming side may be the last priority of many if not most of the complex's patrons.
There is no denying that online gaming has many advantages over land based gaming but online restaurants, pools, water parks, playgrounds, and many other attractions don't exist. Online casinos have more games, higher payouts, no waiting, no travel costs and many other advantages over land based casinos.
Yet, land based casinos are also thriving. That indicates that there is a very sound synergy between land and air in the gaming world and New Jersey is more than happy to be the foremost guinea pig in the experiment of how best to blend the two.