In the waning weeks of 2017 Pennsylvania governor Tom Wolfe signed new revenue legislation into law for the state. The far-reaching package allows for expanded gambling in the state with new mini-casinos opening that will operate under the auspices of existing casinos. These Category 4 casino licenses will propel Pennsylvania into the company of a select group of states that allow for online gaming activities.

At present, legal online gaming is only available in three other states – Nevada, Delaware and New Jersey. The Pennsylvania legislature hopes that the income from these online casino sites will serve as a new source of needed revenue for the state.
Gambling Laws in America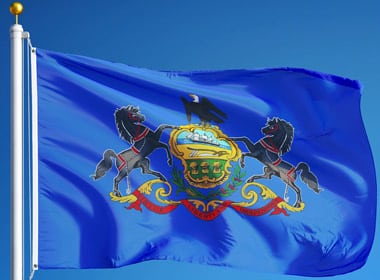 Land-based casinos have been available at the New Jersey and Nevada brick and mortar casinos for several decades. In recent years other states have begun to pass legislation that allows casino operators to operate casinos in additional cities and locales. Native American communities are exempt from state laws in this regard and can operate casinos on their tribal lands under the supervision of Congress.
Interest in gaming has been expanding in the U.S. for many years with gamers finding that they have better access to gambling sites. This enhanced access includes access to physical casinos and to online gaming and sports betting options.
Online Gambling Laws in America
The last hurdle to online wagering was the Federal Act. As the second decade of the 21st century winds down, U.S. courts, including the Supreme Court, seem ready to limit the Wire Act's application to online gaming events.
The U.S. Federal Wire Act prohibits electronic transmission of information across telecommunications lines. For many years online gambling operators relied on lower court rulings that determined that the Wire Act does not prohibit Internet gaming on a game of chance.
These rulings conflicted with Justice Department's interpretation of the Wire Act. The Justice Department took the position that all forms of gambling are covered by the Wire Act and has prosecuted selected online gambling operators.
At present the United States courts allow online sports betting and other casino gambling in states in which the state legislatures specifically legalized online gaming. These states include Nevada, New Jersey and Delaware and now Pennsylvania. There is also legislation to legalize online gaming pending in Mississippi, California, Massachusetts, New York and Washington State.
Online gaming and sports betting exists in select states but gaming advocates are pushing for more clarity and uniformity. They wish to see standardized rules for online gambling across the country.
Gambling Laws in Pennsylvania
In Pennsylvania lawmakers have been considering ways to expand gambling in the state for many years. These legislators focus on bringing more casino opportunities to the state because they anticipate that collection of taxes on the casinos as well as collection on the taxes of player income will bring needed monies into state coffers. Over the years numerous bills have come up in the Pennsylvania State legislature that would expand gaming options but they failed. Resistance came chiefly from current land-based operators who are opposed to VLT (video lottery terminals) in taverns.
Now, however, with the passage the new set of laws, 10 of the state's 12 casinos will be allowed to build small satellite casinos where online gambling will be offered. In addition, airport terminal lounges and some truck stops will be allowed to install video gaming machines and will be offering daily fantasy sports competitions. It's estimated that these additions will yield an estimated $200 million annually in tax revenues and licensing fees.
Plans
Not all Pennsylvania municipalities are on board for the change but many are already considering how to leverage the new law to bring tax dollars and job opportunities to their communities. The towns of Clearfield, Dubois and Philipsburg, under the auspices of the Clearfield County seat, have submitted plans to build a casino in the county.
They will be applying for a new Category 4 license which will enable them to open up to 30 gaming tables and up to 750 slot machines. The Clearfield County Recreation and Tourism Authority is sending information packets to several PA operators to encourage them to build their next Pennsylvania casino in their region.
The county, which bills itself as "Halfway to Everywhere" due to its location as an intersection of 4-5 hours from Philadelphia, New York City, Toronto and Detroit, would have a wide market from which to draw. The region has a tourist infrastructure with hotel accommodations for people who come to enjoy the area's recreation resources, art community, sports facilities and game lands. Clearfield is located right off Interstate 80, making it, casino proponents say, a perfect location for a casino venue.
Pennsylvania Casinos
Some of the casinos that will be vying for the new satellite casino licenses include:
The Sugar House Casino – The Sugar House Casino is located in southeast Philadelphia on the Delaware River, just across the Delaware River from Camden New Jersey. The casino is set in an old, abandoned sugar refinery and offers a small, intimate gambling atmosphere with fine dining, live musical performances and 54 table games. There are also over a thousand slot machines. Visitors can drive to the casino or may take the Sugar Express trolley which offers free transportation from more than 24 Philadelphia locations.
The Valley Forge Casino and Resort, in King of Prussia Pennsylvania, is part of a resort complex where visitors can enjoy luxury accommodations as part of their casino experience. In addition to playing at any of the 50 gaming tables or one of the 600 slot machines, guests can enjoy the outdoor garden pool, take their pick from any of the casual or fine dining establishments or ride the mechanical bull at the Deuces Wild Buck'Bull Saloon.
The Hollywood Casino at Penn National Race Course gives visitors the chance to combine sports betting and gambling action. The Hollywood-themed casino in Grantville is the only casino venue in eastern Pennsylvania. In addition to the live races that take place on Wednesdays – Saturdays visitors can enjoy any of the 2,400 slot machines or the dozens of table games.
Pocono Downs' Mohegan Sun Casino brings live harness racing to the Susquehanna River Valley every spring. Visitors can come for a few hours or stay for a few days with hotel and dining options on-site. There are 80 table games and 2,300 slot machines from which to choose along with touring opportunities through the valley's landscape with its unique wildlife and flora.
Big changes are coming for Pennsylvania's gaming community. Stay tuned to follow-up.