The recent contretemps between thousands of unionized Las Vegas casino workers and the casinos was about many things including the possibility that robots might take over some of the jobs humans have been doing in Vegas for decades. These jobs include bartending, dealing cards at blackjack, and serving drinks. Some have said that robots might be able to read bonus codes so that gamblers can access bonuses without the need to go through a human casino employee.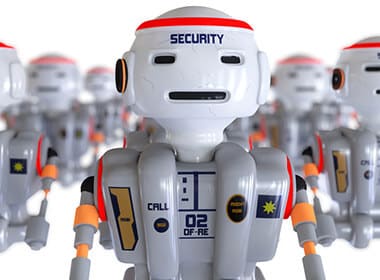 Some casinos are already using robots to deliver such items as clean towels and toiletries to hotel rooms but this has been viewed as primarily a gimmick to "entertain" millennials who are seen by the casinos as the most technologically savvy group of gamblers even as their numbers in the casino and the money they can bring to gamble with may be less than that of other cohorts. The latest serious news about robots in casinos, as reported by the Los Angeles times is that Pechanga Resort Casino is using robots to enhance security.
Two Robots to Begin With
The casino also employs some 300 human security people and only two robots. The reason that this development is seen as a serious one is that security in casinos is seen as being far more important than ever in the wake of the devastating mass murder of 58 people and wounding of 851 shooting from the Mandalay Casino in Las Vegas, in which security shortcomings may have contributed to the presence of high powered rifles able to shoot down on defenseless people for a lengthy period of time.
No casino would use robots in such a situation as a gimmick.
Pechanga Resort Casino is using two robots at the present time. One stands in the casino parking lot and the other, which looks like the robot in the Star Wars movies, roams the floor. The casino also has thousands of security cameras in addition to the approximately 300 security people.
Security A Primary Concern Across the Board
Pechanga Resort Casino is by far not the only casino to have increased security protocols in the wake of the Las Vegas shooting less than one year ago. Casinos around the country have done so. The newsworthy element in the Pechanga security enhancement is the use of robots.
Robert Krauss, vice president for security at Pechanga Casino, says that he was already looking into using robots to enhance security at the casino months before the tragedy in Las Vegas. A security chief at a casino is concerned with theft, robbery, breaking and entering rooms, and possible physical assault. A mass shooting such as happened in Las Vegas was not especially prominent in security personnel's minds until it actually happened. Now, it is the primary focus of prevention for all security chiefs and staffs.
Modern Technology Attached to a Machine
The robots are equipped with zoom cameras and are connected to a central command post so they can send images back to the command and receive instructions whether to move closer to a suspicious target, zoom in on it, or ignore it. These robots are already being used in some malls and sports venues.
The Era of Robots is Upon Us
The use of robots in this way is newsworthy on several counts. First, it points to the increasing availability of robots and robotic technology in many applications. Fast food chains went quickly to using computer terminals to take orders as a cost saving move after legislatures around the country voted to raise the minimum wage to $15 per hour. While these terminals are not robots, the technology is very similar. In addition, fast food chains are seriously looking into using robots to cook the food the restaurants serve since the movements needed to cook hamburgers and other fast food are so repetitive.
Southern California is famous for wildfires. In the future we will likely see robots fighting fires.
The second reason using robots to enhance security is newsworthy is that it shows how much more important security is today than it was even one year ago. Robots can scan an area better than even the most alert human who gets tired, needs a break, has other things on his or her mind, and otherwise is not nearly "robotic" enough to do the job as well as a robot can. We will likely see many more robots in sensitive security positions going forward.
Third, robotics is a business niche that will need many human scientists to develop the newest technologies that will replace cutting edge technologies of today. Until people find a way for robots or computers to do all the work that humans do today, this industry will need many people to do the research that will be needed to develop the next generations of robots.
Every technological development may be adapted to security needs. For instance, Mr. Krauss says that they have a problem with people using the pool after hours. He is looking to a robot to "stand guard" using night vision to detect people using the pool when they shouldn't.
No new technology has only an upside. Robots have been known to go the wrong way. Casino patrons in a bad mood have been known to assault a defenseless robot in a way that they would never consider assaulting a human security officer no matter how drunk the gambler was.