A recent survey of online casino gamers determined the players' top five online games. There are many reasons that gamers like these games above all the others. The survey results are also instructive as to which games are less popular online.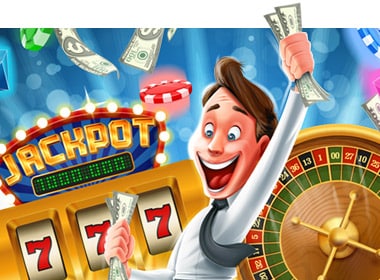 Casino Bonuses
One unsung reason for the popularity of slots especially is that they are the most prominent casino games to complete the play through requirement after a player has received online casino bonuses. The play through requirement protects the casino from players who would cash out their bonus immediately.
Slots have the highest value for play through requirements. That explains some, but far from, all the attraction of online slots. So, let's explore online slots and the other four most popular games.
Online Versus Land Based Casino Games
One more thing before we talk about the games themselves. There are many more games available at an online casino than at a land based casino. Online casinos can add new games every month while it's a lot harder for land based casinos. They usually have to take away a game in order to add one.
Land based casinos will have many different slot machines for the same game if it's popular while an online casino doesn't need to do so because they have virtually unlimited space.
Slots
The key to understanding the ongoing popularity of online slots is that modern slots have themes and storylines. The same is true about slots at land based casinos but those casinos simply can't provide the massive variety of slots that an online casino can provide.
Online players can go form casino to casino playing in Instant Play mode while at a land based casino, you have to leave the casino to sample the games at another casino.
When you leave a casino or simply change seats at a land based casino, you give up the game you were playing. This never happens at an online casino.
So, the popularity of online slots can be summed up in convenience, variety of games, and variety of themes.
Blackjack
Many players at land based casinos have problems with blackjack. First, the land based casino may not have a table with the stakes that are suitable to the player's budget. That never happens online where in most games, you can bet a very small minimum or a relatively large maximum.
Second, at a land based casino, you may not be able to find a seat at the table you want to play at. That never happens online. Third, online a player is never intimidated by a fellow player who blames him for the other player's loss. Many land based blackjack players have very rudimentary strategy. If you, following correct strategy, hit with 12 and the next player busts, he might blame you. That never happens online.
Finally, blackjack appeals to players with an analytical bent. Many new blackjack players like to have a strategy card on hand to see what the best play would be in a given situation. Needless to say, land based casinos frown upon the use of strategy cards for blackjack players.
Poker
This is the classic casino game. Online casinos offer three types of poker: video poker, table poker, and poker against real opponents. The intimidation factor is very strong in live competition at land based casinos. Many poker lovers prefer the anonymity of not being able to be seen by the opponents even in a game against real people.
Table poker simply allows the full range of poker fun without needing to give up your chair. Finally, video poker has the highest return to player rate of all games and you can often win if you play with a strategy card, something that land based casinos don't appreciate.
Baccarat
This game is similar to blackjack with a couple of rule differences. The best strategy in baccarat has long been recognized as always bet on the dealer. There is no other inherent reason for its popularity.
Roulette
This game is actually more popular at land based casinos than at online casinos even though it made the top five most popular games in the survey. The appeal of online roulette is the vast number of bets you can make. At land based casinos, roulette's appeal is different.
Roulette and Craps
Even though roulette is popular online, it isn't in the same class as slots, blackjack, and poker. As such it belongs in an analysis with craps. That leads to the single biggest advantage land based casinos have over online casinos as opposed to the long list of advantages online casinos enjoy over land based ones – atmosphere.
Atmosphere
No one can deny that the atmosphere at land based casinos can be electric. There are the sounds of slots paying out, people betting at blackjack, the general drone of sound, and the wild yelling and cheering at the roulette and craps tables.
Roulette is best played with other people, even total strangers. A wonderful camaraderie forms at the roulette and craps tables that never forms at poker or blackjack. In online roulette, there is still the simulated sound of the wheel and the clanking ball. In online carps there is no compensating artificial noise. For that reason, craps is the least popular of all the classic games at online casinos.
Online Convenience
We have mentioned convenience a number of times. That also informs the popularity of mobile casino gaming. Mobile is to desktop gamin as desktop was to land based in the early decades of the online casino revolution. Most players now play at their mobile devices further emphasizing the indomitable popularity of online gaming.
Online casinos offer unmatched convenience for casino players. They also save players money as they have no travel expenses.
The survey demonstrates the games that online players like to play above all else and show exactly what the general appeal of online casinos is: convenience and variety.