Your favorite online casino has gone through several stages of development over the years. The number of games has changed dramatically. Where once there were few game providers, today there are more than 150. The news always comes early on in a calendar year with talk about trends to look for in the coming year.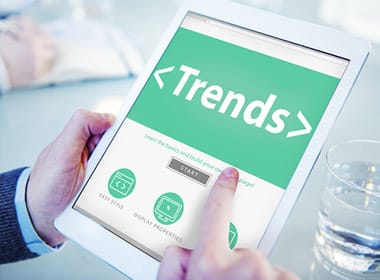 Mobile Gaming
Mobile started out almost as an afterthought at a few stalwart online casinos. It was considered a necessary adjunct, but still secondary to the desktop casino, because in the early days mobile had very few games; the games had to be redone to be accessible by mobile platforms; in general it took a lot of time and effort, not to mention expense, for a regular online casino to make its games accessible to mobile platforms; and, most importantly, the graphics on mobile were far inferior to the graphics at a desktop casino.
All of that has changed. At some online casinos, more games are played at the mobile platform than at the desktop. The industry expects this trend to continue as mobile devices enter a new generation every few months and the graphics, animation, and sound on each new generation of mobile devices improves upon the old.
Many mobile users, who a few years ago were going smaller and smaller as they upgraded their devices, are now going larger. The larger screens make a mobile device a sort of mini-laptop with extraordinary power and memory and excellent gaming technology.
Casinos and game providers are targeting their products and promotions to mobile users. The mobile platform was once marketed as the platform you could play on while you waited in line somewhere. Now, it is marketed as the most convenient way to paly casino games. You can play while lounging on your favorite armchair, perhaps with a game on television at the same time.
Live Casino
Online gamers enjoy many advantages that land based casino gamers do not have. These advantages include higher return to player rates, no waiting to play any game, no extra costs for travel, lodging, meals, drinks, convenience, and so on. The one advantage that games at brick and mortar casinos enjoy is atmosphere. Try as they might, online casinos cannot fully replicate the ambience of a real land based casino.
Rather than give up on this point, online casinos are working hard to make their Live Casino feed as real as possible. New technology has already taken online players into a real casino where some tables are dedicated to online players.
Another new technology allows players to stream themselves playing on their mobile or desktop computer. This does not replicate the floor of a land based casino but it demonstrates the commitment online casinos have toward making every aspect of online gaming as real and enjoyable as possible.
Skill versus Luck
There are many casino games that are really pure luck. Slots, roulette, and craps are games of luck. Bingo, keno, scratch cards, and others go into the same category. There is an undeniable trend towards skilled games, those games that require players to pay attention to every hand.
These games are primarily poker in all its forms and blackjack. Poker and blackjack may be skilled games but the skills needed are quite different. Blackjack players compete only with the dealer; it makes no difference in terms of strategy and correct play what the other players may be doing or have done.
Online players are gravitating to skilled games like blackjack because they can play using a strategy card. This would be very unacceptable at a land based casino where card counting is also a big "capital offense" against the casino. When you play single deck blackjack online, you can count cards and use a strategy card and reduce the house edge to nearly zero.
Poker requires players to either paly against the house, play against the pay table, or play against real opponents. The games you play against the house require you to anticipate what the house might have after it draws cards. Players who would rather just test their skill against the pay table, usually choose video poker.
Video poker is also a perfect game for online players because it allows them to use a strategy card. The pay scale is already close to 100% and, with a strategy card, some players can actually get the upper hand against the house.
Poker against real opponents requires a player to hone his or her ability to ferret out bluffers from players with real bettable hands. This is a great skill that many online players are challenged to develop.
The trend, then, is for more online players to choose to play skilled games at least as much as the games of chance or to play skilled games exclusively. This challenges casinos and game providers to make the interface of these games as realistic and visually pleasing as possible.
By honing one's skills at online poker with real poker players, many gamers can "graduate" to playing against real players at land based casinos where they have to be able to bluff without giving themselves away or to have a strong hand without allowing their opponents to read tells that give away the strength of their hand.
Cryptocurrency
Bitcoin might be the most famous cryptocurrency but it is by far not the only one. Online casinos increasingly allow gamers to deposit and withdraw in cryptocurrencies. Some casinos are creating their own cryptocurrencies. At least one online casino is marketing itself as a zero-house edge casino where players and casino alike profit by the rise in the value of the cryptocurrency they use.
A Complex Industry
These are just a few of the trends affecting online casinos. Far from being a "spin and deal" online gambling venue, online casinos reflect the growing complexity of everyday life. As such, they represent not just the future of online casino gaming but of gaming generally.