The news reports state blandly that Teddy Sagi, the founder of Playtech, one of the leading games providers for the online casino market, has sold off all of his remaining shares in Playtech for £67 million. Playtech under Teddy Sagi went from a simple gaming start-up to one of the leading providers in the industry. Some gamers claim that having Playtech games on their favorite casino is among the best casino bonuses!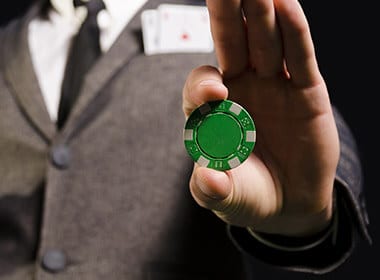 So, while most news reports focus on Teddy Sagi as a "gambling mogul" who had worn out his welcome at the company he founded aka Steve Jobs at Apple, we at Slots Play Casinos felt that there is a lot more to this story. It is about how a young man from a humble beginning could rise to great heights of wealth and influence; how much money there is in the gambling industry; the extent to which we are still in the early years of the digital age; how quickly a business can mature in the modern era; and how tremendously valuable creative thinking is in business today.
Teddy Sagi's Background
Sagi was born in Tel Aviv in 1971. His father was a travel agent and his mother was a cosmetician. These descriptions of his parents' professions are also only the tip of the story.
Until the late 1980's, there was an onerous travel tax imposed on all Israelis travelling outside the country. In 1971, when Sagi was born, Israelis could not travel to neighboring Egypt or Jordan so most travelled to Europe but the tax made the "long weekend jump" to Europe far too expensive for most citizens. So, Sagi's father was a travel agent primarily for domestic travel.
In 1971, most Israeli women preferred the natural look so being a cosmetician was not a lucrative profession.
The Tel Aviv of today is far from the Tel Aviv of 47 years ago. Today, Tel Aviv is a world leader in high-tech and start-up companies. The city has many luxury hotels along the Mediterranean coast. The sister city of Jaffa is undergoing gentrification at a very fast pace. Tel Aviv is one of the most gay-friendly cities in the world. It is per capita one of the leading consumers of sushi. Finally, it has one of the largest per capita vegan populations anywhere in the world.
Serving in the Army
Teddy Sagi served in the Israeli Defense Forces from age 18-21. He was convicted of insider trading when he was only 25 and that conviction stemmed from a case when he was only 23. So, Sagi must have become involved in business at a high level when he was still in high school.
Sagi's Business Interests
In addition to Playtech, Sagi has been involved in SafeCharge which is valued in the hundreds of millions of British Pounds. This company clears credit cards for use primarily in the online gambling industry. He bought an Israeli start-up called Crossrider which has since gone more strongly into cybersecurity under the name Kape. He bought the startup for $37 million.
These are but two of the several cyber companies companies Sagi has bought for millions of dollars.
With the money he made from the sale over time of all his holdings in Playtech, Sagi bought Camden Market which is one of the leading tourist attractions in London. It is far more than just a shopping area; it features about 1000 small shops that sell basically everything. You can eat, drink, listen to music, and it's all located in central London.
Money Generated by Digital Gaming
Sagi didn't make all of his money from Playtech but it is safe to say that he made the bulk of his money in digital gaming and related businesses. If one man, starting one games provider, out of over 150 such companies, can amass such wealth, we can see how much money there is in gaming and gambling.
The potential wealth inherent in man's natural desire to take chances, which here refers to simply gambling at online or land based casinos and all related forms of gambling, should inform every discussion about the "proper" role of gambling in modern society.
Digital Age
We are so immersed in the modern digital age that we have forgotten what it was like before this time and we cannot imagine the future as digital becomes even more part of our lives.
No one knew that personal computers would literally take over the modern world when Steve Wozniak figured out how to keep a personal computer cool while he worked on the problem in his garage.
No one knew the extent to which cellular phones would take over the world when the first cell phones came out. They were huge, heavy, and terribly expensive. Now, a smartphone that is only a few years old is already obsolete. The smartphone has overwhelmed the personal computer as the platform of choice for online casino gaming.
As graphics become better and feeds become clearer, we can expect more gamers to get their live gaming experience through their online connection.
No one can predict how the age of texting will affect the next generations of adults.
Businesses Coming of Age
First, digital technology is so fast and grows so quickly that what we are comfortable with today may very well be outdated in as little as ten years. The CEO of one of Teddy Sagi's companies loves to take apart gadgets and put them back together. The digital "workroom" is to the first decades of the 21st century as the backyard "garage" was for teen-aged boys growing up in a less crowded world some 50-100 years ago where they had the room to take apart and rebuild cars.
Playtech was founded in 1999. Less than twenty years later, its founder is out of the company but has many hundreds pf millions of dollars to show for it. Teddy Sagi is only one of hundreds of entrepreneurs of the digital age who have amassed enormous wealth through the internet and through gaming.
Land Based Casino Growth
All the talk about how big digital companies can get in a very short period of time would lead on to think that the land based casino business is due to fall. The opposite is the case and the leading idea in the modern land based casino business is the Integrated Resort where the casino is only one of many attractions in a single vast complex so that a family can come, stay at a luxury suites hotel, and take the kids to the amusement park or the water park and play casino games for only a very short session if at all.
Creative Thinking
One of Teddy Sagi's ideas is office sharing. This is just one of the creative ideas that start-ups are bandying about in the ultra-dynamic modern business world. So, whereas being forced out of a company may have at one time been the end for high profile business executives, for men and women like Teddy Sagi it is just the end of one chapter and the beginning of another chapter in a business career that looks like a huge page-turner novel that you simply can't put down.