There is news out of Belarus that the government is finally serious about legalizing and regulating online casino gaming for its citizens.
As you recall, Belarus is a former republic in the Soviet Union which broke away during the collapse of the USSR in 1990. Life away from communism has been a mixed blessing for the people of Belarus. In connection with online casino gaming, the people of Belarus have access to thousands of online casinos and play regularly. One of the many reasons Belarusians gamble at online casinos is that they can access excellent bonuses by simply entering the correct bonus codes. Online casinos are known to offer more and better bonuses than land based casinos can offer.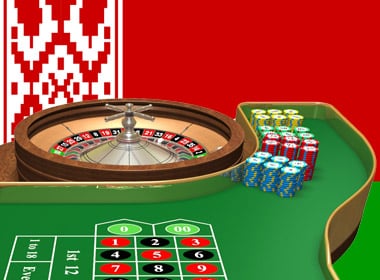 The government of Belarus receives no tax money from online casino profits or the winnings of Belarusian citizens.
Another New Proposal
Sergei Nalivaiko is the Minister of Taxes and Levies in the Belarusian government. He has prepared a new law that would legalize and tax online casino gambling. However, the law as it was shown to the public, does not have details as to how the government would both regulate online casinos and tax profits and winnings.
Belarus has a history of failing to address the practice of online casino gambling by its citizens. Just last year, the government proposed legislation that would have forced online casinos to run their casinos from a physical office in Belarus in order to gain the legal patronage of Belarusians. That proposal died before it was ever voted on in the state Parliament.
Legality of Gambling in Belarus
Gambling is legal in Belarus under specific circumstances. Hotels are allowed to offer slots games in specified areas. There are several small casinos in Minsk, the capital city. There have long been reports that the tax authorities are not successfully collecting taxes from casinos nor are the citizens who win at the land based casinos reporting their winnings and paying taxes on them. Belarusians like blackjack and poker at least as much as slots so there are some dedicated poker rooms in Minsk and elsewhere in Belarus.
Land Based Casinos Augment Tourism
The land based casinos are very popular with Russians. Most Belarusians still speak Russian and Belarus offers a vacation to Russians in addition to excellent gambling facilities. Belarus is a very old country so the casinos offer an old world atmosphere to go along with the most modern gambling facilities. Even before the country gained its independence from the Soviet Union, the main driver of its economic engine was heavy manufacturing. This economic sector is highly sensitive to international recessions and because its economy is so narrow Belarus was especially hard hit by the massive retraction that began in the United States in 2008.
The other largest economic sector in Belarus has long been oil and gas especially refining. This sector also feels the pinch when economic activity in other countries decreases. The government has long supported casinos as an adjunct to increasing overall tourism in Belarus.
Tourism in Belarus
As an old world country with beautiful countryside, friendly people, and many attractions such as castles, Belarus should be a vacation haven for Europeans, North Americans, and the newly wealthy from the Far East. Tourism observers have long sensed that the Belarusian tourist office does not truly understand what motivates tourists.
Thus, putting so much support behind land based casinos was likely a mistake as far as it helping tourism. It may have helped the casino business but tourists have so many casino options that casinos alone cannot drive an increase in tourism.
Integrated Resorts
Integrated Resort has become to catchword for new land based casinos in many countries, especially in the Far East. The concept has been explained many times but, in brief, it means having a casino as an adjunct to a full-fledged entertainment campus that might attract conventions, families, shoppers, music lovers, and much more.
An Integrated Resort is far more than a casino and the idea seems perfectly suited for a country like Belarus that is a bit out of the way for travelers to Europe.
Returning to Online Casinos
Given the desire to increase tourism, plus the verifiable fact that stand alone casinos are no longer the wave of the future- which is the Integrated Resort- it would seem to behoove the government of Belarus to separate land based casino gaming from tourism. That would place land based casinos in competition with online casinos. The question then is how to harness the money that is wagered at online casinos.
State Owned Casinos
One way that Belarus could gain casino tax revenues is by simply running their own online casinos. This might work to some extent as the evidence from other countries indicates that if the tax burden on winnings is not oppressive gamblers prefer gambling legally.
So, the second element to successfully regulating online gambling in Belarus is to make the tax rates low. When tax rates are too high- and tax rates get too high when the people who have to pay them say so rather than when the government says so- people stop "buying" the goods or services with an accompanying black market forming.
There is at present a type of black market in online gambling in Belarus.
Online Casinos at Land Based Casinos
Some jurisdictions have begun to allow land based casinos to run an online operation. This is most prominent in the United States but it is expected to gain support in many places. In the United States, it came about because of newly legal sports betting.
Casinos have found that customers also like gaming at the casino's online platform even if the casino itself is just a few stories below them.
Online and Land Based Casinos Complement Each Other
As Belarus continues to look for ways to take advantage of the natural desire of people to gamble, they may come to understand that different people gamble for different reasons. Some gamble almost exclusively at land based casinos; others almost exclusively online.
The two types of casinos need not be in competition with each other. If the government of Belarus fashions reasonable regulatory legislation for online casinos, it will reap the tax benefit it so desires.