Valentine's Day is upon us and we would like to report on some great gifts our readers have reported giving to their special someone in Valentine's Days past. We'll give our list and then we'll tell you about the great Valentine's Day promotion at PlayCroco Casino, one of our top reviewed and recommended Slots Play online casinos. The PlayCroco promotion is called Casino Love.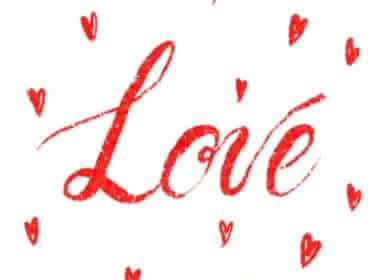 Love, Love Me Do – You Know I Love You
Casino Love is one way to show your partner how much you love her or him. Here is a short list of other ways to show your love. FYI we have left out the most obvious gifts such as a heart-shaped box of candies—so 18th, 19th, and 20th centuries!
Chocolate, bonbons, nonpareils, and all other confections are fine gifts. Still, we are trying to look outside the box as our recommended casinos do on a regular basis as you will see when we give you the happy details about the PlayCroco Valentine's Day promotion, Casino Love.
A Professional Fingernail Manicure
Fingernails are way more than just color!  If your special someone doesn't use the professional services of a manicurist but likes to have good looking nails, a session with a nail pro might be a super romantic Valentine's Day gift.
A nails pro will have a book of fingernail art just as a good hairdresser has at least one book of coiffures. Fingernail art is a form of tattooing without the pain or permanence. As such, it makes for a great Valentine's Day gift since it can be repeated for a birthday, anniversary or before that vacation you have been waiting a full Year of Corona to take!
An Aromatherapy Set
Incense has been used by couples and even in religious rituals for millennia. Incense is still a wonderful way to spice up an interior area. However, incense also produces some smoke and some people don't like the smoke.
As a character in the Seinfeld series might have said, "Who doesn't like the smell of essential oils?"
An aromatherapy dispenser and a set of essential oils might put Ms. or Mr. Right in a romantic mood! The great thing about essential oils is that you can always replenish the supply with the same or different oils!
Soft Pajamas
Even someone who doesn't normally wear pajamas will appreciate a very soft two-piece pajama set. We recommend the pajamas and something else to go along with it such as a really expensive bottle of wine.
People do wear pajamas when they travel. This is especially true when they are guests in someone else's house! So pajamas are very useful even for someone who sleeps sans PJs.
The key here is the softness. Valentine's Day is all about romance even though it didn't start out that way! Soft pajamas are the essence of "all covered up and feeling romantic".
As the characters in the Seinfeld series might have said, "What else are you wearing?" "Nothing." (Followed by gentle giggling).
A Day at the Spa
Spas tend to be a bit on the pricey side. Which is why a day at the spa is such a nice gift. We suggest a full day "workout" from top to bottom.
Let's start with a soft cranial massage. Ooh, that feels so good!
Then we pamper our heart's delight with a full-body wrap. Believe it or not, a seaweed wrap feels really good! Mud also works, especially Dead Sea mud which ironically makes one's body burst forth with life!
After the head massage, a full body massage might put the giftee in a very gentle and soft mood.
Your significant other can finish the day with a reflexology massage. That finishes the day "on the right foot" if you get what we mean, as Joey might have said!
A Long Weekend Road Trip
This might be a detailed itinerary of everything your bundle of joy might like to do on a long weekend away from the home base. Is bird watching her thing? You might include in the itinerary a pair of top shelf binoculars.
Is she into throw pillows? Schedule a trip to a shoppe that specializes in pillows. Let her decide which pillows will go best with her sofa!
Does he like to hike (and make rhymes)? How about a trip to a hiking shoe emporium? And a hike in the nearby woods.
A long weekend road trip can include romantic interludes in nearby small towns. It doesn't have to cover hundreds of miles! If you do a little research, you will find that even in a one hundred mile radius from home sweet home there are plenty of romantic, just plain nice, and interesting things to do!
Did You Say That Valentine's Day Was Not always the Holiday of Romance?
Yes, we did!
Valentine was a priest of the early Christian Church in the third century. The Emperor of Rome banned marriage since he felt that married soldiers were better at marriage than at soldiering. Valentine secretly married many soldiers!
He was caught and executed on February 14.
It is important to note that the Roman Empire accepted Christianity only about a century after Valentine was busy marrying soldiers to their special someone.
It was the romantic side of Valentine's endeavors that led to Valentine's Day becoming the romantic holiday it is today.
At first, on February 14 every year, all the girls would put their names in a hat. Then the boys would take a name from the hat and the damsel and he would be partners for the day.
Certainly, Valentine's Day has evolved to be more inclusive today than it once was! Now girls, as well as boys, can choose to show their love to the object of their affection!
But let's get back to the PlayCroco Casino Love promotion…
What Was That You Said about the PlayCroco Valentine's Day Promotion?
Yes, the "reason we are all here today" is the great Valentine's Day promo from our recommended online casino PlayCroco.
The promo is essentially a dating promotion in which you get to date characters from other famous slots! You and your partner can play together, each dating a special fictional character from one of PlayCroco's fine selection of slots.
PlayCroco Casino is one of the very best casinos for Aussies. Still, everyone can join in on the fun. The promotion was designed by the PlayCroco mascot which is, of course, a crocodile. This croc is so different than the crocs we might find in nature.
When we say that you will be caught in the jaws of the PlayCroco Valentine's Day promotion, we mean the jaws of the mascot croc! The opportunities to date slots characters will tickle your fancy, for sure!
Join and Play at PlayCroco Casino Online
When we recommend a casino, we do so with eyes wide open and great confidence in that casino. PlayCroco Casino caters to Aussie gamers and is open to all! We always look to see how an online casino is commemorating universal holidays as well as more national and local holidays.
PlayCroco wins accolades for the wonderful tongue in cheekiness that the casino exudes all the time and especially in the imaginative way it creates promotions.
Come to Slots Play Casinos Often for All the Scoop
We mean all the scoop of casino news and information. We assume that you and your lover already have a scoop or two of excellent ice cream in the freezer just waiting for Valentine's Day! Curl up to play with the PlayCroco promotion Casino Love, one scoop of ice cream, and deep romantic thoughts.