As an online casino gaming watchdog, we have the obligation to report news that affects the online casino market. One of the happiest things we report is when an online casino does something truly creative, original, trendsetting, or indicative of out of the box thinking.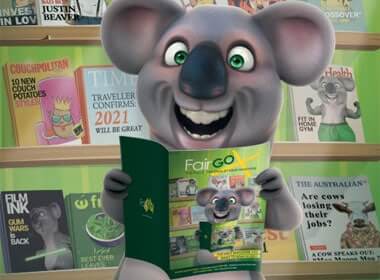 A Magazine Like No Other
With all that in mind, we happily report to you that Fair Go Casino has introduced a new online magazine they call Fair Go X. They are planning to publish the magazine four times a year. As Rebecca Ryder, the casino manager, said on the first page of the introductory issue: "…we want to be able to offer you a new level of entertainment…"
Online Gaming is All about Entertainment
To Slots Play Casinos, this is the essence of out of the box thinking! Fair Go goes several steps further than just producing a "magazine " four times a year. The Fair Go Mag has creativity and thoughtfulness all over it!
Flip with us to the Table of Content page. The font size is perfect for gamers of all ages. The color contrast is also perfect for easy reading. The people at Fair Go understand that in a magazine of this sort—not the kind of highbrow magazine that is all words—the Fair Go Casino group of gamers would want colorful graphics throughout the magazine.
Even on the Table of Content page, the attention to graphics that the Fair Go staff shows is remarkable!
What Kind of Magazine is Neither High Brow nor Low Brow?
Why, middle brow, of course. So Fair Go X isn't a publication that discusses world politics in esoteric language. It is also not a kind of kids' magazine for adults. It is the perfect magazine for online gamers who want to read "about" a wide range of topics and be entertained in spectacular fashion as they read!
And, as you peruse the Table of Content, you see that the first issue has fully 32 pagers! If Fair Go Online Casino keeps it up and publishes a sizable magazine every four months, it will set a trend that can only be realized by other online casinos if they also produce a magazine a few times each year!
The next page has the Koality Quiz. We will leave it to you, interested readers, to go ahead and read this page at your leisure. We would simply like to point out that this page has just the right amount of words, graphics, and interesting and attention grabbing questions.
The Top Three Pokies for 2020
We already are anxiously awaiting the top three pokies for 20121. By the way, while Fair Go is a great online casino for Aussies, it is also available to gamers far and wide. FYI: pokies is the Australian way to designate slots! It's a long story that Fair Go might tell in the next issue of Fair Go X!
The Top Two Gaming Stories for 2020
Fair Go went ahead and published their top two gaming stories for 2020 as told by the gamers themselves. Unlike in a novel, Fair Go chose to put a few fun and amazing facts on this page as well.
Did you know that the most popular hours for gaming at Fair Go are 9:00 pm to 11:00 pm?
Did you know that the gamers at Fair Go are overwhelmingly male?
We suspect that these two data might have surprised the people at Fair Go and that, as we speak (sort of) they are actively thinking of ways to attract gamers to play at all other hours of the day and ways to attract many more female gamers!
Watch for exciting and innovative promotions with those goals in mind!
A Casino that Hacks Itself
Actually, the term "hacks" in this context is a good thing. It is sort of like life hacks for online casino gamers! In this first issue, Fair Go talks about bonuses, double comp points, and the play through requirement for bonuses.
This is a very informative page. And to lighten the mood, on the same page, Fair Go offers a bonus for solving a small puzzle!
Banking is Always an Important Issue to Online Gamers
The magazine continues with a two-page discussion of some payment methods. All aspects of banking are super-important to online casino gamers. Here the casino talks about banking and deposits but gamers also are interested in a full page talk about the way the casino protects the gamers' money.
We expect a talk about encryption in an upcoming issue.
Let's Jump Ahead to the Lifestyle Page
Here Fair Go is telling us that they intend on having a large lifestyle article in every issue. On this double page, there is a lot more writing than the games and fun facts we found on other pages.
Fair Go takes lifestyle advice very seriously. In the first issue, they explain why kissing is actually healthy and not just a feel good activity. So kiss your special someone more often! He or she will feel better and your body will say "thank you "as well!
Everyone would like to remember their dreams better. So, Fair Go gives some advice on how to better remember dreams. In our health conscious world, we often hear talk about "eat veggies" or "eat fruit". Well, Fair Go explains the main differences between veggies and fruit.
Finally, a little on the lighter side, Fair Go talks about yawning and why when one person yawns other people around them also yawn.
Tell Fair Go Casino What You Think
The casino anxiously awaits gamers' reactions to the first of what they hope will be many casino magazines. When you tell the casino what you think, you might include some suggestions. The casino will take every suggestion "under advisement".
Here at Slots Play Casinos, we fervently hope that Fair Go continues to think creatively and out of the box. In fact, we hope that they stray even further from the "box" in upcoming issues.
We hope that you, our faithful readers, will send your own suggestions to Fair Go.
Finally, we hope that many other best online casinos see the value in producing their own online gaming magazine!
Come to Slots Play Casinos Often
We try to be in the forefront of all things gaming so that you stay in the forefront as well! Come to SPC often for the latest low down on the high up goings on in online and even land based casino gaming!