Here at Slots Play Casinos, we understand that a lot of online casino gamers just want to relax when they get home from work. These gamers usually choose to play slots or any other game of chance. In this regard, Fish Catch and Banana Jones are also very popular.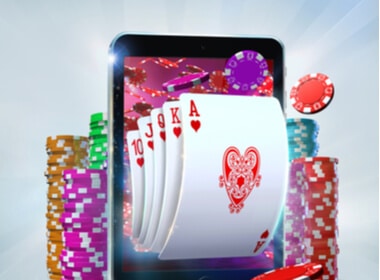 All We are Saying is Give Video Poker a Chance
It is true that video poker requires more concentration and attention to detail than any game of chance requires. Still, once a gamer has gotten the basics of video poker strategy down pat, it becomes a very relaxing game to play! The way video poker relaxes some gamers is that they feel a quiet challenge on every hand rather than the more upfront challenges they may face at work.
It may be that a session of video poker will be shorter than a session of slots or other games of chance. It may be that the video poker will be a "sandwich" with games of chance as the "bread" or "bookends"!
All in all, it does pay to give video poker a chance and we will list and explain a few of the reasons why video poker can be even more fun to play than slots!
The Return to Player Rate
Jacks or Better is the most well-known variation of video poker. Many other variations start as Jacks or Better and then go on to include other elements. So, it is a good starting point to learn Jacks or Better.
We think that most video poker players play only Jacks or Better! Video poker has one of the highest return to player rates in all of casino gaming! In this regard, only blackjack rivals video poker! The expected return to player rate is about 99.5%!
In addition to this high return to player rate, we have to add the almost non-existent aspect of volatility.
In slots, volatility can mean that a slot with a return to player rate of 97% more or less will return large sums to a few players and will return very little to most players. Slots like this are said to have high volatility.
So, the return to player rate is not the only parameter we should look at when we choose a casino game! We also have to look at volatility.
Video poker is based on the 52 cards in a standards deck. There aren't any reels going round. The odds of getting the one card that will give a gamer a big win are always the same! While the random number generator does determine what card or cards will come next, the RNG only has the 47 cards that were not dealt to choose from.
This means that if a player has only one out, he or she has a 47-1 chance to get that one card. On the other hand, on most hands in video poker, the player has many outs. Sometimes the player might have more than 10 outs.
It is true that the payout on many of those outs will be 1-1 but they do pay the player! As a result, one of the more fascinating aspects of video poker strategy is to break apart a winning pair in order to go for a much better paying hand. The odds are never more than 47-1 against getting the bigger hand! In many cases, it is worth breaking up a pair to go for the better hand!
This is one of the aspects of video poker that excites a lot of players. It gives a deep sense of accomplishment to see that the hand has far greater potential that what is offered by keeping a winning pair! This is one side of the quiet challenges we spoke about above!
Play 9-6 Video Poker
We suspect that a lot of gamers stop playing video poker because they never have a winning session. This happens, sad to say, a lot more often at a land-based casino. That's because land-based casinos have so much more operating costs than online casinos have that land-based casinos have to offer 8-5 video poker instead of 9-6 video poker.
The difference in the return to player rate in 8-5 video poker is quite a bit lower than the return to player rate in 9-6 poker. All of the casinos we recommend here at Slots Play Casinos offer 9-6 video poker. This is the only form of video poker paytable that gives gamers the high return to player rate of 99.5%.
Always Bet the Maximum
This puts gamers in line to win the big extra payout if they score a Royal Flush. Of course, a Royal Flush comes along only about once in 40,000 hands! Still, if you play for the Royal Flush when it is statistically the right thing to do, you will also be playing for a straight, a flush, a straight flush, and a winning pair!
Going for the Royal Flush gives gamers a lot of outs!
Video Poker is Great for Bankroll Management
We often talk about online casino gaming as a form of entertainment which means two things:
That the activity should be fun and…
The activity will probably cost money.
Almost every entertainment we enjoy costs some money. Some entertainments are hobbies and after the initial investment in materials and equipment, it might not cost any additional money for some time. Reading, theater, concerts, and many other activities that are fun also cost money. So it is no surprise that casino gaming usually costs money.
If we look at casino gaming as a form of entertainment, we can keep it in its proper perspective which means relatively short gaming sessions fairly often.
By having such low volatility and such a high real return to player rate, we can play video poker for an hour and the gain or loss will be minimal in either direction.
What about Bankroll Management on Land?
Now, if a gamer wants to conserve bankroll at a land-based casino, the best games to do so are video poker and blackjack. We do mention again and again that in order to win at games of skill at a casino, you have to know the best strategy very well. Once you have learned the best strategy for video poker, you could play at a land-based casino and still win a little or lose a little.
Slots Play Casinos Provides Helpful Information 24/7
Come often to Slots Play Casinos for up to date information, tips, insights, and other information mostly about online casinos