Some of the best information and ideas are often hidden deep within a site. We here at Slots Play Casinos feel that as much information as we present on a daily and weekly basis, most of our readers go to game reviews, casino reviews, or to our blog. Here we are at the blog and today we will revisit the idea of free chips.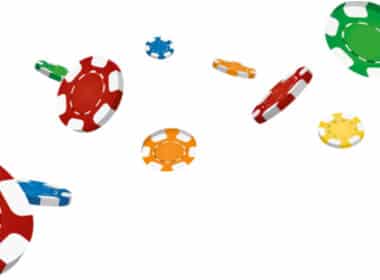 What are Free Chips?
Free chips are exactly what they sound like: chips that a player can use just as they would use chips that they bought with real money! The only difference is that these chips are free!
Actually, the concept of free chips originated at land-based casinos where chips were used in all table games. A player came to the casino with cash or a credit card in hand and traded the money for chips.
If they wanted to play at a terminal, they had to convert bigger bills into smaller coins but the chips were the medium of trade, as it were, at all table games.
Chips May Make a Table Look Very Confusing
Especially at the craps and roulette tables, where there are so many different bets players can make and, at least in the "old" days before the corona virus pandemic shut down land-based casinos, there were a lot of players around these tables.
Land-based casinos have reopened but the roulette and craps tables are not crowded like they were way back when in 2019!
We have wondered how long it took for a croupier to train in craps or roulette before the casino let them run a table. They have to keep so many bets straight and manage the game as it progresses!
The little plastic things that make these tables look so complicated are chips! Chips replaced coins long ago since chips are small, light, more colorful than coins, and easy to count.
When Did Plastic Chips Make their Appearance?
As we said, before there were casino chips there was cash money. It was very hard to keep track of cash money at the craps and roulette tables and even in blackjack where the betting is a lot more straightforward. So, casinos looked for materials that they could use to create a more uniform casino "currency" as it were.
They tried wood, bone, paper, and other materials.
But the revolution in plastic that took palace after World War II proved to be the perfect medium for chips. Plastic is easy to dye with various colors.
How are Chips Made?
The process by which most plastic products are made is called extrusion. This is an amazing feat of engineering! It involves using a die and putting bits of plastic through the die at high pressure. The next time you pick up a plastic product, be it a bottle, a toy, a suitcase, or any of hundreds of other products, you should appreciate that the product was made through a high pressure method that produces the exact same product thousand or millions of times in a row!
Plastic chips are way more uniform one to the other than chips made of bone, paper, or wood could ever be!
At online casinos, the graphics depict chips as if they were real chips!  As with everything at online casinos, the chips are virtual!
Free Chips or Deposit Bonuses
Land-based casinos can't really give big deposit bonuses since the players would have a very hard tome fulfilling the wagering requirement before their stay at the casino ended. So, land based casinos give moderate free chip bonuses.
In contrast, online casinos can give very large deposit bonuses since their gamers can play as often as they like without the hassle of traveling, booking flights and hotel rooms, packing, and all of the other inconveniences of going to a land-based casino.
Scroll Slots Play Casinos for Excellent Free Chips Bonuses
Instead of spending many long hours doing all of the homework yourself, we suggest letting Slots Play Casinos do some of the work for you. Our cooperating casinos offer various types of free chips bonuses. It is true that at an online casino, this type of bonds is more likely to be called a no deposit cash bonus but it amounts to the same: free money or free casino credits to game with!
How to Find the Best Land-based Casino Free Chips Bonuses
Here are a few tips that you can use to get a good free ships bonus from a land-based casino.
Decide where you want to play. Many land-based casinos are standalone casinos so if you are looking for a nearby casino, there may be one or possibly two casinos to choose from.
If you are going to a casino hub, look at a few casinos for information about free chip bonuses.
Send an email to several casinos to gauge their response time.
Then call the casino to see how efficient their customer service is.
In the big casino hubs, going off the beaten track is often a better way to get bonuses and other perks that the bigger and fancier casinos don't offer!
Why is it Important to Contact a Casino Twice?
This is a good rule of thumb for online casinos as well as land-based casinos. You need to be confident that the casino cares about you. Land-based casinos see so much player turnover, since most players stay for one to three days, that it is easy for them to ignore players' needs.
Online casinos are a type of gaming club. Some casinos have had gamers for over twenty years! The casinos know what these gamers like, which games they like, what their daily, weekly and monthly gaming habits are and so forth!
So, we feel that it is good due diligence to see how responsive a casino is to any enquiry you might make. This applies to online casinos as well as land-based ones.
Read Slots Play Casinos Often for the Best Gaming Information
Slots Play Casinos is always in the forefront of new happenings in the world of casino gaming. We emphasize online gaming but, as this article demonstrates, we also have our finger on the pulse of land-based casino news. Come to SLOTS PLAY CASINOS OFTEN!