It is true that here at Slots Play Casinos the bulk of our reporting is about online casinos. That means slots, blackjack, and the best online video poker, and all of the other casino games our recommended online casinos offer.
But, today we're turning our eyes to Everygame Poker.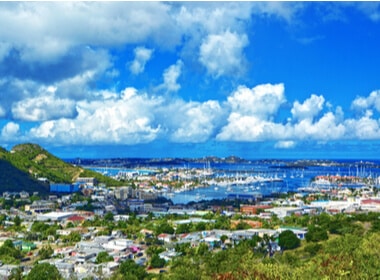 Still, we also like to keep our finger to the wind in terms of online poker so we are happy to report that Everygame Poker is starting a WSOPC Caribbean $200,000 GTD tournament in St. Maarten Island in… of course, the Caribbean.
The Caribbean is warm all year round and many of our readers are shivering in the cold of winter so here is some good incentive to hone up on your poker skills.
What Does the C in WSOPC Mean?
The C stands for circuit. This indicates that the WSOP is truly a world-wide poker phenomenon. We all remember that Chris Moneymaker won the WSOP in 2003 after qualifying through an online tournament. And so can you…
What Does GTD Mean?
This stands for "guaranteed" which means that players can feel secure that their buy-in fee will be rewarded if they finish in a high position in the tournament even if the number of players does not produce enough to cover the guaranteed prize money.
Satellite Tournaments Start on January 5, 2022
There are two satellite tournaments. The first is an open tournament while the second is for the survivors of the first satellite.
If you have played in many online tournaments already, you might know quite a bit about the nuances of online versus on land poker tournaments. For the uninitiated or less initiated, here are a few tips for playing in online poker tournaments.
Go into the tournament with great confidence.
Make sure you are well rested at all times.
Try to eliminate all distractions.
Be emotionally prepared for a long haul.
To thine own self be true.
It is possible to play cutthroat poker without cutting anyone's throat.
Follow all of the basic points of good poker religiously.
Always keep track of the hand ranges your opponents might have.
Try not to look for tells.
Base your actions on the cards, your opponents' actions, and their tendencies.
Try to put opponents on a set of tendencies early on.
Play more conservatively while you are sizing up the table.
When you have a good hand pounce but don't pounce so hard that you scare off the other players.
Treat poker like chess which means always looking a few steps ahead.
Use basic poker math.
This is a lot to get one's head around but all experienced poker players will understand that this is really just a short list of the skills a good poker player brings to a tournament. Poker tournaments are very different than an hour or two spent in the evening playing an online cash game at low stakes.
Let's take a quick look at these points.
Confidence is as Much a Poker Skill as Advanced Poker Math
Confidence means being brave enough to make a strong bet.
Confidence means being able to fold.
Confidence means trusting your judgment but not your hunches and certainly not your whims.
R and R is Not a Mantra
Rest and relaxation are two skills that good poker players develop. You have to be well rested to succeed in a tournament. You also need to be relaxed at all times even when the pot is big and you aren't sure if your opponent is bluffing or betting from strength.
Distractions are the Bane of Poker Players
A clock ticking, a faucet leaking, a lover winking, a bottle of aged scotch enticing are all serious distractions. Even your bed is a distraction. Players at an online tournament have a harder time avoiding distractions but doing so is a major step forward!
Accept Emotion
The worst emotion in poker is tilt. Thou shalt not tilt! Good poker tournament players rarely tilt; they are trained to accept bad beats or bad reads with equanimity.
Stay Within Yourself
In sports, coaches tell this to players all the time. Players who try to do too much usually end up doing not enough! The same principle applies in poker. Even if you have folded before the flop many times, you should not go outside of yourself just to play a hand.
Pouncing Correctly is an Invaluable Skill
In the great film, "The Twelve Chairs" the former member of royalty remembers his wife telling him to "hurry home but don't gallop". Pounce but don't pounce too hard is true but it is hard to learn. This is an under-rated area of study and well worth your time.
Poker is not All that Different than Chess
Sure, they are different games but the ability to see ahead is invaluable in both games.
What's So Special about St. Maarten?
OMG!! Big time!!
St. Maarten is only about 37 square miles which makes it much smaller than New York, Chicago, and Los Angeles. It is also almost crime free unlike those cities!
St. Maarten has dozens of beaches, a low mountain range with somewhat milder climate, a vibrant fusion food scene with an endless number of good restaurants, and on land duty free shopping.
The nightlife on the island is also directed at tourists but with a local flourish.
The winners of the WSOPC $200,000 GTD tournament at Everygame Poker will get five star accommodations for two with full board and much more.
All you need to do is bring your A game to the tournament. Even if you don't end up at the finals, St. Maarten is well worth looking into as your next exotic vacation destination!
Slots Play Casinos Covers it All
We may specialize in online casino gaming, but we also have a strong interest in many other areas of gaming including covering some poker highlights. The tournament through Everygame Poker is an example of a happy poker event well worth reporting about.
Come to Slots Play Casinos Often for more timely reporting on interesting and important events and developments in gaming!