The online casino market in New Jersey has been regulated for some time with land based casinos only allowed to offer online gambling services. In late June, Hard Rock Casino opened a land-based operation and immediately began competing with the established online casinos with one of its own. In addition, Ocean Resort Casino began land-based operations in the city at the same time.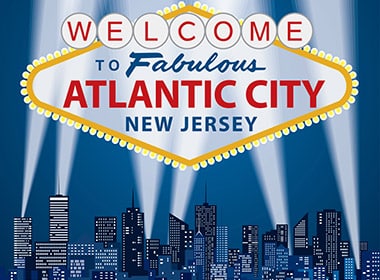 Reviving Casinos
Hard Rock Casino on land is the resurrected former Donald Trump casino, the Taj Mahal. In keeping with its new Hard Rock motif, the opening ceremony featured a mass guitar smashing demonstration. The online casino was launched almost simultaneously with the land-based casino.
Online Gaming Moves Forward
The online casino offers large bonuses that players access with bonus codes, hundreds of casino games, especially slots, and will no doubt become a formidable competitor in the fast growing New Jersey online casino market.
Hard Rock online does not offer live poker but it does offer every other popular casino game. Poker is available as video poker which is actually more popular with online gamblers than regular poker. In the future, Hard Rock online promises to include live gaming in a direct feed from their land-based casino floor. At the present time, there are only two online casinos in New Jersey that also offer live casino feeds from their land-based casino floors so many industry observers see live gaming online as the next "frontier" toward which all online casinos are headed.
The news that Hard Rock has launched both a land-based and an online casino somewhat overshadows the specific news that two shuttered casinos in Atlantic City have been brought back to life. As reported above, Hard Rock Casino was closed when the Donald Trump-owned Taj Mahal found the going too difficult in Atlantic City. Re-opening on the same day as Hard Rock Casino is the new Ocean Resort Casino which replaces the former Revel casino.
City Facing Major Challenges
Atlantic City has long suffered from an inability to find ways to generate revenue outside of gaming. The percentage of revenue from gaming has long been in the 80-90% range while industry experts believe that a healthy gaming revenue percentage is closer to 60%.
The reason is really quite simple. If a gambler comes to Atlantic City and uses his or her budget, and there is nothing else for them to do, they simply go home. By offering non-gambling entertainment and other activities, a casino venue can "hold" its customers longer. They may come to the city with the same bankroll but they will use some of it for gambling and some of it for a restaurant, a show, or some other attraction.
An Idea Whose Time Has Come
The notion of the Integrated Resort has been reported many times in the past few years as first Singapore and then several other Far Eastern countries have embraced the idea as a way to achieve a workable compromise between advocates of gambling as a source of revenue and opponents of gambling who have many reasons of their own to oppose it.
The Integrated Resort concept and the seen need for Atlantic City to expand its overall package of activities are actually one and the same. People from the vast east coast megalopolis need to be able to come to Atlantic City for every type of tourist entertainment, not just for gambling.
The Far East Integrated Resorts have convention centers, entertainment complexes, family activities such as water parks, zoos, and massive playgrounds, a choice of cuisines at excellent restaurants, luxury accommodations, bars and pubs, and huge shopping malls so people with no specific interest in gambling will still be attracted to the resort. The casinos are there for patrons who want to gamble for a period of time but are not the primary attraction. One can come to an Integrated Resort and never so much as set foot in the casino.
Atlantic City Needs Progressive Thinking
Apparently, the slow demise of Atlantic City was based on its inability to expand its attractiveness to include families, shoppers, show-goers, restaurant aficionados, and the like. So, Hard Rock Casino and Ocean Resort Casino are openly pursuing a varied audience with more to offer than just gambling.
Along with making the land-based casinos more attractive and varied, the opening of online gambling in New Jersey means that these two companies, the ones that already operate both land-based and online casinos and all new entrepreneurs to come, may open a land-based casino as its secondary gambling site but as a necessary one in order to get state approval for its online gambling operation which would quickly become its primary revenue-generating gambling site.
This new concept will work, in the view of industry observers, only if Atlantic City can successfully change its image into a far more rounded entertainment and family-oriented place.
Atlantic City faces very stiff competition from casinos throughout the east coast megalopolis. There are dozens of land-based casinos in the several states that border on New Jersey plus an additional large number in states just one state removed from New Jersey. So observers say that without a major image change, the new casinos opening in Atlantic City won't revive the city even as they do generate large gambling revenues for their parent companies.
The Integrated Resort concept is also being implemented in the new casino in the Catskill Mountains in upstate New York, as close to New York City toward the north as Atlantic City is from New York to the south. Even if Atlantic City were to revive itself as a sort of city-wide Integrated resort, there is no guarantee that people would travel south from New York rather than going north where there is also a mountainous area for outdoor activities.
Nevertheless, people see the opening of two new land-based casinos in Atlantic City as a positive development giving hope that major changes can revive the city.