The picture we at Slots Play Casinos chose for this article is of a virtual reality face as the screen of a laptop or tablet with a huge smile under the words Virtual Reality! It begs the question of how slots generate smiles in gamers at the casinos we recommend. We will look at a couple of new games from two top online casinos, Everygame Casino Red and Juicy Stakes.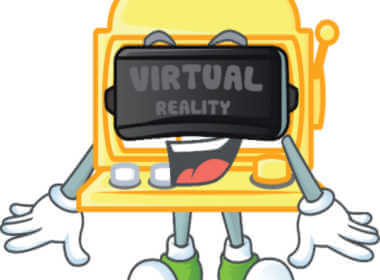 Game Providers are in Serious Competition with Each Other
One of the great aspects of online casino gaming is that gamers can sample the games of many different game providers. They can do this by playing directly on their internet server through Instant Play which allows gamers a great deal of gaming freedom without the need to download a heavy online casino to their already strapped hard drive.
Everygame Casino Red uses the games of SpinLogic exclusively while Juicy Stakes uses three game providers: Betsoft, Lucktap, and WorldMatch. Let's choose one slot from each casino, a new or relatively new slot, to demonstrate the competition game providers face and how each provider is fashioning new ways to show gamers a great time!
Kensei Blades at Juicy Stakes Casino
Kensei Blades has a Japanese country scene as its background. Kensei is a master of Japanese martial arts and Sakura is his beautiful assistant or student. Kensei has the masculine accouterments of armor and a heavy sword while Sakura is all femininity with long, really long, pink hair, a very short tunic, and delicate facial features.
This slot comes from Betsoft and has 720 ways to win!  it also features a five-reel arrangement that we have become familiar with in the last couple of years where reels one and five have three rows, reels two and four have four rows, and the middle reel has five rows.
This arrangement makes it possible for the slot to have 720 ways to win!  To help you win, Sakura is the wild symbol and Kensei is the scatter symbol. The game also features a pink heart, a pink flower, a blue half-moon piece of jewelry that looks like an earring, the sword, a green five-pointed star that seems like a starfish, Kensei's sword, a helmet, and a shield. Sakura's staff plays a role as well for it shows her military side even as she is drawn as a prime example of feminine beauty.
This is no Biblical staff that could have been a cane! Rather it is a large, ornate, bejeweled staff!
Aside from the warlock demeanor of Kensei, this slot certainly seems to be channeling a type of femininity that includes great beauty coupled with great strength! The sense of abiding femininity extends to the background music which has the soothing sound of water gently flowing in a placid stream!
In the long history of slots, we wonder if the color pink has ever been put to better use!
Get up to 240 Free Spins!
The bonus round begins with a modest 8 free spins but you can retrigger the free spins up to 240 free spins!
The thing that struck us the most here at Slots Play Casinos is that Kensei Blades is unlike most Japanese-themed slots which usually feature dragons or samurai warriors or both. Despite its warrior elements, Kensei Blades is a soothing slot that enhances the feeling of quiet relaxation far more than it enhances a military mood!
New Slots from SpinLogic
If we look at the newest slots at Everygame Casino Red, we see that SpinLogic is going through some kind of identity shift as it has featured Doragon's Gems (did we mention the above slots with dragons?) and Nine Realms for the last two months. A couple of months ago, SpinLogic brought out Khrysos Gold which also had more military aspects than soft, relaxing game play. Still, SpinLogic in the recent past has also come out with Gem Strike, Sweet 16 Blast, and Penguin Palooza!
Clearly SpinLogic is living in both worlds: the world of super-serious slots coupled with slots that are all color, humor, and mirth.  Let's take a closer look at Sweet 16 Blast.
A Candy-coated Slot
Sweet 16 Blast is one of the newer games at Everygame Casino Red. It uses the allure of candy of various colors and shapes to create a mood of pure joy in gamers. Although gamers can't actually taste the candies, they can imagine what they all taste like!
Purple is raspberry while red can be strawberry or cherry (depending upon which is in season!). Yellow is lemon, of course but there are two yellow candies so one might be butterscotch! Blue is sky blue, a favorite soda fountain favorite since the early years of the 20th century! Brown is caramel and orange is orange!
Sweet 16 Blast has six reels and five rows! That leaves a lot of room for action to take place all of it as sweet as can be!
To add to the sweetness, Sweet 16 Blast has a buy feature in which gamers can buy their way to the free spins bonus round. The Bonus Bet feature allows gamers to add to the number of scatters that will appear on the reels for a fee of course!
In addition, in the free spins round, there is a multiplier that the game chooses at random. The multiplier starts out at 2x and can reach 100x!
Sweet 16 Blast also has cascading wins. This has become a relatively frequent activity in the slots of some of the top game developers and now SpinLogic has discovered the software for cascading reels!  We expect to see cascading reels in many SpinLogic games going forward.
Slots Play Casinos Reports on Slots
We mainly report on the new slots at online casinos. We are aware that land-based casinos have a more difficult time deciding which new slots to take if they take any at all in a given month.  The simple reason is that when one new slot goes in, an older, less popular slot has to go out.
Thus land-based casinos deal on a daily basis with their space limits. Even a giant land-based casino has space limits since it has to fill all of the available space. Otherwise, why build such a large casino?
We always encourage gamers to COME TO SLOTS PLAY CASINOS OFTEN! We have a lot of information to report and we wish that all of our readers will see every new article in real time!
By the way, since we report on slots, we think that an upcoming article will include newish slots from the Mediterranean Basin. That would include slots from ancient Greece, Rome, Egypt, and even Turkey!