There is a new trend in business management, marketing, and education called gamification. Simply put, this means applying some of the elements of games to areas not normally associated with games. The importance of games is well known. People have played games for millennia. Every year, game manufacturers look for great new game ideas. Some of the most popular games were developed only recently.
Monopoly was created during the decade of the Great Depression. Scrabble was also developed around the same time. On the other hand, many very popular games like Set and Trivial Pursuit were developed much later. Games are the essence of casino gaming as well. Even the use of bonus codes is an aspect of the gamification of the non-game process of applying to a casino for a bonus. In many areas, the news every week contains some analysis of gamification in an erstwhile non-game situation.
Purpose of Gamification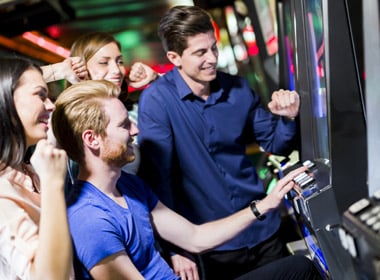 The goal is to engage people who are difficult to engage. In marketing and sales, we have long known that music attracts one's attention. The concept of gamification takes marketing even more directly to customers. It uses various aspects of game play to develop customer loyalty.
For example, the competition between Coca Cola and Pepsi resulted in dual ad campaigns that were pure gamification designed to create customer loyalty. "Things go better with Coke" and "You belong to the Pepsi generation" were both designed to appeal to people's sense of community, self-worth, and joy of life. It wasn't enough to say simply Coca Cola or Pepsi taste great.
We often play games with other people. This is the community we want to belong to. If a marketing campaign can get customers to see themselves as part of a community even when the marketing campaign is selling a bland product such as insurance, it has done a great job in increasing customer loyalty.
One online insurance company has developed superior customer loyalty. One thing they do when someone calls is to tell them, by a recording, where they stand "on hold". Simply by telling the customer or potential customer where they stand and how long they can expect to be on hold, has created a feeling of loyalty among customers.
An American insurance company tells customers that they are "in good hands". This also produces a sense of community. As America becomes ever more urbanized, people need to develop a sense of community that used to exist in American small towns. As Hillary Clinton said, "It takes a community to raise a child." It also takes a community to help each other in tough times. So, the "good hands people" have succeeded in getting the message across that even though "all" they sell is insurance, they see the customer as joining a community through purchasing the company's insurance.
Casinos and Gamification
Every week we hear new ways that casinos use gamification to attract new players and to retain the loyalty of existing players. Casinos have found that merely offering games is great but not enough. They have to take games and add gamification to attract and keep customers.
Loyalty Clubs
This idea started with online casinos and has spread to land based casinos. It takes every bet and turns it into Loyalty Points. The casinos could have simply used the term "points" but loyalty points gives a sense of being part of a group with a specific purpose, namely to play the games offered at the casino.
Every player at such casinos automatically joins the Loyalty Club. it isn't enough to have points; nor is it enough to have loyalty points; the casino joins players together in a "club".
Bonuses
Online casinos, especially, offer bonuses for every positive thing under the sun. Birthdays and anniversaries are just two "reasons to offer a bonus". Casinos may offer a bonus on Sunday because it's the weekend, on Monday because it's the first work day of the week, on Wednesday to spice up the work week, on Friday because it's the weekend.
The round robin nature of recurring bonus offers also gives a game-like atmosphere to the procedure.
Tournaments
Online casinos make almost no money directly through tournaments. The entry fee is either zero or extremely small. The purpose is simply to get players to develop and enjoyment of playing slots.
The leaderboard in a tournament also gives players a sense of belonging to an exclusive group.
Free Play
There is nothing an online casino can do to exceed the impact of offering unlimited free play. We all sense that playing games is very important even if it is no longer the most important we do as adults. Free play applies the purpose of gamification, which is to attract people's attention in the most positive way possible, in order to further a more important cause.
Jaime Escalante took his inner-city math classes to heights of achievement that no one thought possible with that population and that subject. He did it first by convincing the students that math could be seen as a sophisticated game.
M. Scott Peck, in his work "The Road Less Travelled" wrote that children basically do nothing but play. A kid tossing food off his high chair onto the floor is actually playing.
Free play offered by a casino tells the customer that his or her pleasure is more important than the casino's profits. The sense of loyalty it engenders is immeasurable.
Instant Play
This is an online casino sub-context similar to free play. Instant Play allows people to play directly on the internet through their browser. Players no longer have to download the casino onto their hard drive. This enables them to play at a large number of casinos and to sample the games offered by a variety of game developers. Instant Play sends a direct message to players: your gaming pleasure is so important to us that we will "let" you play here in a way that makes it difficult for you to leave us for another casino!
Community. Family. We all like the feeling of belonging and the online casinos nurture that.