Slots Play Casinos
is mostly a pro-online casino website. That means that we review many more online casinos than land based casinos and we generally see far more benefit to gamers in online gaming over land based casino gaming.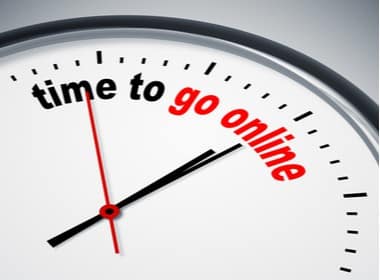 The Golden Age of Mobile Casino Gaming is Here
Let us let one simple example demonstrate this point since the theme of this article is: How to get the most fun out of your return to the land based casino scene. The example has to do with what has become the almost ubiquitous
mobile casino bonus
. You see, any strong online casino has a mobile gaming platform. Mobile gaming has come a long way since the days—not so very long ago—that mobile devices were giant, clunky things and the graphics, display, and game play for mobile casino gaming was, shall we say, lacking. Today, mobile gaming is the go to platform for gaming of an overwhelming majority of gamers. The mobile devices are sleek and powerful. Mobile gaming graphics are so good that you can get a clear, sharp picture on even a smartphone screen but most gamers play on tablets with larger screens and enormously great graphics. So, most online casinos give a mobile casino bonus for playing on their mobile platform. Now, some land based casinos have started offering a mobile gaming platform in the hotel! This is so ironic! A player comes to a land based casino for some fun and games over a long weekend and the casino makes a big deal about offering mobile gaming!
Online Casinos Excel at Offering Bonuses
It has long been noted that online casinos are much better suited to offer deposit bonuses. This has to do mainly with the daily availability of online casinos as opposed to the erratic availability of land based casinos. The bonus table for good online casinos starts with a strong welcome package and gets even better thereafter!
A Singular Tip for the Gamer Who is Onward to Land Based Casinos
We readily acknowledge that many gamers love land based casinos. There is certainly an air of widespread excitement in a brick and mortar casino. The yelling and general merriment that emanate from the roulette and craps tables is undeniable. We generally say that the many benefits of online casino gaming override the few benefits of land based casino gaming. Still, as the corona virus waxes and wanes and businesses reopen, we know that many gamers who came to online casinos out of necessity are looking forward to a return to land based casino gaming.
Online Gaming is Here to Stay Big Time
We also know that many erstwhile land based casino patrons who this year discovered online casinos will continue to make online casinos their primary venue for casino gaming even as they return to the land based casino milieu from time to time. Herewith, then, a timely tip for the gamer who already has his or her bags packed and is ready to go!
Go to a Local Land Based Casino
There was a time that gamers had to fly into a land based casino hub which went by the name of Las Vegas or Atlantic City. That is no longer the case. First, Native Americans got permission to open casinos on Indian land with a few minor restrictions. Then local governments determined that it would be good for their local economies to allow a land based casinos to be built in or near town. We suggest that the ready availability of nearby land based casinos makes traveling to a distant casino impractical from both a financial standpoint and from a gaming standpoint.
The Financial View Supports Staying in the Local Casino Scene
It makes little sense to fly to a casino when it is just as easy to drive to one. There are always ancillary costs to land based casino gaming and the air fare is just one of those costs. If you go for a long weekend, you need a hotel room and most casino hotels are quite expensive, especially on the weekend. Add restaurant bills, souvenirs, and knick knacks you pick up in gift shops and there are subtle and not so subtle costs to land based casino gaming. When you stay local, you can make a day of it. Leave home in the early morning and return late at night. You get to sleep in your own bed. You cut down on the temptation to buy more chips when your chips run out and you still have two more days in the casino.
The Gaming Side
Online casino gaming is simply so much more flexible that a long weekend of land based casino gaming will inevitably get boring. Your back will hurt from jealously guarding your seat, stubbornly refusing to give it up to the next guy. Stating the obvious as delicately as we can, your butt will hurt too! Land based gaming definitely has a great deal of human excitement going for it. We feel that one day at a land based casino should be enough to last for at least a couple of months. If we can keep the bugs at bay, we can come back to a land based casino every two or three months and the rest of the time we can play online. It is so difficult to budget gaming time at a land based casino but it is very easy to do that when you play online. The online casino is always at your fingertips while the land based casino is still a couple of hours drive away!
Drive to the Casino
In the great book,
Zen and the Art of Motorcycle Maintenance
, the author describes a long motorcycle trip he took with his son and another couple. The wife of the author's friend suggested that perhaps she should fly out to Montana to meet them when they arrived but they convinced her that she would miss the ups and downs of the long road trip. She went with them and benefited greatly from the road trip adventure. Driving, not flying, to a land based casino is a microcosm of the same idea. Since most people live within a short drive of a land based casino, it is easy to get to one even by driving the back roads. Many books have been written about the joys of traveling on the back roads through small towns forgotten by the super-highways. You can make it a day trip with a casino interlude by driving the back roads. We suggest that you treat the small towns like they were a kind of slots game! If you see a sign that intrigues you, by all means, stop and explore the store, museum, antique shop, or whatever has caught your eye. As much as super-highways have taken over driving, there are still thousands of small towns, local parks, and attractions awaiting the curious traveler. It is to your benefit to turn yourself into a curious traveler rather than a determined single minded casino gamer!
Just Say NO to Free Alcohol
One of the unsung benefits of exploring small towns is the large number of local breweries, distilleries, and wineries that dot the landscape. As long as you can sample alcoholic drinks, a visit to one of these businesses can result in your discovering beer that far exceeds in quality the standard fare available in your local supermarket, excellent wine that you can enjoy at your leisure, and spirits that may be exponentially superior to the standard stuff "everybody" drinks!
Doesn't All this Lead to Staying Overnight Somewhere?
Indeed it might! Now, what is preferable: to sleep in a casino hotel or to sleep in a local motel or hotel, to enjoy the country air, and to get the benefits of a gaming excursion and a touring excursion on the same weekend?