As has become something of a custom here at Slots Play Casinos, we are revisiting some casinos that we have already reviewed. One reason we are doing this is because online casinos have to renew themselves every so often in reaction to the robust competition online casinos face.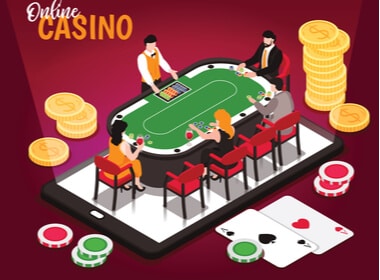 Another reason is that some casinos—and Intertops Casino Red is a perfect example—have been around for the longest time. Therefore, we feel that we can look to them to see what the future in online casino gaming might hold in store for our readers and all online casino gamers.
Intertops Casino Came on Board in 1994
The Intertops family of casinos includes the aforementioned Intertops Casino Red and also Intertops Casino Classic. Although they bear the same name (sort of) these are actually two different casinos. Intertops Casino Red uses Real Time Gaming (RTG) software for their games while Intertops Casino Classic uses Wager Gaming Software (known far and wide as WGS) for their games.
Since you are playing in Instant Play mode in order to save space on your hard drive for other downloads including work products, you can easily go from one casino to the other to sample the games of each provider.
We are in the Golden Era of Online Casino Games
Both WGS and RTG are top-of-the-line game providers. When they started, there were a small handful of game providers. None was particularly innovative. The online casino market had just begun and few people saw the long-range potential of online casino gaming.
Do you remember that the CEO of IBM way back in the 1940s said that he saw little use internationally for computers? Of course, computers then were giant monstrosities in their day, the same as the monstrously big cell phones that started the entire cell phone revolution!
Now there are many game providers and they all feel the competition. As a result, both Intertops casinos can introduce a new slot every month! Just to be able to showcase a new slot every month is not enough. The slots have to regularly demonstrate the innovativeness and creativity of the game developers.
Five Reels were the Cat's Pajamas at One Time
Just as the term "the cat's pajamas" hails from a long gone by era, at one time, it was enough simply to have five reels and free spins bonus rounds. Now, the graphics and, even more importantly, the animation have to be first-rate to keep gamers playing at these casinos.
Thus, the game providers are prompted not only by competition in their field but also from the casinos themselves as they feel competition in the online casino market!  The result is that in terms of the games both Intertops casinos are first-rate, as they have always been!
Promotions Separate Online Casino from Land-Based Casinos
Most online casino promotions involve deposit or no deposit bonuses. All bonuses come with a wagering requirement which means that the gamer has to bet a factor of the bonus before he or she can withdraw winnings.
Without the wagering requirement, some gamers would cash out their bonus immediately, the online casinos would lose scads of money, and they would eventually have to close their doors!
So, the wagering requirement allows online casinos to grant deposit and no deposit bonuses.
It Often Takes Time to Complete the Wagering Requirement
The Intertops online casino family is committed to responsible gaming. One aspect of responsible gaming is to set both monetary and time limits on gaming per session. So, it might take more than a week or even a month to complete the wagering requirement for the Intertops Casino Red Welcome Package which can get as high as $5555 in deposit bonuses and a small no deposit bonus at the end!
Land-based casinos cannot offer deposit bonuses since land-based casino players spend at most a few days at the casino and will probably not be able to fulfill the wagering requirement.
Intertops Casinos are Masters of Online Casino Promotions
Here is a short rundown of the promotions at Intertops Casino Red:
The Welcome Package which can reach $5555!
The New Game promotion which combines deposit bonuses and free spins.
One or two Specialty Promotions.
A promotion directed at mobile gamers which nowadays means everyone.
Comp points.
Here is a quick list of the promotions at Intertops Casino Classic:
Daily deposit bonuses.
International Blackjack Challenge.
Daily Bonus Spins.
Comp Points.
The Games
Both Intertops casinos have about 300 games in many forms. The primary category of games is slots, of course. The slots are ever more colorful with wild symbols that continue to find new and wild things to do to enhance your fun and winning chances.
Table games have come a long way at Intertops. The game providers used to present table games with excellent graphics. These days the providers are concentrating on animation to make blackjack, baccarat, craps, and roulette more exciting for online players.
Security and Safety Remain Number 1 Priorities
As much creativity as goes into every new game, the Intertops casinos know that without 100% security and safety gamers would leave the casinos. There isn't anything new to report here but the casinos still use the most sophisticated encryption software to thwart hackers.
It seems that the Intertops casinos have been even more successful than some governments in keeping people's personal assets away from hackers!
The Bottom Line from the Intertops Online Casino Family
Intertops continues to stay ahead of the curve when it comes to delivering excellent online casino gaming. Within the last few years, mobile platforms have been revamped to stay in keeping with new technology. The mobile platforms will likely remain works in progress as the technology continues to improve.
One way that we at Slots Play Casinos can see that the Intertops casinos are still at the top of the online casino pyramid is that they book in many gamers who were lockdowned out of their favorite land-based casinos at the outset of the corona virus pandemic.
Clearly, thousands upon thousands of gamers all over the world found a lot to their liking at Intertops Casino Red and at Intertops Casino Classic.
Readers also have come to Slots Play Casinos more often during the pandemic as through word of mouth gamers found that we provide a wealth of information about both online and land-based casino gaming.
Come to Slots Play Casinos often for the latest in casino news!