Free slots tournaments is one of the most popular promotions categories at PlayCroco Casino and many of the other online casinos we at Slots Play Casinos have reviewed and recommend, as well.
A free slots tournament is one with no buy-in fee. Even the slots tournaments that do have a buy-in fee have a very small one. That makes playing in slots tournaments the epitome of having fun gaming at PlayCroco or any other recommended online casino.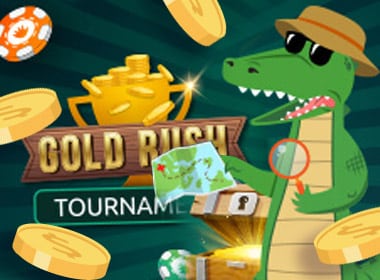 Join the Gold Rush
Throughout the month of May gamers at PlayCroco will be able to enjoy playing in the Gold Rush slots tournament. This tournament has no buy-in fee and still has a $20,000 prize pool.  In addition, fully 100 players will get a piece of the PPP (Prize Pool Pie).
Slots tournaments are a big attraction at PlayCroco! Most are weekly tournaments so the fact that Gold Rush will run until May 31 at 11:00 am Australia time makes it even more exciting. At this writing over 15,000 gamers have joined in the fun jockeying for position on the leaderboard and basically having a wonderful time!
Choose an Alias
The signup process is simple. You can play either on desktop or laptop or on the mobile casino app. The casino will ask you for your alias. Have fun coming up with a creative and cheeky alias.  It adds to the fun!
Even though PlayCroco casino bills itself as the top online casino for Aussies (that's Australians!), the casino naturally accepts gamers from all over the world. Thus, in any slots tournament, gamers will wake up and look at the leaderboard to see what has happened while they were asleep.
Every day you will see new names at the top of the leaderboard since, while Australia sleeps, the Americas are fully awake and raring to click, spin, and reap the rewards.
The Way of All Tournaments
All freeroll slots tournaments have a set amount of credits the players use as if they were real money! The money you "win" gets converted into points for the purposes of the tournament. The winners in Gold Rush will be the 100 players with the highest number of points.
It is good to get a high paying win in a slots tournament even though as a player in the tournament, you get the points instead of the money.
Plentiful Treasure
Gold Rush features the great classic slot Plentiful Treasure. This is an Eastern-based slot featuring gold symbols and many other ornate jewelry items. The slot also features a kettle, not for brewing tea but for making a large soup or just for collecting gold coins!
The rich manner in which SpinLogic designed all of the symbols has made Plentiful Treasure one of the most popular slots in the PlayCroco array of slots.
What is a Gold Rush?
A gold rush occurs when a gold prospector discovers gold in an area not known to have gold.
Before modern gold prospecting methods and tools were developed, gold prospectors panned for gold with a sluice and a pan. Few struck it rich but those that did became fabulously wealthy!
There have been several gold rushes throughout history. The most famous occurred in California, Canada, Brazil, Chile, South Africa, New Zealand, and, of course, Australia. A gold rush lasts a few years. First, someone discovers gold. Then the word spreads and the rush is on. After just a few years most of the prospectors go home and the rush ends.
Australian Gold Rushes
With the Gold Rush slots tournament, PlayCroco is celebrating the gold rushes of the past and the everlasting demand and popularity of gold.
As an aside, we would like to point out the amazing modernization and development that a slots tournament about gold rushes indicates. A slots tournament is a wonderful example of how much free time people have in the modern world. Prospectors for gold had no free time at all!
In addition, players in the Gold Rush tournament are playing for fun. If they win a few thousand dollars, the $40 that go to the late twenty or so leaderboard winners, or win no money they are having a great time.
In contrast to the fun a Gold Rush player has while safely, comfortably, and happily ensconced on their sofa, gold prospectors often left their families in search of the big strike that would make them rich.
Victoria Gold Rush
The Victoria Gold Rush lasted from 11851 to 1869. Millions of people came to Victoria in search of gold. The effect of the Victoria Gold Rush was to make Melbourne a financial center for much of Australia and it produced many settlers who came looking for gold and stayed as small farmers, herders, or factory workers.
California Gold Rush
The same effect occurred during the great California Gold Rush of the 1850's. Although we can travel from the east coast to the west coast today in just a few hours, in those days, California was very far away. It required prospectors to traverse very high mountains to get to the Central Valley.
Whereas millions came to Victoria during the Victoria Gold Rush, "only" about 300,000 people came to California! Nevertheless, those 300,000 people changed the face of the United States and changed history altogether.
Few people knew anything about California when gold was discovered at Sutter's Mill in Coloma, California in 1849. Sutter's Mill is just an hour's drive east of the state capitol in Sacramento. In those days, it was literally in the middle of nowhere.
Soon, word of the bounty of California reached points east and while the United States was soon to fight a horrible civil war in the eastern sliver of land, California beckoned. Today fully 35,000,000 people live in California.
Why is Gold so Important?
Many would say that gold is not important! How, then, did gold become money?
Money is a representative of the ability to use it to buy things. Many things have been used as money. Gold became along with silver the recognized stores of money because they were durable and they were relatively easy to transport.
Certainly gold bars are heavy. That's why paper money was created when purchases became so expensive that gold and silver were no longer practical. But a few gold coins are not heavy and are very durable.
Slots Play Casinos Keeps Track of the Online Casino Industry
Every industry needs a good watchdog to inform the public and to keep the business people on their toes. That is the role we at Slots Play Casinos fill. We are also happy to be able to report on fun and exciting developments in online casino gaming.
This, we are happy to tell you about the Gold Rush freeroll slots tournament running until the end of May at PlayCroco casino.
COME TO SLOTS PLAY CASINOS OFTEN!