Ripper Casino is simply bursting with pride at their six month anniversary! Gamers are using the Ripper Casino bonus codes in ever-growing numbers!
Slots Play Casinos is bursting with pride for Ripper! It is rare for a new online casino—there are now thousands of online casinos and at least one new one enters the fields every month—to have made such a splash in such a short time.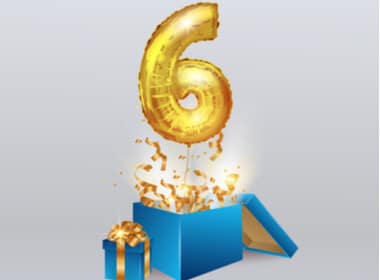 In fact, Ripper has sent ripples through the online casino gaming market. By the way, that was our pun!
Mike Gilmour is being quoted all over the online casino blogosphere: "It's been quite a ride so far! Blimey mate, I can't wait to see what comes next!" Well, here at Slots Play Casinos we have a pretty good idea as to what will come next!
We base our opinion on what have come before!
The Winning Ripper Casino Formula
Ripper Casino started out in December 2021 with a simple formula for online casino success. First, the homepage and all of the game pages have to be easy on the eyes!
This might not be a big deal to a gamer with 25 year old eyes but it certainly is a big deal to people over 50, 60, or 70 years of age!
The second part of the formula is to have games from several game developers. The people running Ripper Casino knew that with Instant Play, many gamers can go easily from one casino to another. There may not yet be a saying like this but there should be: a player lost is a player loot!
One of the top reasons why gamers seek out other online casinos is that they want to play games from a few game developers. So Ripper Casino started out with games from three game providers: Rival, Booming Games, and Arrow's Edge. This simple decision has kept many gamers flipping from game to game and from developer to developer all the while staying at Ripper Casino.
In celebration of the six month anniversary, Ripper is adding 50 slots plus blackjack, keno, baccarat, and video poker from yet another game provider: Mascot Gaming.
The third part of the formula is to always have a large number of excellent promotions!
Promotions, Promotions, Promotions
Here is a quick rundown of the Ripper Casino promotions as of this moment:
The Ripper Casino Welcome Package is for four deposit bonuses that carry a 125%, 150% 200%, and 225% bonus rate. The maximum bonus money a new gamer can receive is capped at $7500! The best part of this Welcome Package promotion is that gamers can take the bonuses in any order they choose!
The Pokie of the Month promotion features Lucky Ox Jackpots. The bonus is for 300% up to $600. In order to get the full $600 gamers have to deposit only $200 and they then have $800 to play with! By the way, Ripper Casino markets itself primarily to players from Australia and pokies is the Aussie term for slots!
Ripper offers a free $10 bonus with no deposit needed!
Ripper offers 200% bonuses for deposits in Bitcoin and Litecoin and through the Neosurf ewallet.
As part of the six month party, Ripper is introducing a cashback program that returns 25% to players who have exhausted a bonus. The cashback rate for VIPs is 45%! The play through requirement for the cashback promotion is only 10x. in addition, there is no limit as to how much cashback a gamer can receive.
As we said, a VIP can get 45% cashback. VIPs enjoy many perks at Ripper Casino so, as part of the six month anniversary party, Ripper is offering one gamer a chance to be a VIP for one year! The promotion is called the Royalty Raffle.
Ripper Offers Hundreds of Exciting Slots
We cannot list every slot so you will have to join Ripper Casino to discover what carrying slots from four game providers does to online slots gaming! We can, however, list the several alternative table games that Ripper carries. These are in addition to the standard blackjack, baccarat, video poker, roulette, and craps.
Here are the "other" table games players enjoy on a daily basis at Ripper:
Card Clash
Caribbean Poker
Casino Hold'em
Pai Gow
Red Dog
Oasis Poker
High-Low Draw
Ride 'em Poker
Three Card Rummy
Top Card Trumps
Triple Edge Poker
All in all, we at Slots Play Casinos are proud of the success Ripper Casino has had in only six months! If there was one single thing that Ripper has done that we feel other top online casinos will emulate it is having multiple game providers!
We suspect that many online casinos that don't have long term contracts with a single game provider will expand into multiple game providers.
Another great promotion at Ripper is the massive Welcome Package in which new gamers can take the 225% bonus before they take the lower rated bonuses!
Ripper has shown that cryptocurrencies are here to stay as alternative currencies. We hope the term cryptocurrency will quickly give way to a much less denigrating name. That's because bitcoin and the other "alternative currencies" came about because some people had given up on the long term viability of government money.
At the very least, as a young casino run by young men and women, Ripper understands well the need for alternative currencies as an… alternative to fiat government money!
Slots Play Casinos Recommends Many Casinos
At this writing, we have reviewed and recommended 27 casinos. Some also feature games from several different game developers. We expect the others to see that the multiple providers direction is the most modern way for an online casino to operate.
We have also reviewed 19 game providers. We have pages on all aspects of online casino gaming. We also feature extensive guides for gamers and a "news" section that is at the top right of our landing page.
As a casino watchdog, we also cover land-based casino gaming. We are quite clear in that we prefer online casino gaming but we fully recognize that land-based casinos remain popular for a certain cohort of gamers.
We understand the exceptional; atmosphere that obtains at good land-based casinos but on balance we feel that online gaming has many more positive aspects than does land-based casino gaming.
Come back to SLOTS PLAY CASINOS OFTEN for excellent information about casino gaming!