Right now, there are more than 2,6 billion people in lockdown. That means no carbon-spewing commuting, no environmentally damaging economic activity and human interaction that has been severely curtailed… that's if it is happening at all. The entire planet is on pause and nature is simply loving it!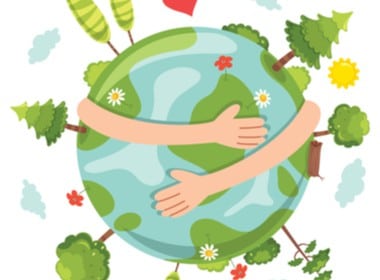 The pause means different things to different people. It can be an intensely lonely time or a welcome break from the hum-drum of day to day life. It can also be a great time to activate the game engines at Raging Bull Casino for real money entertainment that has the penchant to thrill!
That is the human experience. In the natural world, the pause is a universal clarion call for revival, replenishment, restoration and renewal. It means a protracted period of time where humans are no longer even part of the equation – and that is good, really good, for the wider environment!
Carbon Emissions Are Plunging Ever Downwards
According to the people who measure these kinds of things, daily carbon emissions in Europe have plunged by almost 60 percent. In highly polluted cities like Delhi, Beijing and Los Angeles, air quality is the best its been in living memory.
In New York and London pollution levels have declined by more than 50 percent – that is half the usual grunge big city dwellers are sucking into their lungs!
Factor in a huge drop in airline emissions world-wide and the earth is gasping in joy as 28 million tonnes of carbon dioxide – that is the equivalent of what around 6,5 million motor vehicles usually pump into the air – has for once not made it into the stratosphere.
What is even more remarkable is the fact that the whole world is in lockdown, not because of World War III but because of a lethal yet invisible enemy known interchangeably as the corona beer virus, covid-19 or SARS-CoV-2!
Crystal Clear Mountain Views and Cacophonous Inner-City Birdsong
What does all this mean in real terms? Well, for the folks living in the Punjab in India it means celebrating the fact that, for the first time in nearly 30 years, they can clearly see the snow-capped peaks of the Himalayas located 200 km away. Now that is something to celebrate!
For Londoners the experience is a little different. It means actually hearing the song of the 300 or so bird species that populate the city.
According to some residents, the cacophony of cries from pigeons, Peregrine falcons, chaffinches, starlings and robins is so deafening, it is difficult to concentrate on anything much – whether it is the great American novel or the online action at Raging Bull Casino!
Organised Animal Invasions are Happening Everywhere
Elsewhere, wild animals are embarking on relaxed forays or organised invasions into our deserted urban areas. In the usually bustling Turkish city of Bursa, a large male brown bear sauntered into the Sky Tram station, waddled across to the snack vending machine and made a failed attempt at a high sugar heist.
In South Africa, shy and endangered Cape leopards have been captured on camera hightailing it around the cellars and visiting a luxury spa on the region's wine estates.
A family of rare Cape foxes has even set up shop in the middle of the farm dwellings and are regularly seen frolicking around the gardens… in the middle of the day!
From the wild boars of Bergamo and Barcelona to the cougar seen lurking around the desolate streets of Santiago, our normally reclusive neighbors are out socialising in what was only a few weeks ago, our space.
Then there are the orcas that are venturing deeper into the Canadian sounds and the deer that have taken to grazing right outside the White House. Yet the clear winners in terms of brazen audacity are the wayward herd of mountain goats that went viral as they mobbed a Welsh town!
Wild animals are increasingly emboldened to step into our territory… all because it has been fortuitously forsaken because of the infinitely tiny Mexican beer virus!
Mother Nature is Reclaiming Her Space
In the world's great conservation areas – from Yosemite in the USA to the Hluhluwe-Umfolozi and Masai Mara in Africa – animals are slowly emerging from the remote areas to reclaim what was always their territory.
Natural migrations that have been curtailed or hampered by the omnipresence of humans are now taking place, albeit in smaller numbers. With the planet on pause, Mother Nature is the winner and the arbitrator between humans and the rest of the inhabitants of earth.
When we learn to treat our environment with more care, perhaps the resurgence of a killer pandemic on the scale of the corona beer virus – aka Covid-19 – will shift from reality, to nothing short of a bad dream.
Now that the lockdown is fully in force it is time to dwell on the positive aspects of our self-imposed exile. It is undeniably the perfect hiatus for a planet drowning in plastics and pollutants.
It is also a great time to do what you normally don't have time to do like cleaning up the garden, making regular contact with family and friends, reading all the titles on that best-sellers list and playing cash games online at Raging Bull Casino!
Do What You Love Doing Most – Playing Games at Raging Bull Casino!
If you love the high-risk high-reward element of skilled based table games or the animated action of video poker or 3-reel and 5-reel slots, there is no better way to while away part of the day than by playing online casino games at Raging Bull Casino.
It is a licensed and regulated cross-channel gambling platform that has flexible payment methods, attentive customer support services and a secure banking interface.
Toss in hundreds of beautifully designed RTG casino games and multiple casino bonus coupons and it is little wonder Raging Bull Casino is rated right up there with the best!
Seriously? What are you waiting for? Why not register a real money account right now at Raging Bull Casino and turn lockdown into an invaluable money-making respite – you'll be giving Mother Nature a hand in her quest for universal health and well-being!