The world of gambling in the United States continues to be a state of great flux. Not only is the Supreme Court decision regarding the constitutionality of the PASPA, the 1992 law that made sports betting illegal in all but the four grandfathered states—Nevada, Wyoming, Oregon, and Delaware—awaited with great interest, gambling in areas and venues where it has long been legal is also undergoing challenges and possible changes.

Finally, in at least one state—Pennsylvania—the restrictions that make it difficult to impossible for average, law abiding citizens to play games online is set to be challenged head on this year.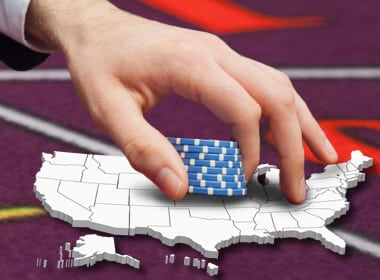 PASPA
There is nothing new emanating from the Supreme Court but as many as 20 states are ready to implement sports betting if the court gives the okay. That leaves a majority of states without an immediate response to the possible—some say likely—Supreme Court finding that PASPA was unconstitutional.
Utah is as yet the only state to come out against allowing sports betting in its jurisdiction.
Leagues
PASPA dealt with professional and amateur sports. With multi-million dollar contracts de rigueur in American team sports, it seems unlikely that any group of players could band together to influence the outcome of a game or a series as the Chicago White Sox did in 1919.
The professional leagues appear to be loosening their opposition to sports betting but at least two leagues—the NBA and the NFL—have begun talking about making sports betting on their leagues' games contingent on a type of revenue sharing between the states and the leagues.
It is as yet unclear how the leagues might be able to compel the states to comply with such a request.
Amateur athletics remain highly susceptible to game fixing, the prevention of which was exactly the point of PASPA, at least regarding amateur athletics. Some states may disallow sports betting on amateur competitions.
Louisiana
There is news out of this swampy southern state—the home of New Orleans—to allow riverboat casinos to establish a land based presence—in other words, to either relocate to a land location or to build a second gambling venue on land.
Louisiana legalized riverboat casinos in 1991 with the idea that it would attract travelers to a romantic ride on an old fashioned riverboat gambling vessel. It didn't work out because the riverboat casino operators soon discovered that they need street trade—meaning people getting on and people getting off—to make a profit.
If a cruise was to last three hours, a gambler who had reached his or her limit in the first hour had nothing to do for the rest of the cruise. The riverboat casino needed to be able to take on more gamblers in order to keep the flow of gambling money coming.
So, after a disastrous start, the riverboats stayed moored to the dock. Then they discovered that they were simply too small.
So, in this year's legislative session in the Louisiana state Congress, a bill will be introduced to allow riverboat casinos to relocate on land. This goes against the monopoly that Harrah's enjoys through its casino in New Orleans.
The bill to allow riverboat casinos to relocate to land is not the only gambling related bill to be introduced in Louisiana this year.
Another bill will reduce restrictions imposed by law on highway truck stops that are allowed to offer video poker machines.
Harrah's wants to be able to enlarge its casino, to build another hotel, and to build and manage a food court. The classic New Orleans restaurants will not be happy with that.
Racetracks that have legal slot machines now want to be able to offer casino table games, sports betting, and video poker as well.
Operators of for-profit fantasy sports want to be allowed to operate in the state.
Louisiana's gambling culture is in a very definite state of flux.
Pennsylvania
The state is on the fast track to implementing a full range of legal online gambling opportunities by the end of 2018. This, according to Kevin O'Toole, executive director of the Pennsylvania Gaming Control Board. The initial process is somewhat complicated but it boils down to 39 licenses that will be issued to online gambling operators. Pennsylvania is following the lead of New Jersey which already has legal online gambling.
The issue of the legality of online gambling was faced directly by the Unlawful Internet Gambling Enforcement Act (UIGEA) of 2006 which made it illegal to facilitate online gambling through money transfers. It made it impossible for banks through their credit cards to help people gamble online.
A trumped-up arrest against game developers also scared most of them away from the USA online casino market.
In 2010, a lower court ruled that UIGEA was unconstitutional in this exact area: restricting money transfers to online casinos.
So, facing a budget and revenue crisis, Pennsylvania is looking to reap a windfall through legalized and regulated online gambling. Casino gambling is not the only type of online betting that will be allowed in Pennsylvania. Pending the Supreme Court's decision mentioned above, the state will allow online sports betting, fantasy sports betting, and lotteries.
In addition, the legalization will allow video poker at some highway truck stops as per Louisiana mentioned above and will allow table gambling at designated areas in airports.
The Message
Land based gambling has been legal for many years. Online gambling was legal until UIGEA made it difficult to operate online. Several new forms of gambling have emerged since UIGEA and PASPA and the trend is definitely in the direction of more rather than less gambling.