Sports betting continues to make headlines in the United States. Since 1992, when the US Congress passed the Professional and Amateur Sports Protection Act (PASPA) only four of the fifty American states were allowed to offer sports betting to their citizens or guests. The four were Oregon, Montana, and Delaware—which had very limited sports betting—and Nevada, which offered the full range of sports betting.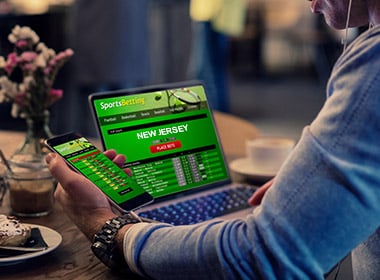 New Jersey challenged the law about ten years ago, stating that it violated the US constitution as it gave preference to some states over others. In May of 2018, the United States Supreme Court agreed and legalized sports betting was unleashed on hundreds of millions of Americans.
Logistics of Legalized Sports Betting
Most states that have since May considered allowing sports betting in their jurisdictions have connected it to land based casinos. Some states are also talking about running online sports betting through the land based casinos. By adding sports betting to the many gaming offers at online casinos, sports betting would become another of the many casino bonuses online casinos offer.
New Jersey Gold Mine
The news this week comes from New Jersey, where the New York Times has run an article describing the short experience New Jersey has had with sports betting as a veritable gold mine.
Another story comes from the Fox news affiliate in Washington D.C. that states that in response to the amazing boom in sports betting experienced by New Jersey, Washington D.C., Virginia, and Maryland are "racing to legalize and implement sports betting in their areas of legal control."
New Jersey
A fully stocked sports book was ready to go with sports betting at the Meadowlands Race Track as the Supreme Court's decision came down last May. The sports book has a large number of big screens ready to stream many sporting events to customers, a full restaurant menu and bar, a large area for VIP's and many tellers ready to take bettors' sports bets.
As the Times reports, Fan Duel, a fantasy sports site that runs the sports book at Meadowlands racetrack, massively underestimated the size of the cohort that wanted to make legal sports bets in Northern New Jersey.
Close to New York City
Meadowlands racetrack is a short drive for millions of residents in New Jersey, New York State, Pennsylvania, and Connecticut. There are several other states that are just a bit further afield such as Virginia and Maryland.
As the latter two states have now seen the utter boom that has occurred in New Jersey sports betting, they are working feverishly to keep some of the sports betting dollars that are now travelling up the highway to New Jersey home in their respective states.
Every dollar that is wagered at a sportsbook, whether at a land based casino or online is eventually translated into tax dollars for the state in which the wager was made. Legislators in Virginia and Maryland see that they are leaving tax dollars "on the field" as it were and are working as quickly as they can to offer legal sports betting to their citizens and guests in the desire to get the tax benefits for themselves.
Long Lines
Americans are getting used to waiting in long lines. Even as people wait hours in lines that stretch for milers for a chance to get tickets to a performance of their favorite rock band, sports bettors have been waiting in even longer lines for the chance to place a bet on the game or games of their choice every Saturday and Sunday since the college football season and the NFL seasons got under way.
The lines have been so long that Fan Duel has taken over another floor in the racetrack in order to accommodate the huge crowds of sports bettors.
Huge Competition to Las Vegas
The proximity of legal sports betting venues to millions of people in the megalopolis that stretches from Boston to Washington D.C. means that Las Vegas stands to lose millions of dollars in sports bets. Everyone knew that Las Vegas would struggle to compete with sportsbooks located near large metropolitan areas. Most legal sports bettors have had to fly into Las Vegas to place their bets and while they were there, have spent some time on the casino floor.
In New Jersey, it may not even be necessary for sports bettors to spend time on a casino floor. They may be able to watch, in a very comfortable setting, every major NCAA football game on Saturday and every NFL game on Sunday, enjoy a meal or a few drinks, and take home their winnings if they have made the best bets.
Hold Your Bets
There are still some who point to the lead Las Vegas has over sports books anywhere else in the United States and to the fact that legal sports betting still trails land based casino gaming in Atlantic City as "proof" that the much ballyhooed explosion in sports betting will run its course and will simmer down into a sizable betting niche but nowhere near the great bonanza its supporters have long claimed it would be.
The single most important aspect of legalized sports betting in New Jersey and the scramble to implement it in states bordering on New Jersey or close to it, is that over $80 billion were bet illegally on sports annually in the past and now many bettors are simply placing their bets legally, in comfortable surroundings, with full confidence that their winnings will be paid out.
Many people who never made an illegal sports bet are now making legal ones. So the total amount of sports bets that may be made in the United States annually going forward is likely to be far greater than $80 billion.
States in a Race
It's no wonder that many states feel that they are in a race to get sports betting going. On the other hand, sports will continue so it's still much more important that the states that are chasing the millions that today are flowing to New Jersey get sports betting right in their jurisdictions instead of just plunging head first into the sports betting ocean.