There is a growing concern that the market for land based casinos has become or is fast becoming saturated. This issue was first raised prominently in 2013 with several articles on the subject in major news outlets. At that time, the concern was that as gambling became legal in many other places near the well-established gambling meccas such as Las Vegas and Atlantic City, the amount of money that gamblers would spend at any single casino was sure to decline. That would mean that some casinos would be unable to meet their operating expenses and would be forced to close.

Bad for Business
When a big land based casino closes, it becomes headline news in all print media. It's considered bad publicity by the industry's giants. Even if many other casinos remain viable, a big closing creates and eyesore in the community. It gives the concept of land based casinos a bad name for creating urban blight.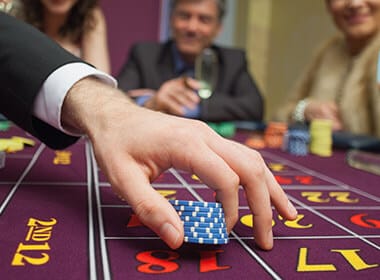 This can happen even as the building is in excellent repair. Even Las Vegas's has been damaged by big casinos running out of money and either closing or stopping construction mid-way.
The bad publicity does not filter down to online casinos. Players who gamble frequently at online casinos do so for the convenience of being at home when they finish gambling, for the larger selection of games, for the savings in travel costs, for absolutely no waiting to play, for being able to play almost any game for a very minimal basic bet, and many other reasons. This means that when an online casino closes, it has no ripple effect on the online industry. There are no white elephants to disturb to urban landscape.
Stagnant Growth
In 2013, statistics were cited that showed that even as the American public was gambling close to forty billion dollars per year, the amount was seen as stagnant. That meant that, altogether, Americans had reached the upper limit of gambling in all its forms.
Fears Abound as New Year Begins
Fast forward to 2018 and we see that life has changed dramatically for the gambling industry since 2013.
Many more land based casinos have been built since then in many states across the US. Casinos are opening in Canada as well meaning that Americans may live closer to a Canadian than to an American land based casino. The concept of integrated resorts featuring conference halls, high end restaurants, luxury hotels, and casinos that has taken hold in the Far East especially in Singapore, Japan, and the Philippines means that gambling money that might have gone to Las Vegas, for example, may go to one of these integrated resorts.
Gambling Tycoons Gambling
Ironically, building a land based casino has become much more of a gamble on the part of the entrepreneur than it was even ten years ago. This is because land based casinos are designed to be used only as casinos. It becomes additionally expensive to redesign a casino for any other business use and the location may not need another office building.
Online Challenge
The most prominent challenge to the hegemony of land based casinos is the proliferation of other gambling venues such as lotteries and online casinos. It is now common for some lottery jackpots to reach hundreds of millions of dollars as people from several states bet on the same lottery.
Even more pronounced is the explosive growth of online casinos. Players can save money on travel and all its ancillary expenses. The payout rates at online casinos are higher than at land based casinos because of lower overhead. In order to attract attention, land based casinos must be splashier than the ones that came before. This raises management and maintenance costs across the board making land based casinos even less competitive with online casinos than they had been. This results in percentage decreases in payout rates.
Demographics
The people who most often travel to a land based casino are those who like the glittery, loud nature of big casinos. These people often save money for a "Las Vegas vacation" that would include expensive shows and the like. High rollers are still more likely to travel to a casino than to pay online because true high rollers are wealthy and can afford the glitz and expense of a high end gambling vacation. Sometimes, high rollers win enough to pay for the entire vacation as well!
Online gamblers tend to be more conservative in their gambling practices if not in their politics.
Fear of Stagnation
So, 2018 enters with a very confident online casino industry shrugging off every casino that is under-monetized and closes. The land based casino industry worries about very closing or stalled construction because it is a highly visible sign of loss. Land based casinos have so much built-in long-term cost that they can ill afford a clear cessation in gambling growth. The market is still huge—many tens of billions of dollars wagered in the US every year but land based casinos stand to be the big losers if gambling doesn't increase however incrementally every year.
Land based casinos must compete with online casinos for players who may or may not looking for a few percentage points higher payout rate, may or may not be less willing to commit a weekend to a casino-based vacation, and may or may not prefer being home when they aren't gambling.
The irony is that all the glitz the land based casinos use to attract players may make them less desirable to players who just want a little gambling excitement without all the travel hassles and glitz.
As the Supreme Court's decision regarding sports betting looms, 2018 is fraught with danger for expensive, existing land based casinos.