There has long been a sense that hitting on casino personnel, particularly the pretty young women who serve drinks, is one of the many casino bonuses of traveling to a land based casino for a long weekend or longer. That attitude is quickly changing. As part of the deal that prevented a strike by casino workers in Las Vegas, thousands of casino workers will receive panic buttons which will alert casino mangers of present sexual harassment or undesired sexual approach on the part of casino patrons.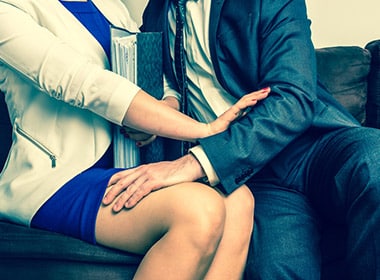 Panic Buttons to Alert Security Personnel
The introduction of panic buttons was a major point in the negotiations on behalf of 36,000 casino workers conducted by their union the Culinary Workers Union Local 226. The workers who are most vulnerable to unwanted sexual advances are cocktail waitresses, bartenders, and housekeepers. The thousands of workers affected by the newly negotiated contract work for some of the most famous Las Vegas casinos including Caesar's Palace, Bellagio, and the MGM Grand among others.
Sexual Harassment No Longer an Afterthought of Casino Management
The agreement by the casinos to issue panic buttons is a major victory for the many female casino workers and the few male workers who have suffered unwanted sexual advances over the years. It signals that the long era when such sexual attitudes were either discounted, ignored, or swept under the rug has ended.
The panic buttons will be connected to a central monitoring area where the identity of the casino worker will be registered and the location of said worker will be recorded in real time so other casino representatives can immediately answer the distress call.
There is the expectation that simply by publicizing the existence of such panic buttons and the willingness of the workers to use them and of the casinos to respond immediately will cause a dramatic a priori reduction in undesired sexual advances.
Worldwide Phenomenon
The #MeToo movement has brought down many powerful men not the least of whom is Steve Wynn who was accused of exactly the kind of sexual harassment at his casinos that the panic buttons are designed to prevent.
A survey of about 10,000 casino employees was made in May when the negotiations for a new contract were in full swing and the possibility of a strike loomed heavily on the affected casinos. Fully 59% of cocktail waitresses and 29% of housekeepers answered the pollsters' questions affirmatively when they were asked if they had ever experienced sexual harassment on the job. To the number of workers who said that they had suffered sexual harassment, the survey added some 10-15% who said that a casino patron had made them feel uncomfortable in some way.
Such high numbers made it seem almost impossible for a new contract to be approved by casino workers without a strong new approach to sexual harassment in the casinos.
News reports quoted Maria Landeros, a housekeeper at MGM grand: "We are here to do our jobs and provide incredible world-class customer service for our guests. We are not here to be abused or have people think that just because it's las Vegas anything goes."
Most At-Risk Workers
Historically, workers in the restaurant and hospitality industries have reported and complained about sexual harassment even more than in the entertainment industry where the #MeToo movement got its start. The federal agency that deals with on the job complaints of sexual harassment, the Equal Employment Opportunities Commission, reports that from 2005 to 2015 it received more than 5000 complaints of sexual harassment from restaurant and hospitality workers. These workers cover those two industries across the country so such sexual harassment is certainly not limited to Las Vegas or any other land based casino.
It became a cause to celebrate in the Las Vegas casino industry because the union was negotiating a new contract with the casinos and thousands of casino workers made it clear to the union that they wanted redress from ongoing pervasive sexual harassment.
Legal Definitions
Although the recent revelations of widespread sexual harassment in many workplaces and across many walks of life have given new prominence to the problem, it has already been in the legal code for some time. Sexual harassment can be a request for sexual favors in return for workplace advancement or simply a position in a company. The entertainment industry's sexual harassment to a large degree falls under this definition as many aspiring actresses agree to provide sexual favors to further their careers.
Another area of sexual harassment is the "unfavorable or hostile workplace" condition. This is what is so often experienced by wait staffs and housekeepers in places like Las Vegas. There might be an overt request for sex but more often there is innuendo and sexual "talk". The customer may even offer to pay for some sort of sexual activity that does not reach the level of actual sexual intercourse. Casino employees are still naturally opposed to being treated as surrogate sex toys by casino customers who may begin by simply flirting but may escalate the sexual nature of their approach if they are rebuffed.
It is by now apparent that such sexual harassment has been going on in Ls Vegas for some time. The new agreement between the union, representing thousands of workers, and the casinos demonstrates that as a society we have entered a new era of sexual propriety and that the status quo ante in Lass Vegas no longer holds.