For most gamers, the many promotions offered by online casinos are better than the promotions offered by land-based casinos. Now, here at Slots Play Casinos, we support both online and land-based casinos while we openly prefer online casino gaming. One reason we prefer online casino gaming is the many different types of promotions online casinos offer, such as deposit and no deposit cash bonuses, free chip promotions, comp points, free spins, and much more!
Why Don't Land-based Casinos Offer Similar Bonuses?
The answer to this question has to come in several parts so let's start. Land-based casinos have a lot more operating costs than online casinos have. As a result, land-based casinos are somewhat strapped in their ability to offer top promotions. The free chip promotion is a good case in point.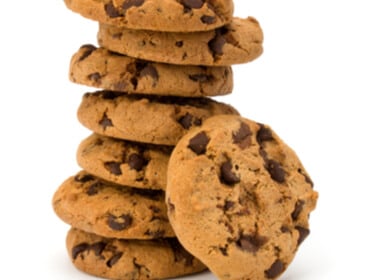 What is a Free Chip Promotion?
A free chip (Get it? Free Chip… chocolate chip…) is very similar to a cash bonus except that you can play the chip as if it were real money without also being required to complete a wagering requirement. There might be a restriction on the types of games a gamer can play with her or his free chips or there might be a restriction on how much they can win while gaming with a free chip.
As these details may vary from casino to casino, we always tell our readers to read the terms and conditions before accepting any promotion. We have tried to recommend online casinos that have terms and conditions in an easy to read and understand format.
The Wagering Requirement is Perfectly Suited to Online Casino Bonuses
This requirement basically says that the gamer has to bet a factor of the bonus before he or she can withdraw winnings. The wagering requirement came about because in the early days of online casinos, the casinos offered deposit bonuses only to have a few gamers immediately close their accounts once they had received the bonus!
One of the features of a standard wagering requirement is that if the gamer is playing in short sessions, it could take at least a week or even longer to complete the wagering requirement. Land-based casino players stay for a long weekend at most so they often cannot complete a wagering requirement in the time they are at the casino. Their money would stay on hold until the next time they could spend a few days at the casino which corona taught us could be two years!
Deposit and No Deposit Bonuses are Almost Exclusively the Province of Online Casinos
The wagering requirement is one reason why land-based casinos don't generally give deposit bonuses and why online casinos do. There is also the idea that land-based casinos can't afford to have so many players playing with the casino's own money.
Land-based casinos are limited physically while online casinos are not. At a land-based casino, if several players were using a bonus, they might be occupying all of the terminals in a particular game. The casino needs players to play these games with the players' own money!
Online and Land-based Casinos Both Offer Comp Points
The comp points promotion may have slightly different details from one casino to another but the main elements are the same: players accumulate points while playing and at a certain point, they can redeem their points for casino credits.
As good as these promotions are, they are better at online casinos. There are two problems with a comp points promotion at a land-based casino. We touched on the first in the discussion about the wagering requirement: players at a land-based casino may not come back to the casino for many months or even years! Players at an online casino can play for fun and relaxation several times a week.
The other problem that players at land-based casinos face with the comp points promotion is that all of the information is kept on their player's card. So, players at land-based casinos have to remember to use their player's card and have to remember where they put it when they got back home from the casino.
At an online casino, all of the information is kept in the casino's database. That means that the casino does all of the remembering for you!
Online Casinos Offer Excellent Welcome Packages
The Welcome Package is usually a series of deposit bonuses. The total amount of bonuses offered could get up into the thousands of dollars. A wagering requirement for a set of deposit bonuses totaling a few thousand dollars will take some time to complete. No land-based casino player can complete such a wagering requirement so land-based casinos can't offer such bonuses.
Online Casinos Offer Free Spins
Online casinos can create bonus promotions out of thin air! They may offer a new game promotion, a game of the month promo, a seasonal promo as with Christmas, New Year's, Valentine's Day, Halloween, and others.
An online casino might offer a promo based on summer or winter. They may have a colorful promotion based on the changing colors of leaves in the fall. In short, online casinos have much more flexibility to offer bonuses and sponsor other promotions.
Online Casinos Run Tournaments
Slots tournaments are by far the most popular while blackjack and video poker are also well suited for tournaments. The benefit of a tournament is that they are designed to maximize fun. One way is to make them freeroll tournaments.
A freeroll tournament is one with no buy-in fee. Even in tournaments with a buy-in fee, the fee is quite small, often as little as $20. The prize pool is also small. Thus, slots and other tournaments are excellent ways for gamers to have fun gaming! Land-based casinos can't run these kinds of tournaments because they need players to play at all their terminals with the players' own money!
What Kinds of Promotions Do Land-based Casinos Offer?
A land-based casino might offer a travel package for an individual or a group. This includes reduced costs for flights and hotel accommodations. It might also include free vouchers for the buffet.
In most such deals, the player agrees to buy a minimum amount of money in chips or credits. Every player has to balance the value of the physical promotion with the commitment to buy chips and the requirements for using those chips or credits in gaming.
The most salient point here is that the casino itself is the primary promotion at land-based casinos. Land-based casinos have bells and whistles and an atmosphere of gaming that no online casino can match. The whooping and hollering that come from the roulette and craps tables are impossible to reproduce online.
So, land-based casinos promote themselves!
Read Slots Play Casinos for Up-to-Date Information
We are always at the ready to give you the best gaming information! Come to see What's New at SLOTS PLAY CASINOS.