So many casino gamers are making their way to online casinos during this temporary lull in land based casino gaming. Slotocash online casino welcomes one and all even as we wish everyone a speedy recovery if you are showing symptoms of the nasty virus and continued good health to everyone not yet affected by the virus.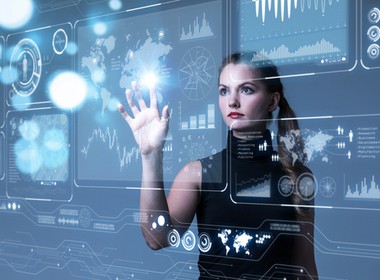 Gamers who are entirely new to online casino gaming may be somewhat taken aback by the technology online casinos use. In this article, we will explain the technology they use and the future of technology specifically as it relates to online casino gaming.
Everything is Digital
Since there is so much live action going on at a land based casino, many gamers don't realize that most of the action even at land based casinos is digital. All of the slots and video poker terminals are digital.
In this context, digital means computerized. How does a computer determine who wins at casino games? The answer is ingenious software called the Random Number Generator. The RNG as it is called is a perpetual motion program that "stops" a given number of seconds after you have given it the order to spin or play the cards.
Effects of the RNG
The RNG makes all betting systems obsolete. The RNG doesn't know what happened on the last spin or the last hand! It has no actual memory or ability to process information. It simply keeps going until the gamer stops it. The RNG turns gambling into gaming. Since in the games of chance there is no way to outsmart the RNG which has no internal logic of its own, the primary reason to play online casino games becomes the desire to have fun!
The RNG was the most important invention that led to the formation of online casinos. Every game at an online casino is digital but, in theory, no games at a land based casino have to be digital. Slots were all mechanical machines at one time and could be so again but a digital platform needs a digital way to play the games.
The RNG represents the technology of the last half of the twentieth century. We are now well into the 21st century so people are beginning to wonder what the technology of the future will be for online gaming.
Games Will Get a Lot More Complex
In the future, the RNG will be able to run games with a lot more complexity than the games of today. We thought at one time that a few paylines in slots were a lot. Then the number rose to twenty or more. Today 243 ways to win is common and the number of ways to win keeps growing.
Welcome to the Worlds of AR, VR, MR, and XR
The game Pokemon Go uses Augmented Reality. This technology uses the camera in any smartphone to add "real" elements to a game. We are close to seeing casino games using Augmented Reality. Anyone who has played Banana Jones can imagine the added fun if the game were played in Augmented Reality.
AR would change the entertainment factor in slots play. It would make table games and even video poker seem more "real" than they seem now!
Virtual Reality is technology that seems to take the user completely away from his or her actual reality and substitutes a digital reality. Slots that take place in ancient cultures, deep beneath the ocean's surface, or far up in outer space would have a virtual element that is not yet present in these games.
If we thought that we had a handle on both Augmented Reality and Virtual Reality, we are just beginning to get used to Mixed Reality. This technology combines AR and VR. A user will be able to use one technology to enhance the other. It may be possible in the future to layer the effects of AR on VR or the effects of VR on AR. It sounds surreal but this is technology that we know is coming.
Mixed Reality may make it possible to play different slots at the same time, themed in different centuries, and having the characters from one story line affecting the characters from another story line.
Finally, Extended Reality combines all of the three technologies mentioned above. It combines all three and affects everything that our senses are capable of telling us. So, in a slot of the near future, we may be able to feel the horse beneath us, we may be able to smell the food we are eating, we may be able to hear the sounds of the story being told, and we may be able to fully immerse ourselves in the everyday experiences of everyday people from a time long past!
Blockchain is the Financial Technology of the Future
Money has certainly had an interesting history. Long ago, people began using metals as money. These were eventually replaced by paper money backed by gold or silver.
We paid for things with paper money or coins made of gold or silver. Eventually, and this took centuries to perfect, people began using banks to effect transactions. In the twentieth century, credit cards became widespread. Millennials are too young to remember this but many older people remember a time when no one had a single credit card!
Land based casinos accepted cash or credit and debit cards or direct bank transfers. When online casinos first came aboard, they also accepted direct bank transfers or credit and debit cards. People wanted greater anonymity in their transactions and ewallets came aboard offering more privacy. Now blockchain technology has arrived offering even greater privacy while also offering the greatest safety net for an individual's money.
A lot more people don't understand how a blockchain works than do understand but this will also change in just a few years' time.
The Number of Online Casinos Will Grow Fast
In the beginning, there was one. Then there were a few, then a hundred, and today thousands! As much as entrepreneurs and venture capitalists are still willing to invest in land based casinos, the technology for developing an online casino is far more accessible. There will be many thousands more online casinos in the near future.
Every new online casino will feature all of the technological innovations of the last twenty years plus will likely begin to introduce new technologies as well. The more established online casinos will have to scramble to keep pace with the new guys on the block.
Professions in all aspects of online casino technology are already in high demand and will continue to be in high demand in the future. One such profession involves improving graphics for online casinos. The technologies we mentioned above are all part of the process of making online casinos more amenable to modern gamers and the search for ever more realistic graphics continues.
It was just a few years ago that mobile gaming was a distant second to desktop gaming. Then the graphics for mobile improved dramatically and now desktop gaming is a distant second to mobile!
Graphics always are at the forefront of the popularity curve for online casinos and that will drive research into new graphics technologies.
The Future is Bright for Online Casinos
Technology drives online casinos! These casinos will continue to become more fun to play slots online as technology continues to improve. In this time of the coronavirus crisis, we can only hope and pray that medical technology comes along to cure the disease quickly and to restore everyone to good health and a normal life style.