Real Time Gaming has developed another great game with an Irish theme! This slot is called Paddy's Lucky Forest and it features fantastic characters and symbols, amazing colors that work their magic in all positions, delightfully jiggy Irish music in the background, a political statement of sorts, many exciting features, and three — yes, three— random progressive jackpots.
And you don't have to be Irish to play!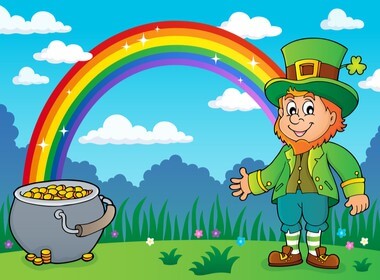 Paddy is Paddling around the Online Casino World!
Among the Real Time Gaming online casinos that are featuring Paddy's Lucky Forest in March and for many years thereafter are:
What Kind of Political Statement Does Paddy's Lucky Forest Make?
We believe that for the first time ever, an Irish-themed slot features not just one, male leprechaun but a female leprechaun as well.
We hear that some gamers have taken to calling her Ms. Leprechauness!
Characters and Symbols of the Emerald Island
In addition to the leprechaun couple, Paddy's Lucky Forest has a horseshoe, several gems in bright and attractive colors, a rainbow the bursts forth with color, two pixey fairies, a pot o' gold that acts as the scatter, and a four-leaf shamrock clover that is a very special wild symbol.
Colors that Set Ireland Apart
Paddy's Lucky Forest is set in a forest, of course. But even the deep and pervasive green of the forest can't stop the bright colors of this great island nation from coming through.
So, Paddy's forest gives us purple and orange and blue and pink.
The Wild Symbols are Amazingly Wild
This slot has a 3-4-5-4-3 reel layout. That means that there are more rows on the interior reels than on the exterior reels. To take full advantage of this extra space Real Time Gaming or RTG as they are called far and wide has developed two great features. The first is 720 ways to win.
720 Ways to Win is a Lot More than One Way to Win!
Some people can still remember when slots had one way to win. Then the number went up slightly, then a little bit more. When game providers came up with 243 ways to win , we all thought that we had reached the apex of winning combinations in slots.
But, NOOOO!
So, Paddy's Lucky Forest has 720 ways to win!
Sticky Wilds
The second great way RTG found to take full advantage of the extra rows in the interior reels is by having Sticky and Cascading Wilds. If a wild symbol lands on reels 2, 3, or 4 it sticks to that reel. On each subsequent spin, it moves down one row until it reaches the end of the Earth and falls off!
Just kidding about the end of the Earth!
The amazing part of this feature is that it is possible to have multiple wilds on these three reels at any given time. As they move down, they can still create a lot of wins. In other words, a lot of wild symbols and a lot of ways to win is a "perfect storm" of slots fun!
For this feature alone plus the exuberant colors, fun characters and symbols, and delightful Irish music in the background, Paddy's Lucky Forest would be destined to become a grand classic of slots.
And there is still so much more to tell you about in Paddy's Lucky Forest!
The Bonus Round
The middle three reels come into play again as you need three pot o' gold scatter symbols anywhere on these three reels to get to the Pick-em Bonus Round.
Pots of gold come forward on the screen, a prominent aspect of the great strides animation technology has made in the development of slots. You pick one pot of gold. It will either reward you a cash prize that can be as high as 50 times your bet or it gives you 15 free spins.
If you pick really well, you will get an extra pick so you can receive both the free spins and the cash award!
Now, these are not ordinary slots free spins. You can retrigger them as many times as your luck brings you three scatters on the inner reels. Every time you retrigger the free spins you get ten more.
A Fantastic Combination of Free Spins and Sticky Wilds
We salute the bright and lively person who thought up the following idea: during the free spins bonus round, you can also get Sticky Wilds. And, if you do get Sticky Wilds during the bonus round, all of the spins you take as the wild symbol works its way down to the end of the Earth (really, just kidding) don't count towards your free spins!
Who Would Like to Win a Progressive Jackpot?
Paddy's Lucky Forest has three random progressive jackpots. The mini and minor jackpots usually reach a few hundred dollars before they are randomly awarded to a lucky gamer. The major jackpot can get up into the thousands of dollars.
So, these aren't life-changing progressive jackpots but they are very accessible to gamers and, since you are going to enjoy Paddy's Lucky Forest for all of the features we have already mentioned, the three progressive jackpots are like frosting on a cake.
You can win one of the random progressive jackpots even on spins in which you miss all 720 ways to win!
Slots Play Casinos Reports on New Slots
We try to keep our reviews of online slots and casinos as up-to-date as possible. We also like to tell gamers about new games, usually slots, that are destined for the mythical Slots Hall of Fame.
The Slots Hall of Fame is the perfect way to end this review as so much Irish folklore is based on mythical elements such as fairies, leprechauns, pots of gold, and lucky rainbows.
Come back to Slots Play Casinos as often as you can for the best information on everything that affects your online casino gaming experience.