Much virtual ink was spilled writing about Usain Bolt's rumored career change from track and field to football, or as the Americans call it: soccer. The greater part of analyses about the pending change was whether Usain Bolt, as great as he has been in running, could become an effective football player in one of the world's top leagues at the ripe old age, for an athlete, of 31. After all, playing top level football requires more athleticism than playing online slots, as entertaining as that is.

Bolt certainly did his part, teasing us that he had already signed with a football team and would reveal the identity of the team in a few days' time.  Well, the long awaited announcement has been made and Usain Bolt is indeed going to play football at Old Trafford—in a charity game!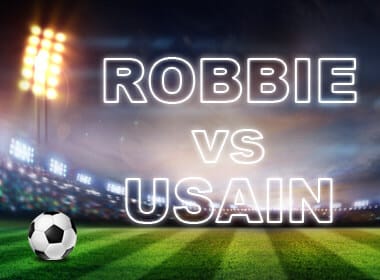 Some People Need to Get a Life
In the manner of the easily offended twenty-first century, some, thankfully few, observers have criticized Bolt for his cheeky intimation that he was indeed pursuing a football career. Others have rightly seen the secretive element in his announcements as a way to bring massive attention to what was ultimately free publicity for a charity football match.
And the most astute observers have simply had a good laugh at themselves as the well-known Boltish sense of humor was seen in full bloom.
A Bolt of Soccer for Unicef
Usain Bolt will head the Unicef Soccer Aid world XI against a British XI headed by Robbie Williams. The game will take place at Old Trafford on June 10th. Bolt also announced that he will wear jersey number 9.58, a clear reference to his world record time in the 100m sprint.
Robbie Williams and pal Jonathan Wilkes began Soccer Aid in 2006. The charity match comes along every other year. It features a World XI versus a British XI and the British squads have done Britain proud as they lead the "series" with four wins against two wins for the "World".
Soccer Aid Popular with Entertainers and Athletes
Playing in a Soccer Aid football is a sort of badge of honor for singers, actors, and television people, being joined by "real" athletes. The list of celebrities from the entertainment world who have participated in Soccer Aid games includes Woody Harrelson, who proved that, indeed, white men can't jump; Gordon Ramsay, who should have insulted himself; and Gerard Butler whose bum was oot the windae.
Real football players have also made appearances including Diego "Hand of God" Maradona, Ronaldinho, and Cafu.
Raising Money to Help Children around the World
Over the last 10 years, Soccer Aid has raised over £24,000,000 for Unicef which the United Nations organization has used to help children in many ways including food where food is scarce to the point of being life threatening, clean water, and protection from disease through vaccination and other means. Vaccinations funded by Soccer Aid have been administered to over 13 million people in 75 countries.
Buttoned Down Usain Bolt
Usain Bolt won't need a football career as he has long been known for his intuition in business and other affairs. He seems to instinctively know how any enterprise should be run. Given that non-athletic professional careers last into a person's 70's—and by the time Bolt hits 70, the age of so-called retirement may already be 80—it stands to reason that he will parley his great fame, warm personality, and incredible sense of the possible into a long career in business, finance, or public service.
Laugh's on Us
Well, Usain Bolt certainly had us going. It was perfectly in keeping with his generous and playful nature that he would pull what Americans call a misdirection. This is a term from American football, rather than the beautiful version the world loves, in which the player running with the ball runs one way while his teammates, ostensibly blocking the path for him, run the opposite way.
Old Trafford
As an aside, it is interesting that headlines around the world mentioned Old Trafford as if the stadium is world famous. In fact, it is, as are many stadiums around the globe.
Americans might be interested to note that in Boston people say they're going to Fenway and in Chicago they say they're going to Wrigley and no one needs to say "park" or "field". Fenway Park and Wrigley Field are the most famous stadiums in the US and are known far and wide by the single name.
On the other hand, the New York Yankees are the most famous sports team in the US and play in Yankee Stadium but no one ever says "I'm going to Yankee."
Someone should do a study about stadiums and how they are referenced.