Land based casinos face many challenges in their competition with online casinos. One challenge is their inability to offer the large range of casino bonuses that online casinos can offer. The reason for this discrepancy is clear. Every bonus carries a play through requirement. That means that a gamer has to make a large dollar amount of bets before he or she can take winnings.
At an online casino, players can work through the play through requirement over a long period of time. At land based casinos, players normally have just a few days or a week at most. This is not normally enough time to work off a play through requirement.
Furthermore, online casinos can offer great bonuses every day. This could never work at a land based casino.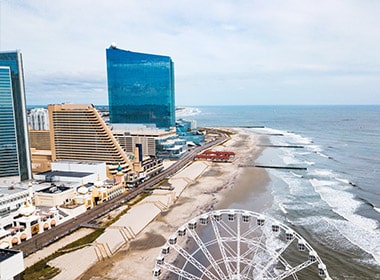 Being a Good Neighbor
One of the ways land based casinos stay in the public eye in a most positive way is by being good neighbors. Atlantic City has had its ups and downs in recent years as it faces competition from both a burgeoning online casino market and also from many large land based casinos in the area. Atlantic City has been especially hard hit by the opening of Integrated Resorts which are casinos and a very large plus. The plus includes convention centers, family oriented attractions, shopping, high level dining, pubs, theaters, and more.
Nothing can demonstrate the ability of land based casinos to be good neighbors than by what has happened in Atlantic City as Hurricane Florence approached the coasts of the Carolinas. The Ocean Resort Casino offered free rooms to anyone who was evacuating from their own home as Hurricane Florence approached. Needless to say, many people accepted the offer.
Full Up No Vacancies
Last Thursday the Ocean Resort Casino announced that it was already fully occupied through Saturday night with casino gamers who had made previous reservations and people fleeing Florence. The owner of the casino, Bruce Deifik, told the public that he was still offering rooms for free from Sunday night through Thursday. "We completely understand the concern for families and the community during times like this, so we want to do our part by providing somewhere safe, warm, and dry to those impacted by Hurricane Florence."
Clearly, the casino is also booked with gamers for the weekend of September 21-23.
A Few Rules
People looking for free accommodations at the casino would have to show proof that they live in a community that they had to leave because of the storm.
Economic Logic behind Philanthropy
Businesses have long recognized the economic value and good image they earn by philanthropy. Nevertheless, to make all of the casino's 1399 rooms available to people who may not be able to return to their homes for weeks, if ever, is a major act of public consciousness.
The storm arrived on the coast of the Carolinas on Thursday. It quickly lost wind speed and stalled somewhat. That meant that the bulk of its massive amount of rain would receive not merely inches of rain but feet of rain.
About ten million people are thought to be in areas directly impacted by Florence. That includes all of both North and South Carolina plus a large portion of Northern Georgia including Atlanta and a large portion of Southern Virginia.
After the Storm
People who were able to get free accommodations (and people who are paying for motel and hotel rooms as well) while the storm was still raging in their areas face a daunting challenge: to pick up their lives after the storm has passed.
With so much rain falling in a relatively small area, some places will remain flooded for as many as weeks. Then people will have to assess the damage to their homes and businesses. The example of New Orleans after Katrina is revealing. Many neighborhoods remained unoccupied for a decade after the storm left the area and the flood waters receded.
It isn't simply that wood homes begin to rot quickly and have to be torn down. People don't want to return to areas that have suffered such immense devastation even if their home is in livable condition. Businesses have to close their doors so these areas become less desirable places to live in.
Business Considerations
It may be cynical to say it, but the owners of the Ocean Resort Casino also had sound business reasons for offering free rooms for a week. The casino is not affected by the storm and remains open 24/7. Some of the people who took advantage of the generous offer have disposable income for casino gambling.
This is one of the reasons so many casinos offer very low prices on some nights to customers staying at the hotel: it brings in people who then gamble on the casino floor.
The casino may also see the thousands of people who will be staying at the hotel as more than potential gamers. They may see them as potential residents of Atlantic City or thereabouts if they have to relocate and, if some are businesspeople, the casino may see them as adding to the overall viability of Atlantic City.
The Ocean Resort Casino had been closed since 2014 and had reopened only a few months ago, in June. Ocean Resort Casino may very well have seen this gesture as a way to strengthen their own neighborhood and maintain the viability of their brand.