A seventh grade student in the town of Sudbury, Ontario, Jack Gouchie, posted a letter explaining why he is opposed to having another land based casino built in the town. The letter details three reasons why it isn't a good idea to build another casino in Sudbury and by extension in any town. The direct implication is that it is better all around for casino gaming fans to play casino games online instead of traveling to play.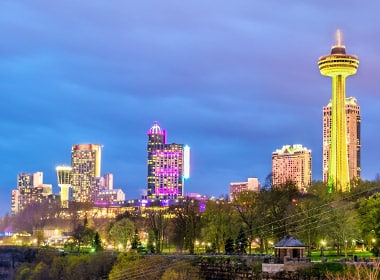 Revenue Drain
Young Mr. Gouchie makes two arguments from the financial and revenue side of land based casino gaming. The first is that most of the money generated at the casino would leave the city and that the city would not see a significant rise in revenues from the casino.
He based his contention on a study that estimates that the casino would generate 100-150 million dollars every year but that more than half of the revenue would go to the Province of Ontario and only about $7 million would stay in Sudbury. Almost all of the money would come from Sudbury residents or other locals. Gouchie reminds us that there are already many land based casinos in Ontario making it highly unlikely that tourists and even people from a minimal driving distance from the casino would come to play at the new casino.
A quick look at the Ontario land based casino map shows that young Gouchie has a very good point. Almost all of the land based casinos in Ontario are in the population corridor between Windsor and Quebec. The overwhelming majority of Ontario gamers can easily travel to a casino closer to their homes rather than travel to Sudbury to play in the already existing casino there.
In fact, the existing Sudbury casino runs a free shuttle bus service to make it easier for players to get to the casino. The locations of the shuttle bus's route indicate that the existing casino is primarily geared to locals. The bus picks up at Rona, then at the Rainbow Centre, then the Southbridge Mall, and finally Gus's Restaurant before arriving at the casino. We suspect that people from outside the Sudbury area do not know where Gus's restaurant is.
Casino's Position
Gateway Casinos and Entertainment is the parent company that owns several casinos in Canada. Its position is directly opposite the position expressed by young Jack Gouchie. Gateway Casinos says that the new casino will create 700 jobs and a $70 million investment to the Sudbury area. The new project is projected to resemble the Integrated Resort concept that is becoming both fashionable and desirable to many communities that are allowing casinos to be built in their areas.
The proposed project for Sudbury will include three top grade restaurants, an entertainment center, and a luxury hotel with at least 124 rooms with the option to increase that number. Joining casino gaming to a wide range of other amenities such as shopping, a convention center, family fun parks, and the like is the essence of the Integrated Resort.
Mr. Gouchie expressed approval of everything involved in the project except the casino.
Problem Gambling
Gouchie also spoke about the prevalence of problem gambling at land based casinos. He didn't mention in his letter, but at land based casinos, there is often little to do but eat, sleep, and gamble. Having an entertainment center might help in this regard. Gouchie's concern is that when the casino is the main focus of one's weekend excursion, the temptation to gamble money that one cannot afford to lose is far greater than at an online casino.
When you play online, you can simply end a session and return immediately to your normal life. This is simply not possible at a land based casino.
Gouchie specifically mentioned that problem gambling is a community as well as a personal and family problem. Money lost to businesses because of problem gambling cannot be recovered. The damage done to families is also often irreversible. Young Mr. Gouchie doesn't discuss problem gambling at an online casino but it is well known that a gamer can set limits for himself at an online casino and the casino will simply not allow him to gamble past his limit.
Online casinos are so computerized that they know when a gamer is losing beyond a normal sum and will contact players to determine if they are in fact experiencing the symptoms of problem gambling. It is far more difficult for land based casino to follow its customers so problem gambling is more problematic at land based casinos.
Effects of Problem Gambling
Gouchie also didn't mention the effects on problem gambling on the place where the gambling takes place. In other words, if a gamer is home and loses money, he or she can get right back to work. But, at a land based casino, the player is out on the city's streets. There is little denying the fact that crime rises in communities with a land based casino in its midst.
Businesses Offer Input
The events center that is planned may be located in the city center or out on the highway. Local downtown businesspeople have made it clear that they want the events center to be built in the city center but other interested parties want it built on the highway.
Long Road Ahead
For Gouchie and his supporters, there is a long road to getting the project reversed. That the debate is mostly over where the events center will be built and that politicians are in favor of the casino qua Integrated Resort, means that the likelihood that the project will eventually go through is very great.
The opponents can only hope to delay the project while convincing residents that online gambling is better for the community than another land based casino.